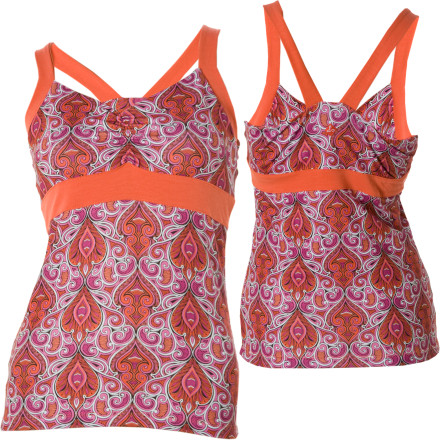 Detail Images
The PrAna Women's Amaya Top offers a fabulous balance of performance and feminine design. Stretchy fabric moves and breathes with you, wicking away perspiration, while the built-in shelf bra offers support. TheAmaya Top's empire waist, gathered bust, and sweetheart neckline emphasize the "female" in "female athlete."
I have quite a few prAna tanks and like them all. My only issue is with the sizing. Smalls are too tight for me overall, but the mediums tend to have too much room in the chest.
Love this top. Very comfortable and versitle. Material is stretchy and soft.
Love these, own 2, runs true to size for me
I have 2 of these and love them. For me, these tops run true to size. I am always a size small in prana tops and these are no exception. I am a 36A, although there seems to be plenty of room for B cups.
I love these tops - I just bought a 2nd one in a different color. They are super cute, and comfy.

I often do 8-10 hour hikes in altitude and it's awesome being comfy AND cute on the mountain.

One thing: Many people wrote that it's cut small, so I bought a large (usually wear a Med or SMall) and the large was too big. I kept it, and it's still cute, but my 2nd one is a medium and fits perfect!
Nice tanktop, super small
This tanktop is nice and functions well, but it is soooo small. I had to get a large to fit me and I am a medium in anything else. Make sure to get it big!
Definitely an athletic top!
I got the xsmall and it is tight on the body and chest (32b), but not suffocating. Love this for hiking and climbing. My favorite prana tank top so far.
Grab it while it's on sale!
This shirt definitely runs small. I am 5'2" and 125 pounds, always wear a medium in Prana, but I decided to try the white tank in a large since it was 18 bucks! It fits very tight, but it's great for support--I've been running in it a few times and it's very comfortable. I was nervous about the white color but the thick, sturdy fabric is not see-through at all. I live in Prana tanktops, especially in the warm weather, and I'm very happy to have this one in my collection!
This top is super cute. And super small. I usually wear a Medium in Prana tops (and I have several of them), sometimes even a Small, but this one in Medium is really tight in the midsection. Too cute to give up on it, so I'm exchanging for a large.
Nice looking but Runs Small
I really like all my prAna stuff! I am generally a small but wear a medium in all prAna. I ordered a medium in this top and it was still skin tight. It might be intentional, but I don't wear this style of top like that.
I absolutely love it! I was looking for something to wear to my hot yoga class and this is it! I got size small in winter pop after reading other reviews. I am 5'-9", 145 lbs, 34C and usually wear medium. This top fits tight and offers good support. The print is very cute. I think, it could be also worn as casual top.
Climbers, yoginis, and city girls agreed that these comfortable and versatile separates, inspired by classic 1940s dresses, flattered with functional fashion sense. It's got a built-in shelf bra that offers mild support (not quite enough for big-chested testers to go bra-less) and has delicate bunching to add enhancing volume for flat-chested testers.

http://www.womensadventuremagazine.com/your-sport/lifestyle/winter-2011-editors-choice-awards-yoga/
Not quite what I expected - but nice!
This is my first prAna top. I ordered a medium, as I am usually a medium or small in workout tops and saw this ran a bit small. The medium is unfortunetly skin tight on me. I ordered the winter white and expected a creme color, but it is definitely white.

It is a nice top, but I will be returning it due to the size and color. I do bikram yoga and I fear it would become pretty see-through with sweat!!
Cute but not as comfy as other tops
Darling top, fab patterns, but not as comfy on me as many of my other Prana tops. Armhole cuts close to armpit in the front and seams along the back top tend to roll up and not stay tucked in under the back straps.

8/27/2011 Updating my original comment after a year's worth of use... I swear this top is much hotter and clingier than all my other Prana tops put together. It's not scorching hot out, and I am a sweaty itchy mess from this top. It doesn't breathe like the others, it feels sticky unlike the others, and I am really uncomfortably warm it unlike the others. I am staying with the sabin racerback which fits much better all around and the fabric is much more breathable.
I own this top in Blue Haze in a Large. I wear a 36B and am usually a medium but almost always wear a large in Prana tanks. This top is slightly wider than the Ruby in the chest. It is a very cute tank and plenty supportive for hikes and climbs although I'd wear it with a bra for running. It breathes well and has kept me cool all summer, and you can wear it out afterwards too!
So comfy I bought another one!
Very comfortable! Love not having to wear a bra with this top. Always a compliment or two when I wear it. It does, however, run small in the trunk in my opinion. I have other PrAna tops in M and L but in this top I required an XL. My trunk is more of a straight shape, not curvy, not fat but not boney, and the top is snug in the trunk. I wear a B cup bra and the top fits fine in that area.
This top is super soft, cut attractively and also stays in place covering the torso:)
LOVE it!
prAna Amaya Tank Top - Black
I just bought this tank in Black, after loving the Orchid and it is a little different. The black is about 2 in longer (in the same size) and a little looser fitting. I love them both, but they are definitely different.
prAna Amaya Tank Top - Women's
Aborable! I just got this tank in Orchid and it is incredibly cute and flattering. The small fits and supports well, with a slightly shorter fit than prAna has normally (at the top of the hips.
Great fit and doesn't ride up in yoga class. The color (orchid) is absolutely gorgeous. Fun for the summer to add a splash of color to your yoga class!!
Okay, I am short, busty and short-waisted. (5'3", 110 lbs, a 32/34 C or D) I don't think I have ever had a top of this sort that did NOT need the straps shortened in order for the bust support to work. Which I need -- I'm almost 47 years old. 'Nuff said. Aside from the fact that I have to painstakingly shorten the straps and I am not a good sewer (I wore it once for yoga and heck, it would have made a great PlayBoy photo shoot -- cleavage a-plenty) this top has all the right stuff: the shirring is lovely; the band beneath the bust adds excellent support, I got the orchid color and it is beautiful. Soft and comfortable. I got the small (I don't like to order XS even when I think it will be more supportive in the chest because then it gets skin tight, which I don't like.) I think the key to the nice look is that the shirring is not purely decorative -- it actually serves to SEPARATE the breasts a bit -- why all athletic top makers do not understand the importance of separation is beyond me. You can send a man to the moon but cannot construct a soft inner bra that lifts and separates? It is laughable, but sad for those of us who need it. Is there anything worse than buying an expensive sport top with a "built-in shelf bra" and then have to wear a sports bra under it? The discomfort is severe. Overall, I could never wear this top for anything but yoga, but that is what I do most of. Yum!