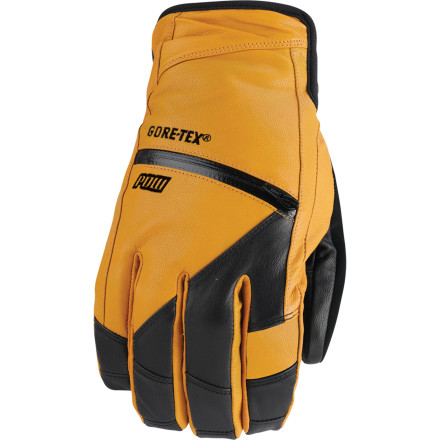 POW didn't hold anything back when it developed the Sultan GTX Glove. Designers used the finest materials available to create a glove that would keep your hand warm and comfortable for extended periods in harsh winter weather.
Ultra-soft and ultra-tough goatskin leather protects your hand and provides plenty of grip
Durable Gore-Tex glove insert is completely waterproof and pulls moisture away from your hand for comfort
Anti-pill polyester fleece is warm and super-soft
4oz Primaloft ONE insulation keeps your hand toasty in the most hostile winter conditions
What do you think about this product?
Have questions about this product?
They felt comfortable, dry and warm but the strap began ripping at the seam after a week of use. Before it rips totally off, i'm sending them back. For $100 retail, you got to be kidding me.
If your looking for the warmest and driest gloves your ever see, look no farther. I purchased these gloves and when they came the first pro about them was the feel. The outside felt grippy enough to pull some sick grab without slipping and still had that smooth nice leather feel. Once you put them on it gets even better. the microfleece was so cozy that you just want to leave your hands in the gloves forever. All day your hands stay super cozy and these gloves by far have the most amazing feel.At first you may think these baby's are not very waterproof but think again. I rode 16 inches of kinda heavy powder and my hands were still dry as can be due to the gore tex inserts. At first i couldnt believe it, all my friends who have broncos were wet and my hands were toasty warm and not a wick of water on them. my hands now are dry as can in the harshest of conditions but yet the gloves are the warmest gloves i've ever worn. the PrimaLoft One insulation was by far one of the best things that could be put in a glove. i couldnt find a con about these gloves. At first i thought hey you cant just throw these in a washer with normal waterproofing as it says on the manuel because they have goat skin leather on them. But they went a step ahead and threw some good leather waterproofing in to make sure you could wash these gloves. I'm never buying any other gloves besides these.
Unanswered Question
When are you going to get more of these...
When are you going to get more of these in the mittens?