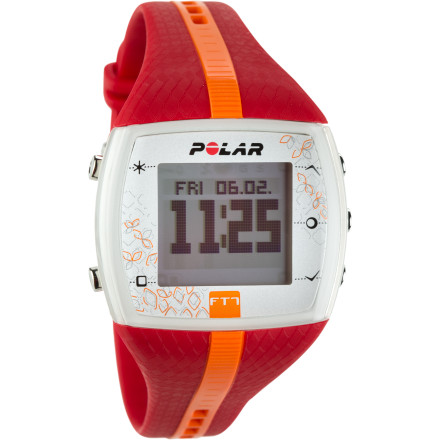 Detail Images
Whether you are training for a triathlon or trying to lose weight, the Polar FT7 Heart Rate Monitor Watch pinpoints the information you need to meet your goals. The Polar EnergyPointer tells you if the main effect of your training is fitness improvement or fat burning, so you can adjust your workout as needed.
Large LCD display with backlight makes it easy to get your feedback; HeartTouch enables button-free operation

Allows you to set automatic (age-based) or manual target zones

Visual and audible alarms let you know when you are in your target zone

Displays heart rate information as beats per minute or percentage of maximum heart rate

Records average and maximum heart rate during exercise, time in target zone, and calorie expenditure during exercise

Stores information for up to 99 workouts

Watch features include stopwatch, alarm, date, and weekday indicator

Includes comfortable and lightweight coded WearLink+ wireless chest transmitter, designed to eliminate cross-talk with other heart monitors

Unanswered Question
Is there a difference in the length of the...
Is there a difference in the length of the wrist band and the chest strap between the Women's and Men's models?
Works Great
Gender:

Male

Familiarity:

I gave it as a gift but have feedback to share
I got this as a birthday gift for my mom and she really likes it. She said the strap is more comfortable than other heart rate monitors she's used in the past.
I?ve had the FT7 for about 5 months and so far it has performed as expected. The watch itself is very light and sits easy on my wrist. The chest strap is comfortable as they come. Over all the heart monitor functions are useful with a short learning curve. My only gripe is if you tracking a workout, I?m unable to switch to the stopwatch and vice-versa. Overall not bad and serves my purpose.
I totally recommend this Polar watch. Great Heart rate monitor. Good for working out at the gym or running. Totally recommend.
Love it! I am new to using the data from heartrate monitors to see how my workouts are progressing and this does everything for a reasonable price and easy to use functions. I had the Polar FT2 but it didn't chart calories and I've tried one that didn't use the band but it wasn't very accurate. This band is comfortable and I don't notice it under my sports bra. Great product!
Is this the HRM where you can't see your...
Is this the HRM where you can't see your HR and the how long your work out is, on the same screen?
Best Answer
That is correct Garrett, you can't see HR + work-out time on the same screen. But the FT7 does have 'Heart Touch' so you can quickly change screens simply by raising the monitor up to your chest-strap, hope that helped :)
All I wanted was a heart rate monitor so I could keep myself in my pre designated HR zones while biking (I have a tendancy to go a bit too hard too fast). Anyways It's great, it took me only about 5 minutes to go through the setup, the menus were insanely easy to undersatnd/navigate. The chest strap and watch band are much more comfortable than I thought they would have been. Although I do have two downsides to this product, first there is only an alarm when you go above your specified HR not if you drop below or out of your zone, second the strap is a bit tight on me although I do have a 48 inch chest (but it doesn't bother me enough to return it). Other than that I absolutely love it, the looks, the feel, and the performance!
does the monitor watch give an audible...
does the monitor watch give an audible alarm when I am out of my heart rate zone?
Yes and no, If you are over the maximum that you have set then yes it will sound an alarm, but sadly if you drop below your training zone it will not give an alarm.
Unanswered Question
I also have a question about the Polar FT7...
I also have a question about the Polar FT7 and gender. I was looking at Amazon and it is listed twice, one listed it as a "Men's Heart Rate Monitor" but the other doesn't say that (and women have made reviews). Is the difference between gender and heart rate monitors only strap size?
Hey Amanda,

Absolutely. Highly adjustable and will work great for a man or woman.
I bought this a couple of weeks ago and it is functional. It does all that it says it would- heart rate, calories, fitness zone (weight loss or fitness enhancement). It doesnt look very good though. So cant be used as a watch except when you are in the gymn. Love the fact that you can record all your data for weeks and use that to monitor progress.