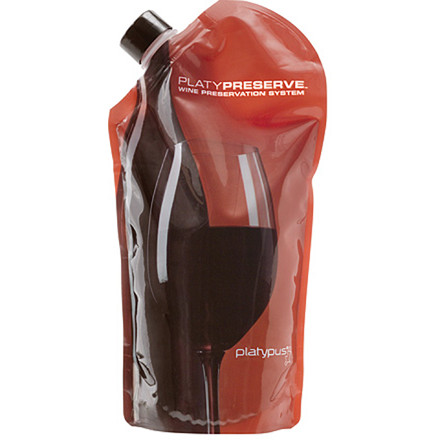 Colors

Community Images
Description
Lose the glass and keep the flavor.
Glass wine bottles are often impractical for backpacking, ski touring, or getting a little boozy at your favorite blues concert. Transport your wine inside the packable Platypus PlatyPreserve, and protect its taste at the same time. Pour your favorite wine into this 5.5 inch by 10.5 inch reservoir, squeeze the air out (air ruins flavor), and seal the airtight cap. Now you can enjoy that just-opened taste days, and even weeks later... and slip past concert security undetected.
Best way to store an open bottle
Familiarity:

I've put it through the wringer
I don't backpack much anymore but these are the absolute best thing I've found for keeping my wine from oxidizing. A week in one of these things is about the same as an hour or two sitting in an uncorked bottle -- way better than vacuum pumps or cans of heavy air.
AWESOME!
Familiarity:

I've used it several times
This little platypus is awesome. Buy more than one. packable. Awesome for car camping to save space and avoid bringing bottles in the cooler. Nicely done.
These are so great to bring along on any backcountry trip. We headed into a yurt in Idaho for 4 days and brought a bottle of white, red, Fernet, and sake. One fits a bottle of wine perfectly.
YES.
Familiarity:

I gave it as a gift but have feedback to share
Got this as a Christmas gift for my wine-loving roommate and now I need to get one (or four) for myself! It's the perfect size, so you can fit an entire bottle of wine for a moonlit hike with your significant other, or fill it up with a fifth of whiskey and pass it around the campfire at night. It's super durable and ultra-convenient. Just get one, you won't regret it.
Hard to be discreet.
Familiarity:

I've used it several times
Many places you go to have a picnic don't allow alcohol. I really like these bags for putting wine in and going Sea Kayaking or just down to the local lake or park for a picnic. The fact it has a wine bottle and glass on the side just kinda advertises what you are pouring. "No Officer, this isn't wine.. Heavens no. Just some fruit juice full of vitamins and minerals. Why does it have a bottle and wine glass on the side of it? I have no idea Sir. We would 'never' consciously break the law Sir."



They do pack really well and they allow you to bring some vino along where a bottle would be impractical. They just need to lose the picture on the side. Put a picture of an apple or a cherry on the side. "Just apple juice Sir. Or just fruit juice Sir "



The last time we were in Paris I was using these bladders to haul wine around to different places we would picnic at. In some ways the advertising helps because people don't freak out when they inspect your bag and wonder what is in it.



Wine drinkers are pretty weird. Like an elegant picture of a bottle and glass is going to improve what you are pouring.


The 3 W's...
Gender:

Female

Familiarity:

I've put it through the wringer
Water, whiskey, wine. All you ever need! This thing has taken a beating and has stayed strong. No leaking, cap stays on tight when not in use. Recommended for your liquid of choice!
GOAT IS GOOD
Familiarity:

I've used it once or twice and have initial impressions
0.8 liter capacity swallows a standard wine bottle. I also use them for extra water/beverage carrying capacity as the compact size fits in nooks/crannies in a backpack or on my frame bag of bike (bikepacking). And like all platy bottles, folds into nothing and weights nearly nothing when empty. Freeze dried stroganoff was like a gourmet meal with a malbec to wash it down with
Save space & drink fancy!
Familiarity:

I've used it several times
For real, just buy the 4 pack. You'll wish you had after the first use. Take multiple bottles of wine on a camping trip with out adding a second cooler? Yes please. (They store hard liquor equally well.) I've also started using them for leftover bottles at home-- sealing the air out keeps your wine from going bad.



The only downside I've noticed is that they can be tricky to dry out after use. I've noticed that blowing a bit of air into the bottle after rinsing helps re-inflate it enough to properly dry out.
Perfect for backcountry boozing
It does what it's supposed to do
Familiarity:

I've used it once or twice and have initial impressions
I brought red wine in it to my recent backpacking trip. No leakage or no change to its taste. I will always bring some red wine in it on my future backpacking trips.
Sneaking in booze has never been easier
Familiarity:

I've used it several times
Picked up the 4 pack and I have been impressed. The days of sneaking in bottles of booze are behind with these great PlatyPreserve. They are awesome and pretty durable from my experience with them. Once the booze runs out just roll it up and put it in your pocket. Packs really small so no issues on taking up space. Highly recommend this for hikes or ever just taking for drinks at sporting events.
Pack in the party supplies
Familiarity:

I've put it through the wringer
The Platypus PlatyPreserve is great for packing your favorite beverages on any adventure. I've used these on river trips, backpacking adventures, and even out on the slopes in a ski jacket sometimes. Once you've finished your favorite tasty beverage these guys pack down small enough that you don't even know they are there. Ditch the glass bottle and pack in a bottle of your favorite booze next time you go do something fun. Do yourself a favor and buy the 4 pack cause you'll want them. Perfectly fits an entire bottle of your favorite booze or wine.
Save a return trip, buy a 4 pack!
Familiarity:

I've put it through the wringer
Simply put... you NEED this if you enjoy any of the following:

Wine, picnics, live music, hiking, outdoors, backpacking with proper beverages, not having to bring extra tools to open wine bottles, or just don't want to crush the rest of your wine while at home but still want some fresh wine to enjoy in the days to come.



If you are really not sure what to do with 4... one for kitchen, one to never leave the camping kit, one in the picnic kit, and one for a special friend that loves grapes too. Cheers!
I should've bought more than one!
Familiarity:

I've put it through the wringer
Did it's job very well, super handy and just the right size. I am kicking myself a little for only buying one!
You have to own this!
Familiarity:

I've put it through the wringer
What an awesome product. We have used ours for camping, hikes, general auto travel, any place we don't want glass or want to deal with a heavy bottle. We have even used it to store a couple of open bottles at home. Rinse with water and they are ready for the next use.
Platypus PlatyPreserve Rocks!
Gender:

Male

Familiarity:

I've put it through the wringer
I'm a big fan of Cascade Designs' Platypus products and the PlatyPreserve is no exception. I've used mine to transport wine to the backcountry, but it's more frequently used around the house. Unfinished wine into the Platy > cap placed loosely > air squeezed out > cap tightened > wine saved and shared over later days! Recommended.