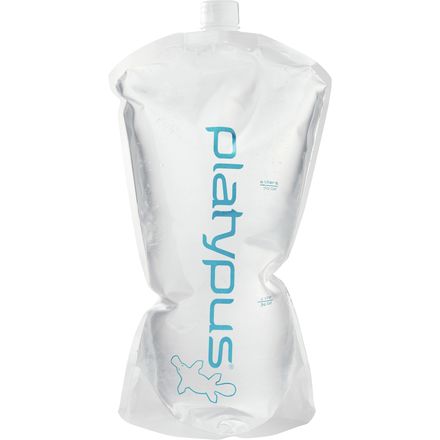 Colors

Community Images
Description
As a standalone bottle or tucked into your backpacking pack, the Platypus Platy Bottle keeps the fluids flowing.
The Platypus Platy Bottle is a portable fluid container that's perfect for backpacking or travel. Platypus shaped the Platy Bottle to fit comfortably in your hand making it easy to drink on the go. The Platy Bottle is significantly lighter in weight than conventional hard plastic bottles, making it an ideal choice for serious backpackers. Add a Platypus Taste-Free Drink Tube to the Platy Bottle and you have a hands-free hydration system.
No need to carry around a big empty water bottle any more. I didn't give it 5 stars because the cap is not attached so it's easy to lose. I'd like to get a smaller version that fits in my jacket pocket for resort days.
Great, easy to carry water bottle
Familiarity:

I've used it several times
I bought two of these and have mainly been using one everyday. I bring it everywhere I go since it easily folds down and is super light. I have a Nalgene too which I like but it is much bulkier and heavy when full. I plan to take these camping, climbing, hiking, etc. And like one user said, no plastic taste at all and they stay pretty clean. Very much a recommended purchase!
nice to have a folding water bottle. not necessarily anything special
light, compact, flavorless
Familiarity:

I've put it through the wringer
I've been using this bladder for awhile now and absolutely love it. It imparts absolutely no plastic taste (I had issues with an MSR bladder that constantly tasted like plastic even after 12 months of use). It doesn't seem to funk up as quickly as a Nalgene (I basically just rinse it after every use), it's pretty damn durable and actually stands upright too. When it's empty it rolls up and takes up almost no space in your pack/pocket. Love this thing so much I bought the 3L as well.
This water bottle is pretty rad. It is the ultimate backpacking water bottle. The more you drink the smaller the bottle gets and when you are done the water bottle is so small it can fit anywhere and weighs nothing.
Basic, simple and compact
Familiarity:

I've put it through the wringer
I pretty much only use this bladder now. I have the 2 liter but it holds over 2 liters. I like that it is really compact when empty.
I like the 2 liter because you can put it in your pack and it conforms to what your pack is doing. I just keep refilling my nalgene bottle and stuff it back in the pack till the last refill. I think it is much easier to use than having two extra rigid nalgenes stuffed in there.



The only reason I go with the rigid nalgenes over this pouch is if I want to put any electrolytes or amino fuel into my bottles. I just use the pouch for plain water.






The perfect minimal bottle
Familiarity:

I've put it through the wringer
I bought two of 1 liter bottles four years ago and it wasn't until recently that one of them sprung a tiny leak. I am amazed they lasted for as long as they did considering the use I got out of them. These bottles survived two years in the Peace Corps, and travelling through Turkey, Ukraine, Moldova, Romania, Hungary, Croatia, Austria, and Germany, and backpacking in Arizona, and the Michigan UP. They've been dropped, stepped on, and used as pillows. The biggest plus is that they take no room when empty, unlike hard case bottles. You can fit them in your pocket when empty. Everyone who has seen them, asked where to find them. An absolutely wonderful product.
Reliable packable bottle
Familiarity:

I've put it through the wringer
I've been using Platypus products for well over a decade now, and am generally quite pleased with their performance. These bottles are no exception.



I purchased 1 and 2 liter bottles to use primarily for backpacking. They're ideal for my treks, mainly because of their efficient packability, as they easily take shape to whichever space they fill. I've also never had any problem whatsoever with punctures, rips, or tears to my Platypus bladders. The simple screw-on lid ensures durability with a seal that you can trust will hold.



My only knock on Platypus bottles is that they require a bit of extra care. When empty, the bottles collapse flat so removing all moisture for sanitation and storage can be a little difficult. In this case however, the functionality of the product certainly outweighs the downside.
Needs a better bottle cap
Familiarity:

I've used it once or twice and have initial impressions
I ended up buying the 1L "easy carry" bottle with the handle. Unfortunately, the only cap that comes with this bottle is a screw-on cap that is not attached to the bottle except when the bottle is closed. I got only 1-1/2 days of use out of this bottle before the inevitable occurred when I was half way up a multi-pitch climb. I dropped the cap as I was taking a drink, and the bottle cap bounced its way down the rock and got stuck someplace in an unknown crevice. I was left with a bottle half full of water and nothing to keep the water from falling out, so I drank all the water early and had no water for the rest of the afternoon. In short, the handle is useful to clip onto your harness, but it's not so useful if you happen to drop the bottle cap when you're climbing. A pop-up bottle cap closure would fix this problem.



I haven't been able to use the bottle since the second day of use since I haven't found a compatible replacement cap yet.
Great for backpacking
Familiarity:

I've put it through the wringer
This a great water bottle. It is pretty durable for what it is- a plastic, flexible water bottle. I use it when I am backpacking along with my Nalgene. Clips right to my pack and when it is empty I just fold it up and put it in a hole in my pack. Super lightweight and dont even know its there.
Like it Better than a Nalgene
Familiarity:

I've put it through the wringer
This does not replace a Nalgene, as that bottle will always be more durable than this bag. With that being said the bag has a special place in my pack. The place where a 2L Nalgene would never fit. This bag can hold 2L of water and has sits flat. The Definitely durable as long as you dont constantly roll it up or fold it. I had one crack on me years ago. The picture shows it in my climbing bag rubbing against all the cams and my nut tool.
This is an excellent lightweight bottle that is very durable and lightweight.

It works well as a reservoir for my MSR filter and packs down to nothing.

I will never bring another water bottle while hiking or skiing.

The weight and packability make this a no brainer


Never looking back
Familiarity:

I've put it through the wringer
The version I received had a screw cap w/ molded in handle. I can't say I tossed out my Kleen Kanteen's and Nalgenes but if somebody is looking for deal, they could score them cheap. The Platypus works with my water filter, stows small when empty and fits in my pack pockets much better. They are not cheaper but good stuff rarely is.
Are these 1L bottles BPA free? Also, I...
Are these 1L bottles BPA free? Also, I would be using this to clip onto my climbing harness, can someone confirm whether this 1L bottle has a handle as shown in the main picture? (some of the user provided pictures appear to be missing the handle). Thanks!
Yes, They are BPA free, and this does have the handle. The platybottle does not, which seems to be what reviewers have pictured. This is the plusbottle, which does have the handle.
My new Nalgene
Gender:

Male

Familiarity:

I've put it through the wringer
I have always used Nalgene water bottles but after purchasing two platypus bottle's, I have been convinced this is a much better design. First off I don't spill water down my neck with the narrow spout. Second, they pack down to virtually nothing which is great for just about any activity. Finally, when full, these pack a lot easier than a bulky water bottle. I can put these in the hydration system pouch that most packs have. This is great especially during the winter when most hydration systems freeze. This is the water bottle to go with, look no further.
Are the 2.0 Liter Platy Bottles just sold...
Are the 2.0 Liter Platy Bottles just sold out or are they no longer stocked?? -Thanks!


Best Answer
Hey Anthony and Ashley,

The 2.0 Liter Platy bottles are just out of stock currently. No worries though, we have more on the way! Although we cannot guarantee a date for you, we should have more in by the end of April. If you have any other questions feel free to call us at 1-800-409-4502
Grant, it is the end of May and the start of the season - are they coming in 2L sizes?

Roman
love it
Familiarity:

I've put it through the wringer
Once tried, always used. Lightweight, durable, plenty of capacity. At 37g (1.3oz) and a volume capacity of 2.3L (78 fl oz) if filled to the brim, it's unmatched. I own two of these, and you'll never catch me on an overnight trip without one.



They're perfect for storing filtered water at basecamp or for some extra capacity between stops without water.
The Platypus Plus Water Bottle is an example of USA made ingenuity. With Platypus making this Plus water Bottle flexible, it gives you the ability to have a container for water (34oz capacity) when you need it, but not take up space and weight (1.3oz when empty) in your pack when you do not. I was never into the whole flexible water bottle.... CLICK LINK BELOW TO CONTINUE FULL REVIEW WITH HD PICTURES



http://www.captainberz.com/2013/12/16/platypus-plus-water-bottle/



www.facebook.com/CaptainBerzFanPage

www.twitter.com/CaptainBerz

www.captainberz.com
Unanswered Question
Is this the old model? Looks like in the...
Is this the old model? Looks like in the pictures. I hope its is as I heard the newer model has a different thread pattern that doesn't work well with the sawer squeeze.



Does anyone have experience with this model and the sawer squeeze?