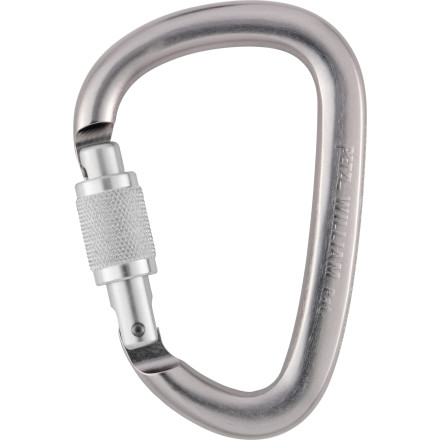 Detail Images

Community Images
Description
The Petzl William Locking Carabiner—big, versatile 'biner.
The Petzl William Locking Carabiner's large gate opening and huge basket makes it an ideal choice for belaying or use at the power point of your anchor. Petzl makes the William Locking Carabiner with a screw gate, ball lock, or Triact gate to appease the preferences of all climbers. Best of all, this locking carabiner includes a keylock gate for snag-free clipping and unclipping. Whether you go with a quick-and-easy gate or an old-school design, this versatile Petzl carabiner should be with you on every climb.
Petzl William Locking Triact
I bought this and paired it with the reverso 4, and have enjoyed the duo. I love the auto lock on the triact carabiner, I no longer have to remember to screw the gate of my belay carabiner. The only complaint I have is that the triact gate takes some getting used to, I recommend sitting and playing with it for a few minutes before you head up the wall.
Simple and easy to use
Familiarity:

I've put it through the wringer
There's not much to write here except to say that the biner works great. It's easy to open (though I've read at least one review here where a reviewer struggles with it) and the thick stock helps a nervous climber like me feel a bit safer. I like the red paint that shows when you haven't locked it down. That paint has actually helped me catch myself once over the past few weeks.

I use this only for indoor top rope sport climbing, so I can't say how it functions as a canyoneering, outdoor, or lead rope device, but overall I'm really happy with it.
how to break something great
Familiarity:

I've used it several times
how do you take arguably the nicest large-locking carabiner on the market and ruin it? simple, you design a twist lock so hard to open that only a safe cracker can manage it with one hand. its impossible to open design is sure to leave you hanging, literally. mine now only racks my slings in my pack...
Strong and Easy to Use
Familiarity:

I've used it several times
I use the Triact version. Easy muscle memory for one handed use. Also rates a couple KN higher than most of the competition. I use primarily with the Reverso as well as Grigri.
Great carabiner
Familiarity:

I've put it through the wringer
I really love these screwgate carabiners. It's got such a smooth action and works so well that I would use them for everything if they were just a little bit cheaper. I use this with the reverso for belaying and after a couple hundred climbs, it's showing almost no wear. Unfortunately, at $16 a piece, they're not exactly my go-to carabiners. Either way, if you have the money to spend, I highly recommend these.
Because I am a bit retarded at times.
I have forgotten to screw my screw locks into their safety position many times before. It isn't until I am unclipping that I realize I forgot to screw the lock down.



What is great about the Triact lock is that once it is in the closed position it is locked.



It just makes it a no brainier.



I am very fortunate that I haven't had issues with any carabiners as of yet so doing reviews on anything other than size and shape and ease of use seems like there really isn't much to say about them. They work or they fail. Pretty black and white. Now add the human element to something that should work and be perfectly safe and you can come up with any number of issues. So I think what is nice about these Carabiners is that they remove one element of forgetfulness out of the equation.




Petzl William Carabiner Keeps On Ticking
Familiarity:

I've put it through the wringer
Petzl products are to be trusted and the William's ease of use during cold weather makes it ideal for mountaineering. I've got both the screwgates and triacts, very pleased with both. I've used them with the Petzl Pirana, belays, and top roping. Years of use and still ticking!!!
Great with Gloves
Familiarity:

I've put it through the wringer
Definitely not for every application. It's big and heavy, and made from thick stock. It can even be a tight fit through some bolt hangers. I wouldn't use it sport climbing, though I might keep one on my rack to munter with if I drop my ATC.



That being said, it is amazing with gloves. It's big with a monstrous opening, doesn't catch on anything, and can hold a seemingly endless number of slings/cords.



So for winter climbing when removing your gloves will be unpleasant, I use these or BD Rocklocks, always with a screw gate (I don't trust triacts, and ball locks are useless with gloves).
Nice and big
Familiarity:

I've used it several times
Good carabiner for anchors, belays. Quite a slick tri-lock action.
Which one is it? Screwgate, ball lock or...
Which one is it? Screwgate, ball lock or triact. It says one size.


Best Answer
If you click on the picture of the style of locking mechanism carabiner you want it will adjust the name of the carabiner in the "color" not the size. All 3 options are available under the "color".
Size is convenient for belay and top rope. Kinda heavy, and the opening sequence for the triact is weird. It is hard to open it one handed. Cool, but not my favorite
Good TR or Belay Biner
Familiarity:

I've put it through the wringer
The size, strength, and durability of these biners make them perfect for toprope master points. The rope runs smoothly through them and they inspire almost as much confidence as steel biners which are substantially heavier. They are an ok belay biner. The DMM Boa is a better choice if you want a large belay biner as its shape resists crossloading much better. I never carry these on trad routes, there are much better lighter weight options like the Attache unless you are climbing in a big group or otherwise anticipate a clusterf*&% at the belays.
William Locking Carabiner blk/purple
Seems well made and easy to use, works great. Shipped fast, thank you
Great biner, particularly for anchors
Familiarity:

I've used it several times
Large, bomber carabiner. A little large for belaying, though excellent for doing so. However, its great for setting up top ropes and anchors. I use the screw gate version instead of the Triact. I liked the Triact, I just prefer the simplicity of the screw gate.
Nice heavy, secure carabiner, I need to practice twisting and lifting it to open.
Quick clip to give perspective on the size.
My name is William and I approve
Got the Tiract Lock. Quick, easy, sturdy. Couldn't ask for more.
Excelente mosqueton que tube comprar por necesidad ya que es de los pocos que le quedan a la pirana y es el mas recomendado. Yo adquiri en tri lock y es buenisimo ya que se cierra y asegura automaticamente y esto evita accidentes, es un poco dificil operarlo con 1 mano, pero en cuanto te acostumbras, es muy facil. yo lo utilizo tambien con mi hijo de 5 años y es muy seguro para el por que no puede abrirlo aun.
Otra cosa que es buenisima es el angulo de apertura que permite meter facilmente cualquier cuerda aun que sea muy gruesa.