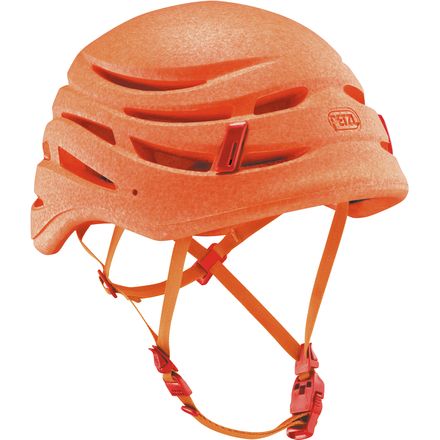 Colors

Videos

Community Images
Description
The new standard in lightweight head protection.
Whether you're tackling heady trad routes or you have aspirations in the big mountains, climbing with a helmet isn't just a good idea, it's a necessity. With the ultralight Petzl Sirocco Helmet, you get the required head protection at under 6 ounces, less than the weight of two quickdraws. The adjustment system gives you a perfect fit and the patented magnetic buckle allows you to secure the chin strap with one hand.
Expanded polypropylene shell provides high impact resistance while keeping the weight under 6oz
Size 1 head circumference is for 48-56cm, size 2 head circumference is for 53-61cm
Textile adjustment system adapts for a perfect fit
Fully ventilated shell keeps you cool and comfortable
Inner comfort foam is lined with absorbent fabric and is removable and washable
Patented Magnetic buckle allows you to secure the chin strap with one hand
Two hooks and rear elastic allow you to attach a headlamp
Two lateral holes provide a place to attach the Petzl Vizion visor (visor sold separately)
PETZL - Ueli Steck NEW Eiger speed solo
PETZL - Commitment to Quality
WOW...light. WOW...tough!
Familiarity:

I've put it through the wringer
I have taken this helmet on multiple international expeditions: A worry for me when I'm packing for a big trip is weight and I'll cut corners wherever I can; but when it comes to lightweight helmets, it is generally just not worth bringing anything other than a helmet made with an ABS shell. If the plane ride doesn't destroy them, the porters/approach will.

Not the case with this helmet!! It is tougher than woodpecker lips!!

Very light. I hardly notice it unless I'm in a chimney or a cramped space.

The color is bright, but in the mountains I appreciate this aspect greatly.

Holds a headlamp very well.

Plenty of room for a warm cap underneath.

It breaths OK, hard to get a helmet with good coverage to breath very good though.

The magnetic strap clip is very cool, it has a tendency to collect some debris, but I just wipe it off occasionally.

The EPP also holds custom artwork very well...see pic (art by Jeremy Collins).

If you want a light, durable helmet, this is the best one made, bar none!
Ugly as a orange rock
Familiarity:

I've put it through the wringer
but tougher than an old nail. This one is not fragile. And it offers a huge amount of head protection. Stand on it, stuff it in the pack and sit on it. No worries. Liekly the technology everyone will eventually be using, If you cna deal with the bright orange color the Sirocco will serve you well and help keep your head in one piece hopefully.
A real helmet at an unreal weight
Gender:

Male

Familiarity:

I've used it once or twice and have initial impressions
The 150/165g spec weights for sz1/2 (respectively) are spot-on (though the listing here is slightly off for sz1), making even my CAMP Speed helmet seem . . . heavy?

First, the not-so-good:

1. Sizing is too big. My head circumference =57.2cm, which matches up well with specs for my various ski/bike/climb helmets, but the 53-61 sz2 sides stick out too much. The sz1 48-56cm just barely fits.

2. Appearance is so bad that it's almost comically good.

3. The straps are so narrow that they can twist when putting on the helmet, but they're so thin that still super comfy.

4. Magnet to enhance one-handed connection of the chin strap is clever, but can allow the strap to be closed insecurely with only one of the two side clips engaged. So just need to remember to check that both sides of the clips are engaged.

5. CAMP Speed comes down a little bit more around the sides for more side impact protection.

6. Vents are ample on the sides, but realistically no climbing helmet will ever vent well at ascent speeds, since it has to be solid up on top to be certified.

Now the (very very) good:

1. Weight. Yes, already mentioned, but so amazing it merits another mention.

2. Durability. As demonstrated by a Petzl rep, you can step on this helmet, smush it, etc., w/o worrying about damage to the thin plastic exterior ... because there is no thin plastic exterior, just a single piece of foam.

3. Can also attach a Petzl Vizion visor.

4. Strap system is brilliant, achieving the same adjustable and snug front<>back fit that is usually achieved by much more bulky adjustment systems/knobs/etc. at the back of the head. In addition to weight savings, less interference with wearing a sun cap underneath or sunglasses retainer.

5. Headlamp clip in back is minimalistic (of course) yet effective, and even securely holds a wide ski goggle strap.