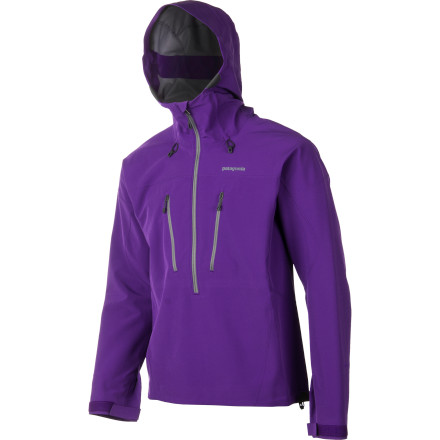 Detail Images

Community Images
The guide book might say that it never rains in Southern Utah, but it doesn't say anything about a lack of wind. Include the Patagonia Knifeblade Pullover in your rack for when the wind starts gusting 500 feet off the ground.
Water-resistant Polartec Power Shield Pro fabric provides protection from wet weather and extreme mountain winds and provides great stretch for making the next big move
Pullover silhouette reduces weight and eliminates bulk under your climbing harness or waist- belt straps
Two-way adjustable helmet-compatible hood with a laminated visor to direct rain and snow away from your face in inclement weather
Modified Y-joint sleeve construction for overhead mobility without jacket lifting at the waist
Cord locks in the hood and hem to seal out rain and snow
Recyclable through Patagonia's Common Threads Garment recycling program
A serious soft-shell
Familiarity:

I've put it through the wringer

Fit:

True to size
The fabric itself does it's job with water resistance, but the seams leak pretty quickly even in mild rain. If it's more than a sprinkle you're going to get wet across the seam in the back and possibly the upper shoulders where the hood meets them. It's not going to soak you, but it'll likely dampen your base layer. This really disappointed me, but I'm still overall rather pleased with the piece. I'm just going to have to keep it in the closet for the colder months. So yes, it still has purpose, but it wasn't my do everything shell I was hoping for. (I should have known! :) haha!)



I found the hood to be pretty good over my Petzl Elios helmet and the touchpoint system is alright I'd say. I'm on the fence but it seems to be OK for now. I'd like to see a little more "bite" in the fasteners they're using but it's holding up ok so far for me.



The fit is surprisingly roomy for being a "slim" fitting design. There is enough room to layer appropriately underneath the shell for some pretty gnarly conditions.



The fabric has held up to some pretty rough granite here in the Southern parts of NM. I haven't had any abrasion related issues so I'd be comfortable saying the fabric is going to take the beatings with a smile.



I believe this piece is well worth it's worth the off season price, but I'd be a bit displeased at the MSRP pricepoint!
40% off?!
Familiarity:

I've put it through the wringer

Fit:

True to size
You got to be kidding me! This is the best material I have used in a soft shell. The entire Knifeblade Series rocks!
The jacket is great as it cuts the wind completely and breathes well when I would sweat. The long cut is great and the jacket tucks under a harness well and stays put.



4 stars because the hood is a little snug with a climbing helmet and this cause some mobility restriction. This required me to leave it slightly unzipped much of time. I can fully-zip the front if I need to, but at a cost.



As for durability, took it through probably 10-20 days of use (primarily climbing, some skiing) and no wear at all. I'm 6'0 180 and a medium gives a good climbing fit.
Simple!
Gender:

Male

Familiarity:

I've put it through the wringer
Thin, light, breathable. A fantastic fit (for me).



I've used this jacket extensively for N. Cascades ski touring, and I must say, it's one of the very best uninsulated softshells on the market. This is my jacket of choice for the up, and the insulated softshell goes right over it for the downhill.



Pluses:

+ balance of wind protection and breathability

+ Light, simple (only 2 zippered pockets)

+ really nice fit (gusseted sleeves that fit over gloves, excellent hood)



Minuses:

- Where's the rest of my zipper? I don't want to take it off over my head!


This one's a keeper.
Familiarity:

I've put it through the wringer
Been using the Knifeblade since it was introduced better than a year ago? It has stood up to City of Rock granite without a scuff or single hole. It breaths very well but is still windproof, IME.

Hood fits nicely over a climbing helmet and the fit of the jacket under a climbing harness is very good.

Breathability (sp?) is awesome, especially for a 'sweater' like myself. Touchpoint system on the hood and waist could be a bit better, but that is the only negative thing about the Knifeblade.

Fit, for me, is superb. I am 5'9" 200# and wear a 44" suitcoat. I can fit a cap3 and R1 hoody under the knifeblade with no trouble at all. That combination is about perfect for my needs.



EDIT: I haven't had this jacket in a heavy rain, but in heavy snow -fall, it stays dry for me.
Its a soft shell, its not waterproof
Gender:

Male

Familiarity:

I've used it several times
This is a great, simple, light weight soft shell. I love it for its versatility and great fit. I'm 6'3, 180# and wear a medium. I can fit a puffy under it, which makes it a little more restrictive, but still workable. It breathes fairly well and dries quickly if it does get wet. I've experienced some moderate rain and did get a little dampness where my backpack shoulder straps were sitting, but nothing elsewhere. Hood is a little tight over a ski helmet, but better with a rock helmet. Overall, great product - and it fits awesome with a climbing harness on!
Sorry for the vague and general question....
Sorry for the vague and general question. Where are the major differences, in uses, between the Knifeblade and Northwall jackets? Do I need both in my arsenal, i can totally justify it if I really wanted, Hi my name is Eric and I'm a gear whore.
Eric,
The Knifeblade and the Northwall have the same Power Shield Pro shell fabric, but the Northwall is a full-zip, super cozy insulated version. Both are pretty awesome for sure. Congrats on admitting you're a gear whore!
This implementation seems just about as good as any other Power Shield Pro jacket (PSP). At 5k mm waterproof rating, the fabric should be waterproof enough for most of my uses (compared to Gore-Tex at 28k and Neo Shell at 10k). Like almost every other PSP jacket out there, the seams aren't taped and the zippers aren't water resistant. It seems that this is a limitation of the fabric -- the only PSP jacket I've seen with taped seams is the Eider Power Pro which has seam tape on the outside of the jacket where it's probably more susceptible to wear. At around 2 CFM air permeability this stuff should strike a really nice balance between breathability and wind protection (compared to more or less 0 with Gore-Tex and eVent, and around 6 CFM or so for the original Power Shield). So, I'm bummed that the moisture protection isn't quite what it could be. Should be great for colder alpine applications where there won't be too much liquid water trying to push through the untaped seams, but it's not going to hold up in serious rain. So, there is a place for this in my outerwear arsenal, but it's not going to entirely replace my hard shells.

The "tricot" lining is extremely thin and flat. No insulation value at all, really, just there to encapsulate the membrane. It functions more like an unlined hardshell. I'm a fan of this feature as I run very hot, even in cold weather, and usually don't require any insulation when active. It also keeps the jacket on the light side, though my size L comes in at 550g on my scale, so I'm not sure I'd believe the manufacturer's weight.

Fit is where this piece really shines. It's a bit more trim fitting than most Patagonia gear, but still pretty comfortable on my shape which is just a bit to the other side of athletic. A perfect cut and nice stretch results in a shell that really moves with you; it's the most comfortable shell that I've worn. At a not quite athletic 6'1" 185lbs, L is a perfect fit. Not bulky, but can fit a R2 fleece or Nano Puff underneath pretty comfortably. Helmet is a bit snug on my ski helmet, but much better if I unzip the collar a couple inches. Hood should fit excellently on lower profile climbing helmets. It is a pullover, for better or worse.

At full retail price this jacket probably wouldn't make total sense for me, but at the current off season close out price it's hard to pass up. As it's June, it'll be a while before I can put this through its paces, but I'll report back. I do wonder if the increased wind/water resistance over most other softshells will be worth the trade off in breathability given the weak spots in the seams and zippers. Sure, there are times that this will be the perfect choice, but I'm not sure how often I will overlook this piece for a more breathable softshell or more water resistant hardshell.
Hi, I'm 5'6", 125 lb. Should I go with...
Hi, I'm 5'6", 125 lb. Should I go with Small or Xs? I wear a xs R2. It fits perfect although a little short on sleeve and waste, small is kind of baggy. Thanks.
Depends if you want to wear it with the R2 underneath, or as a single layer. I would go with the XS for the second use. Great jacket for that. If you want to do layering (which this jacket really isn't designed for) then go with a small.
I bought this jacket (and four others, including TNF Kishtwar, MH Kepler, Marmot Kingpin, Patagonia Guide Hoody) to try it on, but I haven't decided yet if I'm going to keep it or one of the others. Here's my take so far, though. I'm 6'1" and 165-lbs. The medium is an excellent fit. The fit is slim enough to prevent bulk, but I can put a Capilene 3 shirt and a Nano Puff pullover underneath without too much restriction in movement. I have long arms, and of all the jackets I tried on, this jacket by far has the longest arms. I can reach over head without the jacket pulling up at my waist. The fabric stretches really well, too. I was worried about the pullover design, but it opens really far and easily goes over my head, even when I'm wearing a ski helmet. The hood is listed as helmet compatible, but it's a really tight fit over my ski helmet (Giro G10, size M). It works pretty well over my climbing helmet, though (BD Tracer, size M), allowing me to look side to side and straight up without too much restriction. For reference, the Mountain Hardwear Kepler (size medium) has a much, much better hood when it comes to helmet compatibility, but the super short sleeves were a deal breaker for me. In addition, the Kishtwar's hood is almost impossible to get over a climbing helmet, and a ski helmet is out of the question. The quality and attention to detail in the Knifeblade seem far superior to that of the Guide Hoody, which also suffers from short sleeves. Right now I'm debating between the Knifeblade and the Kishtwar. These two stand far above the other three, at least in my opinion. The Kepler would be with them if it didn't have such a poor fit for me.
Rick,
The Knifeblade Pullover is from Patagonia's Fall 2011 season.
How breathable? I am quite interested in...
How breathable?
I am quite interested in the Knifeblade as a climbing jacket, but I have a major problem with perspiration-therefore I need something that is very breathable.
Any input would be appreciated!
it's polar-tec powershield, so in my experience if you are active in greater than 30-40 degrees F, you are going to be hot...and their are lighter jackets out there for said purpose...
Dean and Jason,
Appreciate the help, fellas.
Jason, I should have stated that I am wanting this for cold weather use.
This is a very deceiving chart. It is drawn so that you many infer that Powershield is almost as breathable as 200 fleece. If you look closer you will see that 200 fleece rating should be completely off the chart. It is rated as 250 units, compare to 7 for PowerShield material. That means that the best powershield is 20 times less breathable than the 200 fleece. If the chart were drawn to scale it would be hard to see the difference Powershield, PowerShield pro and the garbage bag. This is ridiculously bad marketing .
Oh and since Knifeblade is made with power shield Pro rated at 2 units, this jacket is roughly 100 times less breathable than standard 200 fleece. It is a reasonable number for a waterproof Goretex like material, though it doesn't make for great marketing slogan. Why can't companies just be honest about their products?
Just my $0.02, but this jacket is wayyy breathable for something with a membrane and 99% windproof. When I'm wearing it with a thin baselayer, it's noticeably more breathable than even a similar windstopper piece. No, it won't be nearly as breathable as fleece or anything w/o a membrane, but if you're exerting a lot and in a cold, windy environment, you're riding that line between needing to dump off your own moisture and at the same time prevent too much heat loss from wind.
How much insulation does this jacket...
How much insulation does this jacket have?

Thanks, Ian
Best Answer
Ian,
The Knifeblade Pullover is a soft shell with no insulation. The Northwall Jacket from Patagonia incorporates the same Polartec Powershield Pro technology, but with a high loft fleece interior for added insulation. Both are pretty awesome
Write your question here...Does this...
Write your question here...Does this pullover have armpit zippers?
Nope. Its made of a textile that has a lot more breathability than the most breathable hardshells, so they're not really necessary.