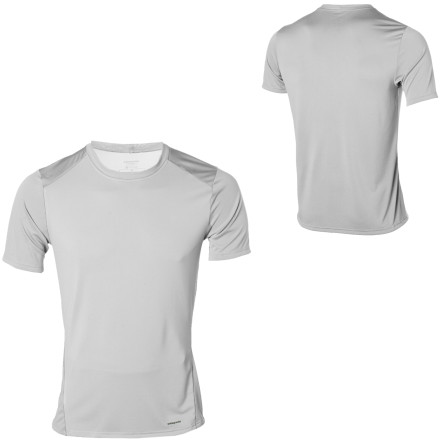 Detail Images
Cotton kills. Well, maybe that is a bit dramatic, but it's not too far off when you are in the outdoors. Sure, cotton has a place, but unless you want to be soggy, sweaty, stinky, and clammy, wear something else. The Patagonia Men's Capilene 1 Short-Sleeve T-Shirt uses recycled polyester fabric to wick moisture and keep you dry (it's also environmentally friendly). Patagonia's Guardian odor control system help keep you fresh, and a UPF-15 rating lets you play in the sun longer without getting burned.
awesome shirt, with athletic fit
Great wicking Tshirt. I bought this along with the Stoic breathe shirts of summer backpacking and working out. This one is much better made. I've worn the hell out of it and it looks great. The threads on the stoics on the other hand started to pull out almost immediately. This shirt is awesome and the fit is very trim which is a plus for me .
THis is a great product with excellent material quality. Great product for Running, Biking or working out in the gym.
Good look, runs a bit small.
I really like the look of this shirt. The feel is what you would expect from a technical shirt. I'm a bigger fan of the Stoic Breathe shirt, which feels much lighter.
Couldn't quite get it to fit right
I tried both the medium and the large but couldn't get either to fit right. The large was too loose and the medium was too tight. Really liked the nice lightweight feel of the shirt but just couldn't get it to fit quite right. I'm about 5'11", 170 and have a 33 waist. If you can get it to fit you, I think it would be a great piece.
One of the best baselayers around
The Patagonia capilene line is awesome. They haVe four different types of capilene; each for a different weather condition and temperature. The capilene 1 is the lightest. It is made of 100% polyester, which dries very fast. However, the texture and feel is almost exactly like silk.
I take an xl, and I feel like It fits me very well. Most t shirts that I have fit me like a pup tent, meaning they fit ok in the shoulders, but are much too wide around the waist. The capilene 1 fits so much better, so if I don't tuck it in, it doesn't flap in the breeze.
Even though the fabric is thin, it is very durable. As I read the reviews, it sound like most people prefer the cap 2 above the cap 1. However I like the cap 1 better. The reason being that if I don't shave for a day or two and wear the cap 2, my whiskers sometimes rub against the fabric of the shirt and create pilling under the chin and on the shoulders. The cap one has never pilled, even a little bit.
I got most of my cap 1 shirts on sale. Even though I really like them, I'd have a hard time paying full price for them.
Works Great As An Undershirt
I use these as undershirts. They are slim fitting, long enough to tuck, and comfortable. Additionally, the sleeves are short enough so they don't stick out underneath short sleeve dress shirts. The medium fits great (I'm 6'1", 175).
Don't throw away the deodorant just yet
I bought (2) of the Capilene 1 shirts. They're super lightweight and great for running. However, Patagonia claims they have an odor shield, but I have disagree. If anything the shirts make me smell WORSE than if I was to use a normal cotton t-shirt. Something about the fabric concentrates the smell of BO, even with deodorant. Bottom line: great shirt if you're going to be off the beaten trail, and, hopefully, not around anyone else.
This is a fantastic moisture wicking t-shirt that excels when trail running or riding a bicycle. It is comfortable and has an athletic fit that isn't binding and allows range of motion. Fabric is soft and feels good against your skin.