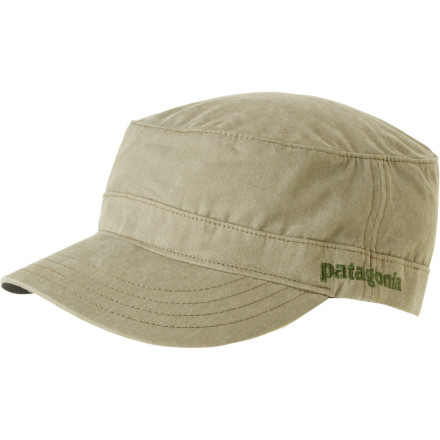 Detail Images

Community Images
Cruising the crags for a new project or grabbing a quick cup of Joe at the corner store? The Patagonia Cadet Hat keeps you looking squared away. A short brim shades your eyes from the beating summer sun and a regular fit slides on a variety of head sizes. Organic cotton canvas makes this hat fully recyclable and worthy of years of backpacking, hitchhiking, and playing "get the hat back" from mischevious canine pals.
I have this in the green color (which is actually closer to an army green than what the pics show.) It has been my "go to" hat for the past year and is still going strong. After a hike or lawn mow when it gets sweat soaked or has any kind of odor from the mower exhaust I usually just take it in the shower with me and give it a quick hand soap wash then toss it in the dryer for a few minutes after. Doing this repeatedly has not had any affect on the color, stitching, brim shape, or fit. It is holding together so well I am about to order the Mud color to add to my rotation. Plus, 100% organic cotton is great! Best Use: Everyday
Loved the hat, except that the "green" looks khaki in the picture with a green insignia. But the hat is green with a green insignia!
good comfy hat. 100% organic cotton so it doesnt wick sweat away or dry as quickly as other materials might, but its reasonably priced. the sizing chart is way way off in my opinion. i wear a 7 3/8 in fitted hats, which according to the size chart would put me in a large. i was swimming in it. i think a five gallon bucket would have provided a better fit. but, being cotton, i soaked it and put it in the drier on high twice and it shrunk just enough. fits well now. I should also mention that the color of the "alpha green" is actually a grayish-green. it is not the khaki color shown in the pictures. all that said, this is a hat, and it functions as such.