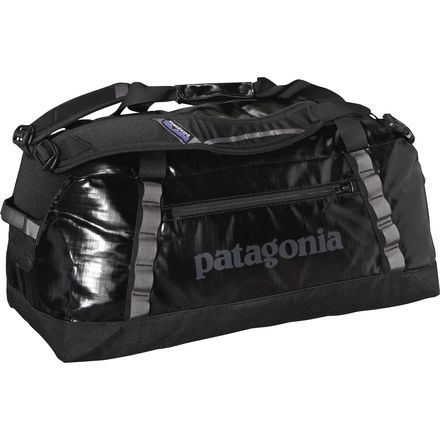 Colors

Detail Images

Community Images
Description
Defies physics.
Tell your astrophysicist and sci-fi friends that Patagonia found out what's in a black hole, or at least the Black Hole 60L Duffel Bag: your climbing, hiking, and traveling gear from your last five-day trip. Inspired by rugged-yet-light alpine packs, the Black Hole features a burly ripstop fabric filmed in a TPU laminate and coated with DWR for the ultimate in outdoors protection. The padded base protects your gear throughout the trip, and Patagonia padded the removable shoulder strap and removable backpack straps for comfort. Internal organizers and zippered mesh pockets organize all the small things, while the external side pocket stows the duffel for compact storage. Compression straps prevent your gear from bouncing around whether you're traveling via airplane or four-wheeler.
Removable, padded backpack straps
Laminated ripstop fabric with DWR finish
Protective padded base
Zippered top access
Internal organizers and zippered mesh pockets
Duffel stows inside zippered side pocket
Internal compression
Unanswered Question
How do you fold it back into its pocket for storage?

Unanswered Question
What are the interior colors and how dark/light is it for the interior of all the duffle colors available including classic red? I'm looking for interior colors that are light so it is easier to find things. I don't want to be lost in a "black hole"!
Unanswered Question
Can a single shoulder strap be purchased separately? Or can the backpack strap be utilized as a shoulder strap?
Perfect
Familiarity:

I've put it through the wringer
I have owned a couple different black hole bags in the past, and now know not to loan to friends and family as they will not return such a sweet bag. In the end i needed a travel bag that will be at home on a desert expedition, worldwide travel and anything in between. The black hole duffel is hands-down the most durable bag on the market. You are not only purchasing what will be your most favorite pack, but the most durable, water-resistant and good looking duffel bag ever made (IMHO). Do yourself a favor and grab yourself one.
Does this bag have the traditional single over the shoulder strap or just the backpack style straps?
Travers,

just the backpack straps. They extend fairly long, so they work fine over the shoulder as well.
Hi.

Cannot figure out how to attach backpack straps on my 60L Patagonia duffel. An I missing a strap? I understand the clip part but not the opposite end.

Help?
i had the same question and eventually figured out that the bottom end of the backpack strap (opposite the clipped end) slides diagonally through the plastic part attached to the bag. Hope that makes sense
This is the perfect bag for any trip. I use this bag primary for climbing trips, super durable and easy to clean out once you get a bunch of dirt in it. This bag also doubles as my carry-on bag when I fly.
Durable!
Familiarity:

I've put it through the wringer
I use this bag primarily for weekend trips and ultimate frisbee tournaments. It's incredible.



The goods (and greats!):

1. It's waterproof. Maybe not throw-in-the-river waterproof, but downpour-proof. Too many weekends to count I've been outside all day with this bag and had the PNW living up to its grey, rainy reputation, and everything inside stays dry. Wet grass? Who cares. Throw that sucker on the ground.

2. Scratch-resistant. This bag is made of really durable materials. drag it along concrete? Fine. Dog stepping all over it in the back of the car? A-OK.

3. Can be used as an airline carry-on. If it's stuffed full, it may be a tight squeeze, but it can be done. If there's a little extra room, you're golden.

4. The 60L is a great size for weekend trips. I travel nearly every weekend, and all the things I take with me that fit in this bag include: Sleeping bag. Sleeping pad. Cleats. Chacos. Clothes for two days. Party clothes. Toiletries. Travel towel. 2 days of dog food. Swimsuit (just in case!). Frisbee. Water bottle. Lots of socks. More??

5. The backpack straps are so excellent. Just really a brilliant move.

6. The internal pockets easily fit toothbrush/paste, shampoo/conditioner, ibuprofen, bandaids, hair ties, chapstick, travel towel, basically all the things you needs to get out quickly. And because they're mesh it's really easy to find what you need.



The less-than-greats:

1. While the backpack straps are awesome, they aren't comfortable for long distances if the bag is full. Without a hip belt it gets really uncomfortable. Getting through the airport is totally fine, but I wouldn't want to hike 5 miles with it. If the bag isn't totally full and thus isn't heavy, then they're fine.

2. Because it's a duffel, things can get lost inside. I just recently got some luggage organizers and they've made it much better.



Overall: Yes! Buy it! It will make your life better!

Happy trails!
Perfect For Fishing Trips
Familiarity:

I've used it once or twice and have initial impressions
Bought this bag to use on a two day offshore fishing trip. It fit all the clothing I needed and even a pair of size 13 fishing boots. It also kept items dry when I left the bag out on the deck of the boat.
If you could only buy one bag
Familiarity:

I've put it through the wringer
I LOVE this duffel! It definitely lives up to its name. I have taken this bag on many week long trips and I can always fit everything I need with room to spare.

Favorite features
-Size: The size of this bag is perfect for traveling on airplanes, it fits in the overhead compartment perfectly.
-Backpack straps: I was traveling with my sister and she was jealous that I could wear the duffel as a backpack, while she was wheeling around her luggage. They are also removable so you can take them off if you don't need them.
-Zipper: The zippers on this bag are pretty big and beefy. I don't have to worry about breaking the zipper when I'm stuffing this bag as full I can.

I have the older model, and just got the new one. The front zipper is now accessible from the inside as we well, and there are compression straps in the bag to pack your stuff in even more!
Just keeps going and going
Familiarity:

I've used it several times
Seriously this duffle is amazing for expeditions or traveling in general. If you want something that will hold A LOT of gear, and NOT RIP and for you stuff to NOT GET WET this is your bag. The Material is super abrasion resistant and water resistant so if it's raining whilst getting off the plane you don't have to worry about your gear or clothing getting wet. Also the luggage handlers can toss, kick and drop your bag but the contents will never come out. The only way you are going to get through this bag is if you take a sharp blade to it. Also when you are not using it, it packs down pretty small so it doesn't take up much room. Which is surprising because it hold so much. Anyway what I'm getting at is that this bag is bad ass and will transport your gear safely and together!
Is the 60L carry-on size?
Agnes,



Most US carry-on restrictions are in the neighborhood of 22" x 14" x 9" -- the 60L Black Hole is ~25" x 13" x 10". I've used it as a carry-on five or six times, but not fully packed. If it were 100% full, packed to the gills, you might not get away with it, but for the most part, I'd say yes, it'll work fine as a carry-on.



Let me know if you have any other questions-- I'd be happy to help! I can be reached via email at llabar@backcountry.com or 801.736.6399.
This is a great carry on!
Best Answer
I packed mine to the gills, and though it was about 2.5 inches over the total restriction for American Airlines, no one said a word to me about it, maybe because I had it on my back, and most backpacks are well within guidelines. So for me, this was awesome as a carry on, and I loved getting to use it as a "backpack". But beware that different airlines have different restrictions and also have an up-charge if you claim it as a checked bag AT the airport (rather than doing it online beforehand). But some airlines also let things slide. Worst case scenario, they may tell you it's too big at the gate--just take a couple things out of it and squeeze it down to make it fit in their little size-tester-thingamajigs (something you can't do with a boxy suitcase)--it can surely take the rough handling! :) Good luck!!!
What color is the interior of the black bag?
Best Answer
Alex,

The interior is light grey for the black model.
Got the 60L Black Hole, and it's a great addition to the duffel stash! I love how burly the material is, it's super reliable and love the protection. Plus it stashes really well, not as bulky as you may expect from such a thick bag. The biggest plus I love is the pockets- the external pocket is easy to access, and it's awesome that there are two internal pockets as well so the small goods don't get lost in the vortex of your other stuff. And the zippers work seamlessly, seems to be a common issue in working with such thick materials. Overall, great bag for shorter trips or packing light!
What are the dimensions of this bag (L, H, W)?
Hey Ben,



This bag is 25" x 13" x 10"
video that explains the straps and size
this is a great video pulled from the Patagonia site that shows the straps and then the relative size of the bag as well. Check it. If you have any questions, hit any of us up on the chat service and we will be happy to help!
Patagonia Black Hole 60L video review
Wondering why they went to 900d from the previous version that is 1200d and how that is heavier duty than the previous version.
Best Answer
Hello uraudi, what a good question. The previous model was made with 14.7-oz. 1,200-denier 100% polyester, whereas the new model is made with 15-oz. 900-denier 100% polyester ripstop. The fabric's weight does affect abrasion resistance, so the newer model is made with "ripstop" polyester, whereas the previous model--though coming in at 1200d--is not listed as ripstop (ripstop refers to the weaving of fibers into the fabric into a diamond or square shape that, when punctured or torn, are better able to stop the tear from growing). You can actually see the difference in the fabric, with the one the right being the new, 900d polyester ripstop (see the characteristic ripstop squares?) with the one on the left being the older model. So, the bottom line is the integrity might be even better in the new model, despite the difference in denier.



I hope that helps!
Thanks for the reply, that answers my question.
Bomb proof bag.
Familiarity:

I've put it through the wringer
I used this bag for traveling through south east Asia. It fits nicely in over head compartment. The straps aren't the most comfortable but great if you are just throwing it on your back for a short trip. It isn't a dry bag, but kept all my belongings nice and dry through a couple downpours.
What are the differences between this and the previous version other than a $10 difference. It also looks like the external attachment points are shifted a bit. Anything else?
great question. The Black Hole bags were fully redesigned for this season.

Here are the updates:

New more durable fabric.

Updated pack strap interface - more secure and easier to take on and off

Internal compression straps

The entire bag self stuffs into the front pocket

(we should have a video available soon detailing all of the updates as well)