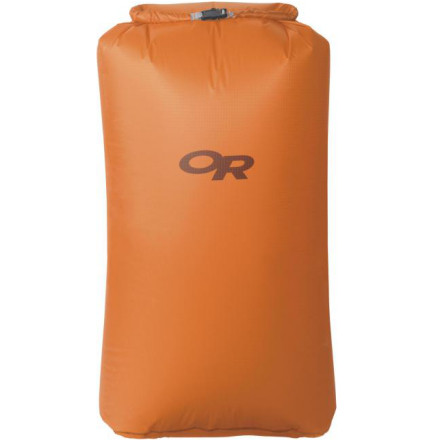 For extended backpacking trips in Alaska, the Pacific Northwest, or other soggy locales where a hydro-douching is all but guaranteed, throw the Outdoor Research Ultralight Dry Pack Liner in your backpack and keep all your stuff dry as a bone. This lightweight roll-top sack features seam-taped waterproof nylon with a durable buckle to keep out aqueous intrusions. After a steady downpour or a failed creek crossing, this pack liner will have a pair of dry undies waiting for you.
The actual weight of the 45L bag is 3.90 oz, not the advertised 3.3 oz.
I love this liner. Some folks look at this as extra weight but to me it its more than a liner. Yes its almost a quarter pound but still one of the lightest available. After having 2L of water from a hydration bladder emtpy in my pack and a poorly placed foot on a slippery river crossing you will quickly come to appreciate the benefits of using one. I use the 55L in my Aether 85. Its denier is the perfect balance of strength against abrasion and tears but still maintains a decent weight. It works great as a bear bag if needed. Here in the PNW we get alot of rain and being 6'1" and a restless sleeper I often end up with my feet brushing the tent wall and with a down bag that can cause cold nights and delays when your trying to dry out your bag in the morning so not to pack it damp leading to more issues down the road. It has a large opening that swallows the lower foot and half my Plasma 30 with my legs inside. This liner is a great piece of gear and a good value, I would get it again if it needed to be replaced!
Will the 55L liner propperly fit into a...
Will the 55L liner propperly fit into a BD Quantum 55? The dimensions appear somewhat 'squatty' in comparison to the BD's dimensions... more like 32x17
I got the 55L for my Osprey Aether 85 and discovered it was a bit large for this pack, but that also makes it more usefull if you utilize it for more than one role.
It ALWAYS rains in the desert!
Every time I go desert hiking in the spring it rains. "Desert Dry" is a myth. In '08 four of us went to the Escalante river area. Camped on Egypt trail head and was awoken to the roar of waterfalls from the cliffs below. Two days later the river had subsided enough to allow us to go in Harris Wash. I swam several times in what should have been a knee deep river. Thanks to my pack liner, anything I was not wearing was nice and dry. (my pack is the little one)