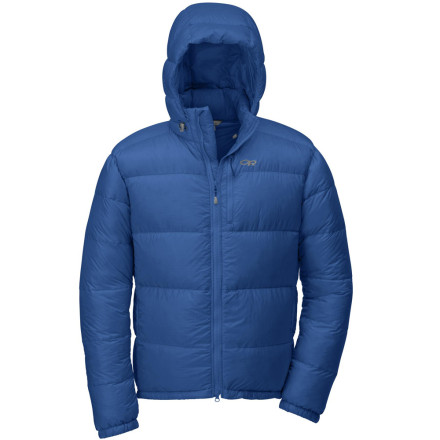 Community Images
Perfect for ice-climbing belay, the ultra-compressible, water resistant Outdoor Research Maestro Down Jacket will keep you warm when stationary in bone chilling weather. 800+ down fill insulation retains heat, while the water-resistant and breathable Pertex Quantum fabric shields from the elements.
Handwarmer patch pockets with stretch binding keeps your hands nice and toasty
Internal chest pocket with media port keeps entertainment tangle free
Zippered back pocket doubles as stuff sack and pillow
Fully adjustable down-filled hood seals out cold
Articulated elbows for an ergonomic fit
I think this is probably the nicest down jacket I have ever owned. It seems pretty warm (altough it is loosing warmth/feathers fast.) The Pertex shell is very thin, and the jacket tears really easy. I have been using this jacket for several months throughout a wide variety of winter alpine activitys. Spent several nights bivying in this jacket also, and It does seem to be losing warmth pretty fast.
am looking for a good belay jacket while...
am looking for a good belay jacket while ice climbing. consider:

1. montbell frostline

2. OR maestro

3. OR incandescent

need to be:

1. warm in temps <20F

2. light weight, compressible/packable in small bullet bag while multipitch ice climbing

any suggestions on best of the above for this use?
I have no experience with OR products of any sort or style, but I have two different MontBell jackets, one Alpine Light Down Parka, as well as one Thermawrap Guide Jacket, and they are both phenomenal; I would go so far as to posit that they are some of the best pieces of clothing I've ever invested in.

That being said, my MontBells have both come with stuff sacks included, the synthetic Thermawrap being slightly larger both stuffed and worn than the down, but not by much; I would post pictures for you to see the size, but I've been trying to figure out why I cannot post any sort of media to BC's website; currently, I'm still waiting on a response from one Brett Allen to reply to me with a possible solution. Anyhow, for the synthetic, imagine a Nalgene bottle maybe 1/3 bigger and that is the stuffed size of that particular jacket. If I had to guess, I would gander that the MB Frostline parka would likely be right around that, given it's meant for more tempestuous conditions than is the Alpine Light, therefore containing a little more down fill to protect you.

Volubility cut short, I recommend anything MB, so I guess that makes me a little biased; however, I wouldn't have that bias without any basis for producing and maintaining it, so...
Not that warm...
Gender:

Male

Familiarity:

I've put it through the wringer
This jacket is told to be super warm but that's not really it. A lack of down fill is clearly at the back and at some other places. I tried it at -30c and I was happy to have some other very warm clothes under the jacket because it would have not kept me warm enough. Also, a lot of down feathers are getting out of the Pretex shell which seems relatively fragile. So I would not recommend this jacket for a very cold day in ice climbing. Instead I would recommend the Incandescent Jacket which is as hot as the Maestro but more packable and lighter.
Super warm jacket
Gender:

Male

Familiarity:

I've used it several times
I used this jacket while ice climbing in Montana a few weeks ago... in blowing wind and around 0F and felt amazingly cozy. Also it did a good job while snow camping - put it on, and you are warm.

Size-wise: I am like 6'/190lbs and got a large, so it perfectly fits over all layers - I especially liked the fact, that it covered even my butt. If you wear it, it is so voluminous, that you look like the michelin man from a commercial - but at least it keeps you warm!

It stuffs down pretty well, thus also good as a "summit-jacket" while ski touring.
What a great jacket. The fit is exactly what is needed for layering while climbing. I'm 6'2" and the large is a perfect fit. The hood fits over a helmet. One writer wrote that it didn't have zippered pockets. This was a concern for me, but I actually like it without the zippers. The jacket stuffs into a rear pocket and works well for a pillow.
Je pars bientôt pour le Yukon, j'ai décidé d'acheter un manteau de type Belay pour l'hivers.

Je l'ai reçu aujourd'hui, et la qualité de la construction est supérieur à tout ce que j'ai pu voir à la MEC ou chez Atmosphère.

Ultra-chaud, comme un sac de couchage.
Il se transforme en oreiller lorsqu'il est rangé dans sa poche dorsal.

J'ai hâte de le tester sur le champ, mais jusqu'à présent, il ne fait aucun doute que son prix réflète sa qualité. La couleur verte est ultra-jolie, beaucoup plus que laisse présager la photo.

J'ai magasiné pendant 1 mois pour trouver LE manteau, j'ai l'impression que je l'ai trouvé!
I was looking for a down jacket to keep me warm on frigid summits. I ordered the Maestro and the MH Kelvinator.

Fit: The Maestro was very big/loose on me. A size Large (6'1", 195) swamped me. The hood covered my eyes and overall just felt way too big. The fit on the Kelvinator was spot on and quite a bit more athletic. The non-zippered front pockets were also a downside on the OR product. The sleeve cuffs have elastic on the Maestro where the Kelvinator has elastic and velcro straps. Compared to the MH jacket, the Maestro just wasn't what I was looking for.
Great Jacket, we love it.
The blue color is great, not so shiny when you wear it.
It's pocket can put it like a small bag, it's easy to take out.
Hi, Is this jacket suitable for mountaineering...
Hi,
Is this jacket suitable for mountaineering up to 7000m where it gets down to -20C?
Obviously it's not gonna be -20C all the time and will be walking most of the day, but at night it will definitely reach -20C.
Planning to wear it on top of merino baselayers, softshell, fleece top and under wind/rain proof jacket.

Thank you.
Hi akz,

Thanks for the question. As far as warmth goes, you are definitely looking at the correct jacket for what you are doing and how you are layering. The 800 fill down will be perfect as a down layering piece for those type of temperatures if you will be at least walking around.

The only thing that I would stress to get right here would be sizing as the Outdoor Research Maestro Down Jacket does fit a bit bigger than true to size, but with fitting all those layers underneath a shell, be sure to get a size that won't restrict your movement. I hope this answer helps you out.
This jacket fits big. I'm 5'10" 140 lbs and can throw this on over everything - including my pack. Is it the perfect belay jacket? - that depends on your needs. I like down over synthetic most of the time. This jacket is highly compressible(even though it stashes into itself, it's better to put it in a small bag for packing), and pretty water resistant. I wouldn't use it on a week-long winter expedition. For everything else under that - it's perfect. Insanely warm and light. Super-comfy.
This seems like an awesome jacket, but I returned it because the hand warmer pockets did not have zippers. 1. you cant stash anything in them, and 2. I imagine in windy conditions that the wind would blow into them. I know its a small detail, but a dealbreaker for me with so many other good jackets out there to choose from.
How does the Maestro compare to the Rab...
How does the Maestro compare to the Rab Infinity in terms of warmth/function? I'm looking for a puffy for an Alaska trip in February, that will also double as camp chillin warmth in desert winter trips/sierra 11k+ summer trips. All the bells and whistles on this one look perfect, but I'm worried this is a bit warm for anything after the Alaska trip.
Does outdoor research down jackets run...
Does outdoor research down jackets run larger than mt.hardware jackets,ordered mt hardware down jacket in med,was too small.
I would say so. I've tried the MH Subzero and found it more "athletic". This jacket here is very large on me in size medium. I can throw it on over all my gear - including pack at the belays.
I am looking to replace and older model...
I am looking to replace and older model MH Sub-Zero with a lighter 800 fill jacket. At 5-9" and 160# would I be looking at the Maestro in a Medium or Small?
I like a trim cut and not too long but really want this as a belay jacket for ice climbing, and winter, of course. Will need to use over 2-3 layers and a soft shell. I have a trimmer and lighter Patagonia fitz roy down jacket (non-hood) for warmer days too. Any opinions on size and how much this rocks for uber cold?
Best Answer
Jake,
You should go with the Medium. It will give you room to layer over 2-3 layers. The OR Maestro will provide nice protection against all but the absolute coldest of days. It should handle anything in the lower 48.
This is a great piece of gear, i'm 5'7" 170lbs and the medium fits over climbing layers just fine. it is longer than most, it covers most of my butt. it is light, 22 oz. to be exact you won't be unhappy if you get one.
How does this compare to the mountain...
How does this compare to the mountain hardwear sub zero jacket and the MH absolute zero jacket?
Best Answer
Well, this jacket is a different kind of puffy than either of those Mtn Hardwear jackets. This is meant to be have great packability--basically an intensely warm belay jacket. 800 fill, 20D fabric (really light), and packs into a pocket on the back of the jacket. It is not meant really to be awesome as an external jacket as the external fabric is not super weather-proof--so when the weather goes south, you're throwing a shell over this puppy...

The Sub Zero and Absolute Zero are both meant to be an external jacket as they both have some level of weather proofing. The SZ is a 650 fill jacket (so the down is not has warm for the weight). The AZ is waterproof and really beefy for the absolute coldest conditions... Neither of these jackets are made for ultra packable comfort--they are made more to be beefy, weather resistant/proof outerwear.

The OR Virtuoso is more like the MH Sub Zero and the Western Mountaineering Ion Parka is more like the MH Absolute Zero.

Hope this helps!
Unanswered Question
How does this compare to the mountain...
How does this compare to the mountain hardwear sub zero jacket and the MH absolute zero jacket?
This puffy traps your body heat like a greenhouse. Blazing hot! Whip it out of your pack at chilly times and feel the warmth instantly. Nothing stores body heat better then lofty down, and when your stationary, every bit of warmth helps.

I got this jacket mainly for winter splitboard camping. So i love the stash/pillow pocket- 2 birds with 1 stone! I also live in a super old house in which we rarely run the heating, but really there is no need for heating if you own a Maestro Down! This thing provides insane warmth... Get one today and cut your heating bills in half- no joke!
I'm the type of person who makes calculated and researched decisions. That guy who will literally make a spreadsheet when narrowing down my choices. Lets face it, throwing down a few hundred bucks on a piece of gear that will directly effect your comfort should be a thought out process. I did my homework on this jacket, and have been rewarded with lofty warmth.

This jacket fit the bill for me. Lite enough I won't worry about carrying it and warm enough I can enjoy alpine adventures or cold belays.

As a bonus, this is a good looking jacket. Not too shiny, isn't overly "marshmellowish" and doesn't have some weird baffle design.

It's kept me warm so far with minimal effort into the 30's (F). Winter is almost here, and I have no doubt I'll be happy on sub-freezing mountains and long belays.

Had to swap a Medium for a Small. I have a 38-39" chest, 5'10 155lbs and long arms. Small fits great, and I can still layer. Arms are a good length. Hood fits nicely over my head, but can also expand to fit over a helmet.

Pillow pocket, while not necessary, is a nice touch and is surprisingly comfortable.

Thanks OR
anyone know how marshmallow-man-ish this...
anyone know how marshmallow-man-ish this will make you? compared to the ama dablam/fitz roy? Are you really getting much more for your money? thanks
This jacket is definitely less marshmallow-man looking then most puffys in this category. The loft is just insane, and the new fabric is super compressible and water resistant...