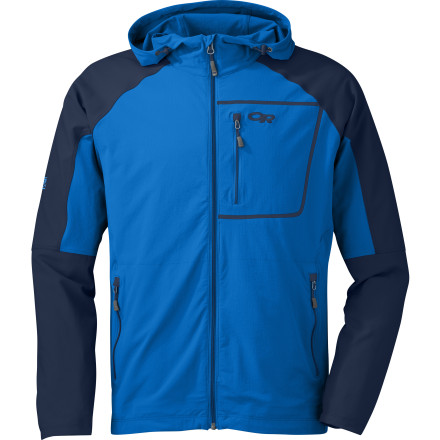 Detail Images

Community Images
Description
Spring has sprung.
When snow recedes above the tree line and spring flowers bloom, replace your winter jacket with the Outdoor Research Men's Ferrosi Hooded Jacket. This water-resistant jacket sheds light spring showers and it blocks cool alpine breezes when you hike for late-season turns. The nylon/spandex softshell fabric breathes well when you're working up a sweat, and it allows for maximum mobility with its movement-mirroring stretch. Tough stretch Cordura on the shoulders and arms stands up to brushes with rock faces and ski edges. In addition, DWR coated zippers block outside moisture from seeping into vulnerable zipper seams, and the zipper is offset at the collar to prevent chafing.

Nylon, spandex stretch body and hood
Nylon Cordura, spandex stretch shoulders and lower sleeves
Zippered hand pockets, Napoleon pocket
Left hand pocket doubles as stuff sack
DWR coated zippers
Standard fit
Key clip
Tested in North Dakota wind-45mph gusts
Familiarity:

I've used it several times

Fit:

True to size
My first day wearing this jacket was a doozie. The winds blew all day >20mph, and with gusts to 45mph, and it was spitting soft rain on us. The temperature was around 50 degrees, but with the wind and moisture, it felt sub-freezing. However, I wore a t-shirt, an expedition weight base layer and this jacket, and I was very comfortable. The combination was very breathable, yet the material cut the wind-chill to nil on my torso, neck and ears. Also, it's very incredible how the water beads up on this material as if it were tightly stretched nylon. When I was about to get back into my vehicle, I just gave it a sharp shake, and it was almost dry (it does absorb after a while, but light rain/snow shouldn't phase it). I crumpled it into a "weightless," grapefruit-sized ball and stuffed it into my pack for the drive home. NO BUYER's REMORSE. It's been in my backpack since the first day out, and will for some time.

My only complaint is that the cuffs on the sleeves are tight, and there is no fastener, so good luck trying to roll up your sleeves! You might not think that necessary for a "jacket," but really, this garment feels more like a long-sleeved tee than a jacket.

I'm 5'11", 185, and have a long torso/arms, and a L fit me perfectly with room for a sweater underneath. I appreciate the length!
When you can only bring one jacket
Familiarity:

I've put it through the wringer

Fit:

True to size
Versatile, that is the nature of this jacket. It's soft like your favorite zip up sweatshirt with the technical resume of a professional guide. It work as an outer layer that breaths well on the approach while shedding the cool breeze on top. It's stretch allows uninhibited range of motion and is burly enough to withstand the abuse of repeated arm bars and bushwhacking.



I love it so much I chose this jacket as the company gift when guides became Leads.



Here's Thomas charging in Indian Creek, Utah.
Could anyone tell me if this jacket is noisy? I intend to wear it as a layer while photographing wildlife, and cannot use any fabrics that whisp or crinkle when moving or when my arms brush against my sides.

Thanks!
Best Answer
Hi Susurrus,



I have the hoody and love it! It's in no way noisy or crinkly. No loud fabric or dangling zippers. They may make a slight "whisp" but no more than any other soft/quiet material.



Feel free to reach out to me directly.



Ben

brabinowitz@backcountry.com

801-746-7564
Hey there, I totally agree with Ben - I have this jacket and it is a softshell, so its supple and not crinkley. Great great choice, and in my opinion, this is OR's most versitile jacket. You will love it!



Leta

OR Rep
Basically Awesome
Gender:

Male

Familiarity:

I've put it through the wringer

Fit:

True to size
My guides on Rainier all had one. I was skeptical since the material seemed so thin and flimsy, yet they all swore by it. I gave it a shot and... wow.

Breathes like a t-shirt but blocks *most* wind. Seriously, it seems impossible given how thin and light this thing is but IT WORKS. Also surprising how burly the material is, because nothing seems to hurt it (rocks, trees, and incidental contact with pointy things like pons and tools). And it's super light and packs tiny into its own pocket, and pops out not wrinkly. OR has some remarkable fabric here.

It will wet through in decent rain or if you're leaning against a seep, but other than that, snow and light sprinkles will bead off.

The hood fits great when worn without a hat for running in windy, wet weather, and it seems like it will be too snug for a helmet - wrong! It's so stretchy it fits perfectly over a helmet, fully zipped, without being too snug against the chin.

The fit is perfect - athletic builds (read: have a chest and arms) will appreciate the stretch. It moves with me perfectly and the arms are long enough that they don't pull away and the jacket doesn't ride up above your waist when reaching. The hem cinches too, which also helps keep it in place. I love that there are no fiddly wrist adjustments - they're snug but not tight, just perfect.

The only conceivable downside I can think of is that the hand pockets get covered by a waist belt or harness. But it has a chest pocket, and my legwear or pack is where I put most stuff anyway so it doesn't bother me.

It is useful for seemingly every scenario, and I bring it on every hike, climb, or camping trip. Fits great, looks great, is great. I simply can't say enough good things about the Ferrosi. Get one - when perfect gear comes along, you have to snag it.
Looking forward to Winter
Familiarity:

I've used it several times

Fit:

True to size
I really enjoy this jacket. I bought to fit in as a year round jacket. Lightweight for summers in the mountains. And then a great layering piece under my shell in the winter.

It's pretty form-fitting and I have a pretty long torso, so I found this to ride just a little high on me, but I still enjoy it nonetheless.
Looks good, very light weight
Familiarity:

I've used it several times

Fit:

True to size
I'm 5'9", 175 lbs -- Large fits perfect.

Good quality, looks, and comfort. All the basics of a lightweight softshell. I've only used in light rain and it seemed to do the trick, but really don't think it would stand up to much real moisture (doesn't claim to either). My primary use is as a light jacket for active use: running, hiking, and general outdoor stuff.

The only thing I'd caution is that this is simply a very, very, light softshell. You will need to couple it with a base layer if you want any real warmth out of it.
So far so good
Familiarity:

I've used it several times

Fit:

True to size
Only a couple off uses so far, but i will say that the fit, for me, is spot on. I am 5'11" and 158 lbs with long arms and often have to go to a large jacket for that reason. This is a medium and the sleeves are just the right length. I also have pretty wide shoulders and the fit is good there as well. Have not tried over climbing helmet yet but have the feeling it might be snug despite excellent stretch, though I do have a big melon..... Upcomng two weeks in Colorado/Utah should put it to the real test.
Most Breathable Jacket I've worn
I'm a pretty warm and sweaty dude. After i've been moving for a few minutes, i'm usually too warm in any layer other than a t shirt till about 0 degrees. This is the first jacket i've worn that i felt fairly comfortable running in on windy days or cold winter days. i still usually end up unzipping the jacket unless it's raining or really windy, but the ferrosi does a great job dumping heat.

I've used it on chilly bike rides (we have crazy spring time wind in flagstaff) and I also wear it hiking in the mountains for some sun protection, even if it's not that chilly. The jacket has resisted any wear and tear so far and has a lot of stretch to move with you.

it has repelled drizzle just fine, but i wouldn't use it during a real storm.

I think the sizing is great. normally mediums are too tight in the chest and larges have too much room in the gut and too much length in the arms, but large fits me just right.

this is a really versatile jacket that i've found myself grabbing for in situations where i previously would have been uncomfortable in any jacket.
Excellent shoulder season layer
Familiarity:

I've used it several times

Fit:

True to size
Fits really well. I am really digging OR's generally slim fit. The color and two-tone styling is incredible! Pockets are well placed, hood is really good and fabric quality is excellent. I wear this biking or climbing in California, and it breathes well for moderate activity. Look elsewhere for high intensity hiking or running. But at that level I usually am warm enough not to need wind protection.
Fabric detail- Water Drop
The fabric on the Ferrosi jacket repels water and wind quite well, while remaining incredibly breathable.



Its like Magic!
The earlier version was a better fit
Familiarity:

I've used it once or twice and have initial impressions

Fit:

Runs small
I have the earlier version with the offset zipper at the neck. It's been my favorite light jacket for several years now. It fits me very well. The body is nice and snug athletic fit and the arms are long enough for my taller frame. Wanting a new one, I ordered this current version with the straight zipper. This new version fits boxy. A completely different fit. Body is wider and arms are shorter so they ride up all the time. Too bad. I've decided to return it. Would very much like to find the old version again. Anyone know where I might find a size large in black with the offset zipper?
been eying off this jacket for some time...
been eying off this jacket for some time now, looks like this is the newer version (straight up zipper, not curved like previous model)

would a size SMALL fit my athletic build.

im 5'9, 158 lbs, 39 inch chest

i guess since its got good stretch i could go for the small ?

cheers
Best Answer
I suggest going with a medium based on your build. You could always get a small and a medium and return one.
went with the medium in the end, but was a tad too big.


perfect midlayer
Familiarity:

I've put it through the wringer

Fit:

True to size
The Ferrosi hoody is the jam for your outdoor pursuits! It's breathable and light weight, but just enough fabric and a snug fit to seal in crucial body heat. The hood is streamline and can fit under a ski or bike helmet if you are traveling light. There's a chest pocket to keep the cell phone easily accessible and warm in cold temps. Lastly, if folds down to a ball the size of your fist and tucks up in the left pocket stuff sack, to allow for more room in the pack.
Integral piece of my wardrobe
Familiarity:

I've used it several times

Fit:

True to size
This jacket always makes it on a trip with me where I'm going to be doing anything high intensity, winter, fall or spring. It's pretty thin, which I like because it gives me a lot of options for layering. It also breathes incredibly. I've never felt manky or sticky while running or climbing up steep terrain while I have this jacket on. It also blocks the wind beautifully which is so key in the mountains. Finally, it stretches so well that you barely feel like you're wearing anything.



Hugely recommended because of the great fit, breathability and thickness.
Best lightweight soft-shell
Familiarity:

I've used it several times

Fit:

True to size
I got this soft shell about a month ago. I have used it for b/c skiing, mountaineering and rock climbing. This is a great lightweight soft-shell. Super breathable and durable bet gives you the protection you need to stay warm while in the mountains.



I'm 6'1 and 165lbs and I have a size Large. Fits me good.