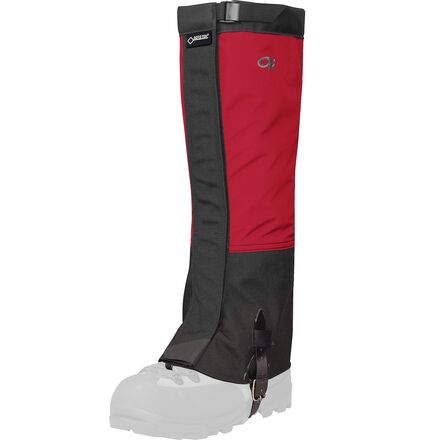 Community Images
From high-altitude peaks to frozen pillars to thorn-infested forests, the proven Outdoor Research Men's Crocodiles Gaiter has been there, done that, and will gladly do it all over again. The guaranteed waterproof and breathable 3-layer Gore-Tex is built to perform in the harshest environments while the strategically placed 1000D Cordura prevents damage from pointy crampons, sharp granite, and hard-shell boots.

Burly three-layer Gore-Tex provides guaranteed waterproof breathable protection
Highly abrasion-resistant 1000D Cordura on the inner leg and boot protects against sharp crampons and plastic boots
Large circumference accommodates plastic boots and insulated pants
Wide hook-and-loop front closure is quick and secure
Bottom shear tab secures the front closure to the boot
Durable BioThane instep strap keeps the gaiters securely in place
How do you size gaiters ?
Hi William,

You'll size them based on your shoe size. Contact me directly at the phone/email above if you'd like a personalized experience here at Backcountry.

Ben
Unanswered Question
I see that your "crocodile" style mens gaiters are on sale for about $55. I am a member of a group (Santa Fe Search and Rescue) that has "pro purchase" privileges. Is it the case that the 50% pro purchase discount would apply to the sale price, thus reducing the price during the sale to about $27.50? Thanks for your assistance.

Any idea when the black will be restocked in XL?
Hi Todd,



Looks like we are set up to get some XL's in both the black and red sometime around the beginning of November.



Matthew Pizza

mpizza@backcountry.com

801.736.5363
Do you think this gaiter with the 3 layers of gortex would prevent a snake bite from penetrating?
Best Answer
Hey Kevin,



I would say it would slow them down a bit, however it would not prevent the rattlesnake from penetrating through. If that's what you're looking for you should check out a leather set of gaiters.
Simply Amazing
Familiarity:

I've used it several times
These gators do an extremely good job of keeping snow and ice out of boots. The last time I wore them I was climbing Boundary Peak in Nevada right after a heavy snow storm. I hiked approximately 6 miles in deep powder with my legs sinking into the snow with every step. These gators keep every bit of snow and moisture out. One of the most effective pieces of gear I've ever gotten.
Single, best piece of Gear
Familiarity:

I've used it several times
This is by far my most favorite piece of gear as the value is unmatched. The 3 layer Gortex and the Cordura made these things bullet/waterproof. Or at least I think it would hold up to waterbullets- ? : /.



Anyway, these things are exactly what you are looking for. They fit great, don't sag, they have the toughest strap I have seen to competitors, and they fit all my Salomons beautifully. (I have various XA 3D pros and the 3D comet boots. (Again... you just cant beat Gortex). The gaiters have a hook at the base to attach to the lowest part on your laces to prevent riding up and reduce snags.



My experience- Multiple hikes through mud, snow, slush, and deep puddles. My last trip found me in a situation that if I didn't bring them, I would have been in quite a bit of trouble. I leaped across this ICE COLD creek from solid sand to what I thought was going to be solid sand on the other side. Turns out it was deep soft mud. I quickly found myself high stepping trying to get out before I sank beyond the rim of the gaiters. This stuff was serious perma-frost type mud. I got out after looking very strange and panicked. I thought I was going to be soaked... thought there is no way that water didn't infiltrate my gaiters and boots.



GORTEX O.R. Gaiters combined with GORTEX Salomon boots = Dry comfortable lower extremities.



If you are looking for the serious gaiters.. Stop here. They cannot get any better.
Work awesome
Familiarity:

I've used it once or twice and have initial impressions
Used these to hike back to our deer camp in the snow. Did a fantastic job at keeping my feet dry! Super happy with this purchase.
Second pair.
Familiarity:

I've put it through the wringer
Absolutely love these gaiters. On my second pair. First pair lasted 15 years.
Instantly became a vital piece of gear.
Familiarity:

I've used it once or twice and have initial impressions
First to note: the sizing listed on the chart for these things is actually for mountaineering boots, so size down if you plan on using them on hiking boots. Which is what I did after a quick, easy exchange.



Down here in Florida we definitely don't have to worry about ice and snow, but I got these wanting to protect my new boots from water and rocks, as well as keeping ticks out.



Even on our cooler nights, it's still warmer than the rest of the country I'm sure, yet these are breathable enough that they were not at all uncomfortable. First day hiking it was 40-50s and worked great keeping out our "highland" sugar sand, cactus, and bugs. On the second day the temps were in the high 70s, and the terrain was rocky, thorny, and even muddy in places. These gaiters performed flawlessly in all environments, never once did I feel the need to take them off for a breather.



We even did some light spelunking, and my boots were still clean and dry.



Overall very recommended, I don't understand how I went my whole life without using gaiters!
The word of the day is bombproof!!!
Familiarity:

I've put it through the wringer
Okay, Wow I have shopped and shopped and shopped for the best gators from Mountain Hardwear (totally my favorite outfitter by the way) and Black Diamond. I read all the reviews and watch a few videos on certain models..... I had found 2 Hardwear ones and 1 Diamond one! I didn't even look at Outdoor research! I didn't really look at prices either! So let me tell you what I was looking for and maybe that will help. I live in a place where if you decide to go off trail you better be wearing bombproof cloths. So I needed something to keep me from tearing the legs out of my pants. Pants costing 100 dollars or more a pop...it just not work tearing them up.....so that being said I also like to trail and do some ice climbing and mountaineering......so trying to find one pair of gator that would do all that well....it seem like an impossible take....well look no further! You have found everything you are looking for!!!!
Staying clean and dry
Familiarity:

I've put it through the wringer
Wow, I am so thankful I went with these gaiters for my AT thru hike. These gaiters paired with my AKU boots have allowed me the privilege to say I am the ONLY thru hiker this far to NOT have wet feet. They have stood up to the abuse I the rocky terrain of ME (Maine). Also, I have been able to ford shin-deep crossings without having to remove my boots. The kicker for me though was when I sunk mid-thigh deep in a bog atop Mt Success. I panicked as this would be the first time on the trail I would have wet feet -nope! Because the way these gaiters cinch down at the shin, the mud did not trickle down my leg behind the gaiters - awesome! Thy are so great, another fellow I have been hiking with went ahead and picked up a pair in Gorham, NH. great product and very tough and reliable. Way to go on this product.
Will these fit over snow pants very well?...
Will these fit over snow pants very well? I wear a size 10 mens.
Best Answer
I've paired them with my Koflach boots and Mountain Hardwear Compressor pants (beefy insulated snowpants) and they fit great!
Is the bottom attachment on these...
Is the bottom attachment on these replaceable?
Best Answer
Having called OR was informed that the company NO LONGER replaces the instep strap but will replace Gaiter instead....
Solid Gear for Mountain Ops
Familiarity:

I've put it through the wringer
Breathable gore-tex material won't sweat out your legs. Keeps the snow out. They've saved a few pairs of pants from tears without so much as a fray. keeps my pants cinched up tight to keep them from getting caught on my front points. cinches down over your boots to keep the snow out. Heel strap is very durable. I wish the calf cinch strap had a better way to secure the tail. I tuck it in the top but it always comes out. I haven't used these in a temperate climate but they are great for alpine mountain ops. I wouldn't want shorter ones. Got the Large and work great on my size 11.5 Scarpa and Vasque Mountaineering boots.
Everything you need.
Familiarity:

I've put it through the wringer
Good fit, sturdy construct, literally everything you could need. Worth every penny.
How much do these weight?
How much do these weight?


Best Answer
10.2 OZ in the large size.

They do roll up to fairly small for packability
Don't Leave Home Without Them
Familiarity:

I've put it through the wringer
These crocs are tough and been a staple to my outdoor gear for years. There are no other gaiters that withstand the rugged beatings, keeping the wet and gunk out and always staying secure.



Only problems I've ever encountered were self inflected tears via crampons and nothing that the old repair kit duct tape can't handle.
The One and Only
Familiarity:

I've used it several times
This is the only gaiter I will ever use when working in the snow or on hikes where I may come across large water crossings. Although I have only used these a handful of times, I have used them in a different environment during each use. These gaiters are durable and fully waterproof, and if you're disappointed OR will back you up for the lifetime of the product.