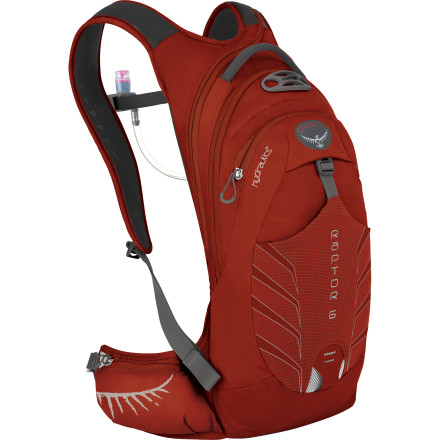 Colors

Videos

Community Images
Description
Light as a feather, stable like a stone.
The featherweight Osprey Raptor 6 Hydration Pack offers a three-liter hydration reservoir and high-tech, ventilated support while coming in at a little over a pound (not including reservoir). Versatile enough to take on a hike, bike ride, or trail run, it will carry your tools, snacks, or layers in smart organization while you try to beat your fastest time. This tight, light load won't hold you back.
AirScape backpanel provides cushioned, breathable ridge-molded foam that gives ample support and cool comfort
Stretch sternum strap has magnetic hose attachment for quick and easy access to live-sustaining water
BioStretch harness features perforated EVA foam with large holes for enhanced breathability and comfortable stretch lined with soft, breathable spaced mesh
Mesh-covered BioStretch built-in hipbelt breathes via perforation and features a modified, straight ErgoPull closure
Ample 3-liter Hydraulics reservoir features an integral framesheet to keep water close to your body and prevent barreling, a rigid handle for easy insertion into pack, and wide-mouth cap for easy filling and cleaning
MPE film in reservoir ensures taste-free water and is durable enough to handle hot water
Rugged and light 70 x 100D nylon shadow creek fabric withstands outdoor wear and tear
Removable roll-up tool pouch keeps your fix-it essentials organized and accessible; internal pocket holds pouch securely
Hydration sleeve allows direct access via zipper for loading in a hurry
LidLock clip secures helmet when not in use
Internal sleeve hold pump for organization and security
Zippered stretch mesh hip-belt pockets secure small, quick-access items; stretch mesh front pocket lets you quickly stash extra gear
Zippered, embossed sunglass pocket protects your eyewear
Blinker light attachment patch and reflective graphics add safety when the ride goes long
Awesome hiking pack
Gender:

Male

Familiarity:

I've put it through the wringer
This pack is super lightweight, and the vented pack panel allows it to breathe without soaking you in sweat. Holds plenty of water and a couple small items which makes it ideal for those short/mid length hikes!

Osprey Raptor Gen 1
Familiarity:

I've put it through the wringer
I have had this bag for years now and have torn it up sent it back to be fixed and did it all over again. great one day bag, long rides or short hikes. Love it. Not sure why they changed the the hydration hose from Generation 1's large tube (great for easy cleaning) to Generation 2's smaller size more like the camel back. as always must be $$$$$
great pack
Familiarity:

I've used it several times
This fits well and has all the features to support a full day on my mtn bike. Thanks!
Great Buy for Day Rides
Familiarity:

I've put it through the wringer
I upgraded from an older Raptor 6 that I have had for the last 3 years. The old one has been through hell and shows it, but it continued to do its job. I went ahead and jumped on a new one at BC and didn't think Osprey could make it any better, but they did. The zipper system has improved as well as the placement of the bladder entry. The only reason that I gave it 4 stars instead of 5 is that the tension straps under the shoulders are limited as to how high the pack will ride on your back; the old style did not have that and you could cinch the pack as high as you wanted to. Either way, it is a great durable pack that was really thought out.
It's like a hug, from behind.
Familiarity:

I've used it several times
I bought this to replace my 2011 Camelbak Lobo for MTB. I definitely should have picked one of these up sooner! The low profile and extremely comfortable straps are a must! It's a lot roomier than some of the reviews would have you think. I can fit 3 liters of water, spare tube/tools, phone, keys and plenty of room for snacks. I could probably fit two sandwiches in the back if I wanted to take myself on a romantic picnic.



It's amazing, get it. Perfect size for day trips. I've been on 40+ mile rides with this without a problem.
Greatly Improved
Familiarity:

I've put it through the wringer
I own an older raptor 6 and this reboot addresses all of the old issues with the pack. First and foremost, hip pockets now have zippers so you can actually use them without fear of losing whatever you put in there. Second, the older pack had a fussy zipper and fastex buckle access to the bladder pocket while this has the newer single zipper which goes all the way down the shoulder strap. MUCH faster, MUCH more secure, and eliminates the older elastic bands (that lost their elasticity over time) which secured the hose to the strap. A+. New tool pocket has also been relocated to the proper place and there's a zipper in a zipper for the small stowage pocket to fully secure valuables. All in all the best hydro pack ever, and the 6 seems the perfect size for anything from epic all day trail rides to short stints. if you own a Raptor 6 this is worth the upgrade due to the vast number of well thought out changes.
Great pack but 2014 bladder lid is poor
Familiarity:

I've used it several times
This pack is a great size for a full day ride. Tube, bike tools, patches, pump, 3L of water, food, and a thin jacket all fit. Well organized inside. Waist belt zipper pockets are awesome!



One important complaint though: The 2014 bladder lid is terrible. It is very hard to get my fingers between the frame and the cap to screw and unscrew it. Also the lid keeper is very tight and makes it even harder to screw, I removed my lid keeper. One time I thought it was screwed tight only to find out that I had cross threaded it and it leaked all over the place.



Stock photo: try to get your fat fingers in there with enough force to close the lid. Harder than it should be.
Employee Vinny dropping into a slick line with his Osprey Raptor.
Great Pack
Gender:

Male

Familiarity:

I've put it through the wringer
This is a great small pack but with enough room to carry some tools, a tube, and maybe a light layer.

I have a Raptor 14 that is a few years old. I wanted a smaller pack for summer riding, as the 14 can hold a full change of clothes, winter gloves, etc. The Raptor 6 fits the bill perfectly. Some improvements over the past few years since I bought my Raptor 14 are the zipper pockets on the hip belt. I always wanted to be able to close the old style pockets but couldn't, but now they added a zipper. Perfect. Also, the new airscape back is much better then the old style as it has some voids that allow the air to actually flow through.

As far as the new reservoir design, I think Iike the old style better. It just seems easier to fill and load into the bag. This one is still good, but I like the old style better. The new 3/4 turn lid is harder to close also, and the flatter bladder is harder to get into the bag. Maybe its due to the smaller bag. This holds a 3L and I think the 6 used to come with a 2L.

I also think the tool wrap is useless in this size bag. On the larger bag, its incorporated into the bag. On the 6 its just an extra bonus, that to me is useless. If you use the wrap, it doesn't really fit the bag that good. I rather put my tool into the pocket inside of the bag so it lays flatter. Im only carrying a small multi tool, so the wrap is bigger than the actual tool itself.

All in all, these aren't negatives that would keep my from buying it again, they are really just personal preferences. Osprey is still better than Camalback and all the other brands out there.
Nice Size
Familiarity:

I've put it through the wringer
This is a great bag for mountain biking. I like my bag to be nice and small, but some are just too small and are a huge pain if you ever need to throw in anything beyond your basic tools and maybe a bar shaped piece of food. The Raptor 6 is pretty small and simple overall, but does have enough extra room if you want to indulge yourself in some other luxuries such as a full sized sandwich, long sleeve shirt, etc.



Quality is great of course, I've never been let down by Osprey in that department. My oldest Osprey is an Atmos 50 from 2006 which is still going strong. And it has some nice little touches like the super clever helmet holding contraption, magnetic hose, removable tool bag, etc.



Oh and it's comfy too. It still gets hot and sweaty on your back while riding, but I have yet to find a bag that really solves that problem so I'll let that slide. 4/5 stars because there's nothing crazy or mind-blowing to elevate this to the elusive 5 star level, but I definitely love mine and would recommend it to anyone looking for a simple hydration pack to fit tools and a few other things.
Nice Bag Nice Bag
Familiarity:

I've used it several times
This is my first Osprey Hydration Pack but it wont be my last. I was looking for a small bag for 50-100 mile MTB races. i wanted to just be able to carry my food, tool, water and maybe a rain jacket. So size wise this is a perfect bag.



My Favorite features in no particular order.

1. The small pockets on the waist strap hold a gel flask and some energy chews that I can access while riding. Since I can't reach my jersey pockets

2. The bite valve is perfect. No leaks and great flow. I also love the magnetic holder on the sternum strap. Nice detail.

3. The bladder is easy to get to and fill. The spine really helps when filling.

4. The Airscape back panel really does keep your back cool. You still sweat but nothing like I do with my Camelbak.

5. The Lidlock was not something I ever really considered but I do find it handy when I throw my bag in the truck. It is a nice way to not forget your helmet.
Made for biking but good for hiking too
Familiarity:

I've used it several times
I have just replace my camelback blowfish with this backpack because I heard good reviews on it. I have only taken it mountain biking twice, and several times hiking. This backup is great. I love its separate tool pouch, its pump pockets inside, and the mesh pockets for small electronics and keys.

The hard surface that helps it keep its shape and the bag close to one's body is outstanding. At times, after I have drank about half the water in the reservoir, I felt like I was not even carrying a backpak. Unlike my camelback that bounces around even when the straps are pulled all the way. It is smaller than the camelback blowfish, but I didn't need all that space anyway. This is a great design for mountain biking, but the using it for hiking did not pose any problems, so I recommend it for both uses.

I liked this pack so much (Raptor 6), that I got the Raven 6 for my wife. She has only used it hiking and reports with big grinning smile that she loves it. She was replacing a northface day pack. Once again, we like the fact that it stays close to your body and feels almost like a vest. The side hip pockets are a brilliant addition for quick access to snacks and even small electronics. HOWEVER, if it rains, the hip pockets are not a good place for anything that can get wet, as they are made of mesh that is exposed to the elements. I give it a 5 stars!
Great upgrade for my camelback blowfish.
Familiarity:

I've used it several times
This is a great bag. I consider it an upgrade for my camelback blowfish which I have had for a few years. I like the size of the Raptor 6, I like the hydration bladder which stays flatter than any of the camelback's that I have used. Also, I love the tool (removable) pouch and the extra pockets around the waist band. I have only taken it on a couple of rides, but it seems solidly built so I imagine I will be using it for years.

I liked this so much, I bought the Viper 6 for my wife and she loves it as well. It is definitely a well made backpack. I use it for mountain biking, but my wife uses it for hiking, it works fine for either activity.