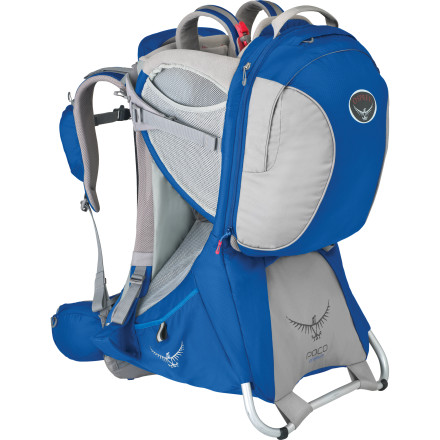 Community Images
Description
The load may wriggle more, but the concepts are the same.
Osprey poured everything it knows about making comfortable, easy-to-carry packs into the design of the Poco Premium Kid Carrier. In addition to an adjustable fit, ventilation, and plenty of padding for you, the Poco Premium includes a host of features to keep your little one safe and happy when you both head out on a hike. The trampoline tensioned mesh back panel fits anyone's contours and the torso length easily adjusts over a six-inch range so both Mom and Dad (or Grandpa, or Auntie ...) can enjoy quality time with the family's youngest hiker.
Soft, supportive shoulder straps have strategically-placed ventilating holes and mesh contact surfaces
Adjustable hip-belt helps accommodate your load that gets heavier with each wearing
Padded ventilated child harness adjusts easily to hold your kid securely
Framing around your child is fully padded, with extra padding behind the head, for comfort and protection
Reversible drool pad is removable and washable
Stirrups adjust as your child grows
Hydration sleeve behind back panel ensures you get the fluids you need (reservoir not included)
Detachable daypack adds flexible capacity
Built-in sunshade lets you tackle sunny trails without worries
Large lower compartment holds diapers, jackets, and bulky items; padded changing pad included
What's the package size of the Osprey Poco Premium Kid carrier (measures)? Thanks!
28" x 13" x 14"



Hope that helps!



Leta

Osprey Rep
The Cadillac of Kid Carriers
Familiarity:

I've used it several times
....before Caddys became the official state car of Florida at least...

My wife and I have one of these packs and several of our friends have this (or the other versions of the Poco) as well. One of the best things that this pack has going for it is the wide range of adjustability, both for the kiddo and for the person carrying the pack. The entire suspension system adjusts for a wide range of sizes and shapes of adult - the shoulder straps have an easy ladder strap adjustment inside the back panel and the hip belt can be lengthened or shortened to fit any size hips. Additionally, the baby seat adjusts up and down and has a secure set of shoulder straps to keep the little one safe, secure, and comfy. Most of the pads that are at risk for slobber or spitup can be removed for easy cleaning. Additionally, the included sun shade and optional rain cover add on mean that you won't be scrambling to jerry-rig something should the weather stop cooperating.

In addition to all of the adjustability, this pack also has plenty of storage space for everything you may need for a day outside. I've even seen people on the trail with some light overnight gear strapped on to the back of one of these (really helps to have a partner willing to carry the bulk of the group gear). With a full aluminum frame, this isn't quite as light or compact as a typical backpacking bag, but it does fold up quite small and includes a couple of straps that help to keep it bundled up small for traveling or storage.
What's the smallest weight baby that can fit in this pack, and is there an infant insert option?
It is very adjustable to hold different sized kids. The biggest thing is that your baby has to be able to sit up self supported and have head control before you can put them in a pack like this. I just got one my youngest is 7 months. We had been using an ergo baby carrier till he could sit up on his own.
I agree- as soon as your child can sit up unsupported. There is no additional infant insert, but the insert is highly adjustable and the front drool pad/pillow is removeable. For 0-6 months I'd recommend an Ergo, Boba, or similar soft structured carrier.
This is The Baby Carrier You Need
Familiarity:

I've used it several times
We test drove a variety of Kelty Kid carriers and one Deuter before purchasing the Osprey. I'm a huge Osprey fan, so I had high hopes, and they were all met. This carrier is SO comfortable for the adult and the baby! There are many thoughtful details - the changing pad that pops out and stores neatly, pop-up sunshade is clutch, stir-ups for baby (I didn't think those were important, but man does he love them), lots of little pockets and storage, and a comfy pad to drool/nap on for your kiddo. Some of these seemed superfluous when we bought the pack, but we have used every single one and are so glad to have them. The adjustability range on the harness means that both my husband and I can tote this pack comfortably. The large storage compartment under the baby seat easily holds all of his diapers and outerwear, then there is more room in the daypack for our clothes and food. Other baby backpacks are good, but the Osprey Poco is great - go for it!
Lots of Storage
Familiarity:

I've used it several times
I have the Osprey and the Deuter for my two kids. I got the Osprey first and used it exclusively until the second kid was born. The Osprey is more minimalist and not as tall as the Deuter which is good because these kid packs can be a little sketchy to load. My son loves the stirrups on this pack.
My kid and I both love it!
Familiarity:

I've used it several times
My son is a big 7mo and was very comfortable in the carrier the first time I put him in it. The child suspension system is very well thought out, as well as the sun-shade, the ground support and the placement of the pockets. The suspension for the pack animal (you) is very comfortable and easily adjustable as well. His 20+ lbs plus whatever I pack is carried very comfortably. This pack carries nearly as well as the Atmos I backpack with. Basically, you get exactly what you would expect from Osprey.
I think this is a pretty well thought out pack. It packs down reasonably slim for transporting and storing, and set up in bout 15 seconds. When you first get it, it takes a few minutes to orient yourself around the pack, its features, and the child's harness. after you're used to it, everything deploys and adjusts easily and quickly. plus, it's got the same harness and mesh back system of lots of osprey packs.



the sunshade is a huge bonus, especially at 7k feet. it provides lots of protection, and has thick mesh on the sides that does a good job of providing some protection while still allowing your kid to look around.



The removable day pack is a cool idea, but i'm not sure if it's worth the extra forty bucks. it does provide some more storage than the poco plus, so if you're hiking alone a lot and need more space, it may be worth it. When the day pack is zipped on to the main pack, it's a little harder to get the changing pad out and especially to get it back in.



All in all, great pack, just not totally sold on removable day pack feature. maybe it'll grow on me.
Awesome Kid Pack!!!
Gender:

Male

Familiarity:

I've put it through the wringer
This is a great kid pack. I walk my dog on trails near my house and I bring my daughter in this pack about 3 times a week for about a mile each time. We've also done longer 3-4 hour hikes with lunches, water, baby gear, dog snacks, and a DSLR Camera. The pack handles all this and stays super comfortable. My daughter is also very comfortable and loves riding in this thing. It is way more fun for her than a stroller, and she falls asleep in it no problem. I've only used this one but the reason why I bought it over the others is overall comfort and adjust ability, the retractable sun shade is awesome and completely necessary where I am in Central Texas, and the "drool pad" is very comfortable for her to put her head down and fall asleep, plus it pulls off for easy washing. Great overall pack highly recommended.