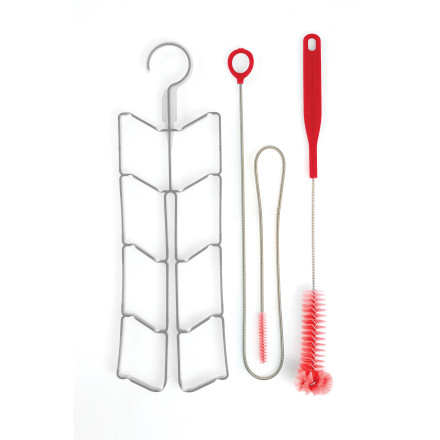 Community Images
Description
Keep it clean.
Prevent microscopic creepy-crawlies from colonizing your hydration set-up with the help of the Osprey Hydraform Reservoir Cleaning Kit. Especially important if you've filled the bladder with liquids other than water, this kit gets to every nook and cranny with brushes for both the bladder and the tube. A hanging rack is also included to allow air to circulate through the reservoir for fast drying.
Doesn't work with all hydraulics
Familiarity:

I've put it through the wringer
Drying rack doesn't work with Osprey half-size reservoir. Rest of kit is great and a must have.
Easy
Familiarity:

I've used it once or twice and have initial impressions
Makes for easy cleaning
Keep your bladder clean!!!
Familiarity:

I've used it several times
You have to keep you bladder clean. You can get sick, you can ruin a vacation. This tool helps do just that.
Unanswered Question
I have a Platypus big zip 3L bladder, would this hanging rack fit inside it? I'm sure the brushes would be fine.
Unanswered Question
Is the hose brush of the hydration bladder...
Is the hose brush of the hydration bladder cleaning kit large enough in diameter to clean the older, wider hoses as well as the newer ones?
Great cleaning kit
Familiarity:

I've used it several times
Just received this cleaning kit last week for my osprey raptor 10 hydration pack, and this kit is awesome. I wish I would have bought it when I purchased the pack a month ago. The brush lets you get into every corner of the pack and hose. The hanging rack lets the bladder fully dry after cleaning, and they also included 2 cleaning tablets with this kit. Very happy with the price and the overall performance of this cleaning kit. A must have for hydration packs.
Keep it clean yo!
Familiarity:

I've put it through the wringer
This cleaning kit works wonders on hydration bladders! Super easy to use and to keep your bladder clean! I used to not be into hydration bladders until they came out with these cleaning kits. Once I found out how easy it was to clean the bladders I knew they were for me. Now we are inseparable. I use them in my packs from hiking to skiing.
Definatly a need...one of thoses things you might not want to spend $ on, but necessary & as mentioned by previous reviewers', it works!
get rid of the "ick" factor
Glad this is available, always seems there is some "ick" water to get to the fresh as the straw or bottom of the reservoir didn't quite get dry & sat & turned "icky". Happy to get rid of that "ick" water as sucking to the fresh stuff getting the bag dry will eliminate that.
big help
Gender:

Female

Familiarity:

I've used it several times
it is definitely necessary to keep the reservoir clean!
Simply put it makes it easy to clean your Osprey Hydraform reservoir. The hose brush fits perfectly and does a great job and they hanger will finally allow the inside of you bladder to dry completely.
The hanger is worth it alone!
I bought this primarily for the hanging system because I was tired of fussing with the drying process. after an hour my hydraform was dry as a bone! I have plenty of brushes and the ones that come with this kit are as good as any. Definitely a must if you have the Osprey Hydraform bladder..