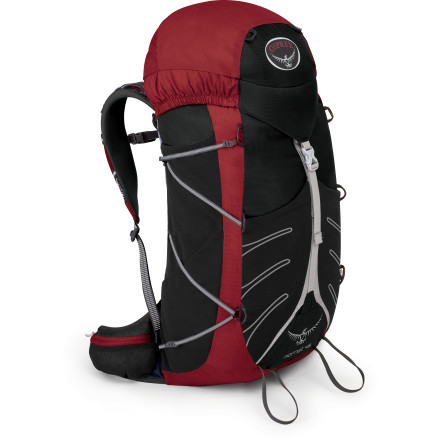 Community Images
You're not planning on carrying a heavy load, so why put your gear in a heavy pack? Osprey stripped the Hornet 46 Backpack down to the bare essentials to help you break the bonds of gravity. Weighing in at well under two pounds but tough as nails, this winner of the National Geographic Adventure Gear of the Year award in 2011 comfortably fits your essentials for your next adventure race or peak-bagging exploit.
Biostretch ventilated harness features perforated EVA straps covered by soft, breathable spacer mesh for maximum breathability
Delrin side rods transfer weight to your hips for comfort
Ultralight 7mm webbing side compression straps cinch down the pack when you're traveling light
Spacer mesh back panel with a removable foam pad helps you stay cool
Biostretch hip-belt is padded for carrying comfort and includes two pockets
Hydration-compatible to make getting your required fluids easy (reservoir not included)
Energy gel pockets on harness let you refuel on the go
Carrying comfort range: 20-30 pounds
I need something for a 3 day 2 night trip...
I need something for a 3 day 2 night trip but I fear that the back pad may not have enough rigidity and support. Anyone have a problem using this for a 3 day I use a bivy for a shelter and have a nice compact sleeping bag
Hey John,



If you are an experienced minimalist hiker, which it sounds like you are, then I am sure you can make this pack work for a 2 night trip. Like most minimalist packs however this pack is fully functional while eliminating features where they can. This pack as a nice foam backer form padding and a little breathability but it doesn't give you much as far as rigidity goes. If you need that extra bit of support you can pair this pack up with an Osprey hydration bladder which has its own plastic backer and you will stiffen your pack up a little.
Note the weight capactiy
Familiarity:

I've used it several times
The volume of this bag is more than the shoulder/hip straps can really carry comfortably unless you're stuffing it with light weight bulky gear like a insulated jacket. As is, the shoulder straps can dig in to you with a moderate load. If you're not planning on filling up the volume, the smaller version of this bag may be better suited.



I really wanted to like this pack, being well built and full of weight saving features, but it just didn't fit my needs as a travel carryon/daypack.
A few design flaws, but I love it anyway
No, it's not a cuben fiber half pound super ultralight bag. It's also not particularly comfortable with a 30+ pound load, but it's an incredibly comfortable bag with great storage & usability for lightweight/ultralight hikers.

I've used this bag almost a year for a 300 mile backpacking trip, grocery shopping & hauling 30 racks (which just squeezes in there) into the woods (& cans out, of course). It's my go to bag for most things, being high volume, but light. It's been rubbed on rocks & chucked across a parking lot, which I was upset about, with only 2 small tears.

Flaws- The large, which I needed, had a hip belt that would not cinch down to my 30-32 inch waist & the shoulder straps are really long. Clearly designed for much larger men than I, although I feel 6' 160lbs is in the reasonable user range. I cut & reattached the hip belt without the extra length.

The gel pockets are so pointless, but I've yet to chop them off.

Ice axe loops? I wish Osprey just put 2 small loops that could then accept some webbing for ice ax loops. I cut them off anyway.

Compression straps on the side are pretty tough to pull being so small. I cut them off since I never used them anyway.

For the cash, a great light pack with a great guarantee. Just be ready to bust out the scissors, needle & thread.
what is the maximum volume water reservoir...
what is the maximum volume water reservoir this pack can accommodate?
You'd be fine with 3L or smaller. Just know that the bigger the reservoir the less room for other stuff.
Great daypack
Gender:

Male

Familiarity:

I've put it through the wringer
Its light, but has good support. Room for my 3 liter camelback. Has hipbelt pockets for energy bar or sunscreen. Has the hipbelt, chest strap and adjustments of a regular backpack, but did I mention it's light? I carry about 15 lbs and do 10 mile dayhikes at 8000 feet, perfect. I've probably carried it 30 to 40 times.
Only for light, higher volume loads
I like what Osprey has done with this backpack, but like so many mainstream pieces of gear that try to emulate what cottage companies have designed, this pack comes up a little short of satisfactory. It has a good design, but can't really compete with equivalent small manufacturer packs like HMG, MLD, SMD, etc.
The die-cut shoulder straps stretch under weight and cut into my shoulders, making this pack good for really light, higher volume loads.
Pockets on the shoulder straps aren't useful, except for energy gels - too small for bars, phones, cameras, etc
Side compression straps could be better in all regards. Good idea, but needs improvement.
Back panel sleeve is too narrow for a folded Z-Lite pad to be used as the frame. I used a TAR ProLite torso pad & it was uber comfy.
Hipbelt pockets are good, tho.

All in all, there are better 45L packs out there that are lighter, can carry more weight, and are better designed.
I found the pack to be comfortable and roomy for the weight. The side pouches were a bit odd as they had straps that seemed to suggest attaching things to the pack, but they were too small for anything like a sleeping pad, even a half length one. They fit bottles fine though, and I thought the pack overall was well designed and useful for its light weight.

My problem - the stitching on the right shoulder strap came undone in a several inch section after about four weeks. I had yet to do a substantial trek, just a few day hikes and bike rides. Had just gotten to know and like this pack, so it was too bad.
I heart this pack. Plenty of space for someone who is trying to cut down their pack weight - pockets and sleeves galore for all of your nik-naks and your ten essentials. Got it on S&C for $8*.00 bucks... what a steal!
*Updated from Original Review*
Familiarity:

I've used it several times
I inevitably returned this pack. Over time I realized it was just not what I wanted. The straps would dig into my shoulders after a while, when fully loaded it would round out like a sausage. I would prefer to carry something that is more streamlined, but has more burly materials. All the straps and buckles on this got on my nerves, especially the thin side compression straps that were a pain in the a** to tighten/loosen, especially when wet.



Weight, durability, and pack space all were far above what I expected to experience when it arrived. It provides an enormous amount of features for an ultralight 46L pack, but spares many common overbuilt functions, which saves weight. The foam frame sheet can be removed for a weight savings of a little over three ounces, but seems to be worth the negligible weight to retain rigidity. It swallowed gear much easier than I expected and does not inherently require an overly skilled bag packer.



I dinged it one star because of the material used on the underside of the should straps, which is a slightly abrasive mesh. If worn improperly fitted it can cause chaffing and make for an unpleasant carry. I tried to remedy this with some duck tape-type wraps to act as a buffer, but decided to give it a try in the natural state first. However, adjustability of the strap and suspension system, plus the stretchy give to the material allows it to be tightened up without being restrictive. Weights of less than 20lbs. can be carried by most quite easily, but ensure proper sizing. For 2012 they came out with S, M, and L, vice the S/M and M/L for previous models. I purchased the M, and imagine someone beyond a 19-19.5" torso would find it a bit short.



It seems to be a formidable ultralight pack for dayhiking and multi-day backpacking pursuits, but I have not been completely swept off my feet with it like I was right away with my larger Granite Gear Blaze AC 60. I will try to post an update once I have a better feel for it.
Hi, I heard this pack runs a bit small. ...
Hi, I heard this pack runs a bit small. I have an 18" torso (which I hate because it seems to be the cut-off point for all pack). Does anyone have any experience on whether the S/M or M/L would fit me best?
Unfortunately, you are right on the edge. Osprey is usually good about measurements, but, for some reason, this pack seems to run about an inch or so small. If you have an 18" torso, figure it's at least 19" for the Hornet. The S/M is specced for <19" and the M/L is specced for >19". I suggest the M/L.