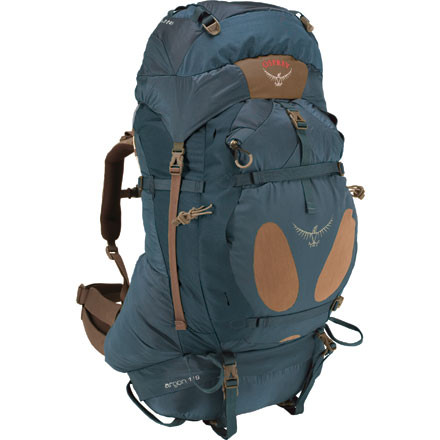 Detail Images

Community Images
Big trips call for lots of gear and food. The massive Osprey Argon 110 Backpack holds what you need for your expedition and supports the load so your back feels all right from the moment you hit the trail until you reach your alpine base camp.
ReCurve suspension features an HDPE framesheet, two aluminum stays, and dual aluminum rods for the active transfer of weight to your hips
AirScape back panel features three different foam sections for plush comfort and an integrated air chimney for supreme ventilation
BioForm CM A/X hip-belt features thermo-moldable foam so you can dial in the perfect fit (for info on custom molding: www.ospreypacks.com/en/web/custom_molding)
Removable AquaSource hydration sleeve converts to a hydration pack for summit bids (water bladder not included)
Removable top lid converts to a lumbar pack for day-treks
Integrated load-lifter straps let you pull your load against your back for improved control and stability over uneven terrain
Interchangeable, dual-density shoulder straps easily adjust to fit both men's and women's frames
Top-loading access point makes packing easy, zippered side-access port lets you get to gear without having to unpack and repack everything
StraightJacket compression wings let you adjust the pack's volume for carrying different-sized loads
Osprey's recommended load range: 60 to 80 pounds
I am a pretty big guy. I am 6'4", and...
I am a pretty big guy. I am 6'4", and around 290 lbs (trying to get down to 275). I was considering the Kelty Redcloud 110 for the cost, but have been wondering about the Argon 110. Any advice? Also, does the size of the pack only refer to load capacity and space, or does it have to do with the frame size as well? I assume I should certainly buy the XL. Any suggestions would be greatly appreciated.
Osprey makes some of the most comfortable and durable packs money can buy! If you need all out performance and tons of carrying space the Argon 110 is top notch. The 110 refers to the capacity of the pack while the size refers to the frame size which is a custom fit for your torso. At your size the XL will be the way to go. I am 6' 2" 225lbs and I rock an XL with a bit of room to expand so you would probably fit it just fine.
Argon / Xenon Airscape backpanel
Ridged foam backpanel with grip mesh covering, provides superior breathability and ultra-comfortable pack to body contact. Specifically, the Argon and Xenon series backpanel has these features:

Tri-section 10mm ridged foam

Central air chimney

Drop down lumbar hipbelt attachment


So i Wanted a large capacity pack because i like to winter camp, And needed EXTRA room.I have used this pack for splitboarding winter trips. and summer backpacking. with a load of about 50-60 pounds i forget its on me sometimes! This pack moves with you! The hipbelt is Super comfy! I like to have all my stuff packed inside my pack! There is so much room in this pack that you can !Some people choose a nice light weight small pack and end up rigging things on the outside and that throws off balance, things get lost or broken! The only time i do that is in winter Avy shovel, skins etc. fits perfect in the stretchy pocket. I added (not sewn just added)some compression straps just above the sleeping bag compartment from the frame to the sleeping pad straps. so i can really tighten a load. I didnt think a perfect 4 season pack existed till now! Earned every star!
Hi, I am new to this having to ask Questions...
Hi,
I am new to this having to ask Questions but we do not get these packs where I come from, so what I need to know is this out of these three packs what one would you lot say is the best, MH BMG 105, Argon110 or the Gregory Denali 105. I will be in the US later this year to bry one and up grade my camping gear(we pay over the top for good camping gear in New Zealand and Australia) the pack will be doing alot of mountains,river's, hills, in and out of vehicles and planes and will be loaded up to 40kg some times but mostly around the 30 to 35kg mark.

Thanks for all answer's

Craig
Hey Craig,

In my opinion, the best pack will be the one that fits you the best. I know that the Denali and the Argon are both custom-fitting (you can interchange different sized hip-belts and shoulder harnesses to better custom fit your body-type) but I don't know about he BMG...

Also, the Argon comes with a special hipbelt that is heat-moldable so that you can get an even better fit.

But really, when you get here to buy a pack the best solution is to find a store that carries both and try them on. That may be difficult as few retail stores carry these large packs so finding both in a store will be hard. But trying it on will be best for figuring out which will fit you best when loaded up with 30-40kg of weight... But I'm leaning towards the Argon 110 OR the Denali 105.
I saw "Hail to the King", and immediately...
I saw "Hail to the King", and immediately thought this was the pack I would need, but I don't think so...could someone clear up doubts for me? I'm gonna be backpacking from the Northern part of Central America to Colombia. I'm expecting the journey to be 6 months(probably less). Does anyone have any recommendations? Thanks!
Best Answer
Zach,

In terms of size, this pack would probably do quite well, being in the over 5000 cu in category. You could (but probably should not) go smaller depending on how often you plan to re-supply and how much you're willing to give up in exchange for weight savings. Do you have any specific concerns?

PS if you're traveling with a partner, you can share group gear and save on overall weight.

Happy trails!
Help .. considering argon 110 or gregory...
Help .. considering argon 110 or gregory 105 pro looking for experienced input before parting with the ben franklins ..scott
Hey Scott, the Argon is better in my opinion... It has smarter features and more attention to detail...
Unanswered Question
So the pack description says the xl comes...
So the pack description says the xl comes with the large belt and harness. Is that still the case? I would like to order the xl pack for the capacity but would only need the large belt/harness.
Is there a detatchable compartment for...
Is there a detatchable compartment for hanging food in bear country? I know the lid detatches, but is it big enough for a weeks worth of food?
Best Answer
No, you maybe able to keep your toothpaste and first aid kit in there. But a weeks worth of food for me, would never fit in there. When I am in bear country. I take a hard walled food barrel..
you are probably best getting a rollable dry sac to hang overnight. Then place in your pack or carry separately
Like Dwayne says, it won't hold a week's worth of food. It actually detaches so it can be used as a lumbar/day pack using the waist belt that stashes away. Store your toothpaste with your food though. The standing rule of thumb is that if it goes in your mouth or on your skin, it has a scent, and it should be treated as a food item. I've seen packs torn to pieces because of sun screen left inside. Just about any stuff sack will work for hanging food, as long as you can get it up 12'.