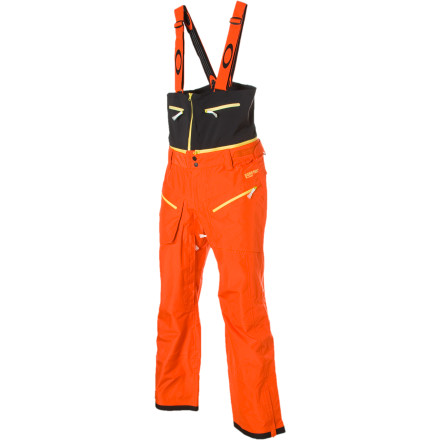 Detail Images

Community Images
When a single day on the mountain for you involves battling powder, snowballs, and possible beer spillage, zip up your Oakley Sethmo Pant and get down to business. Built with Gore-Tex pro shell, this pant is guaranteed waterproof and breathable. Ample pockets store your essentials, while fully taped seams seal out any liquid that nature, or your friends, throw at you.
We all know the real question...



Will these ski pants make my ass look good?

Yes. Yes, they do. (Sethmo is on the right in blue).
Would the small be too small for a 5'5"...
Would the small be too small for a 5'5" with 32 waist and 30 inseam? They don`t have medium, and I believe large is just too big... I believe the medium would be the perfect size for a more baggy fit, but maybe the small will work
If you are looking for a loose fit I think you would need the Mediums. You could try the Smalls and simply return them if they don't fit but you would have to pay for return shipping.
Hi all... I'm 6' 2" and waist 33"... what...
Hi all...
I'm 6' 2" and waist 33"... what size should I get? What's the inseam on L?
many thanks
The inseam on the M and L measures 32". According to Oakley's size chart, I would recommend a size Medium for you in this pant.
Best Answer
I'm 5' 10", 33 waist and I use an XL.
Seth,
thanks for answer... but... are you wearing some protection underpants... XL seems to me very very bagy.
Does a lenght differs between L and XL?
I have no possibility to try it before ordering:(
Yes I do wear protection. This is not a baggy cut its regular fit. Not sure on length differences. Have a friend close to your height that uses the L more for the tighter fit for ski mountaineering aspects. What I've noticed with him is the cuff is higher up off the boot lower. I weigh 155lbs. Backcountry has a no questions asked return policy. Sounds like your leaning towards the L probably the right call in the end for you.
See my re-review below from my original 10 Nov review.
Really well designed pants!
I picked up a pair of the 2010/11 version of these pants at the end of last season and they are Dermizax EV 30/20K rather than 3L Gore offered this year but so far the material is totally bomber and the design/thought that went into them is awesome. I have about 15 days on them so far this season with half of those on a splitboard and the other at the resort.

I can't believe that this is my first pair of bibs cause after these I'll never go back to pants. When touring, throwing skins in the bibs while riding is so much easier than stuffing them in your jacket. I really like the back bib as well because when changing over and taking off your shell I found that any snow that may still be on your backpack didn't end up soaking through my mid layer touring hoodie and eventually my baselayer. Inner thigh vents and 3/4 length leg zips make venting almost too easy and the two main pockets are exactly where they should be. An added touch which I didn't even realize what it was until the third time I wore them was the bottle opener sewn on to the pants, ha...the paint didn't last on that very long after!

Definitely recommended and this years pants are even better with 3L Gore!
So these pants are super light and awesome...I...
So these pants are super light and awesome...I have a question though. What to layer underneath? What would I wear in cold weather? (which on the west coast for me will be 5-20 degrees F). What baselayers would anyone recommend?

Thanks
HI! My BF rocks the Arc'teryx Phase SV tops/bottoms when wearing these...
If you also have a good shell the Stoic Merino 200 1-Z would be a great option as a base layer!
Fleece long underwear, there isn't an Oakley bottom in the line up unfortunately and I have no idea why. If its really cold (negatives) and I'm not hiking during the day I'll wear a the thiner past seasons Oakley Bottom as well. Dressing for what your going to be doing in layers it the best thing you can do, and cotton doesn't count as a layer and should not be worn skiing in the winter.
How is the sizing compared to the Primed...
How is the sizing compared to the Primed bib from last year? The Sethmo jacket seems to have a bit more technical fit than the Primed jacket that I own. I'm 6'1" 185lbs and wear a size large Oakley Primed jacket, would I still be good with a large in the Sethmo pant?
It is the same fit, the chest part of the bib and suspenders are much better. The bib part is lycra. All in all the this bib can be a pant or a bib, since the chest part can zip off. You should be good with a large.
Unfortunately the larges were a bit too snug in the waist and a bit too short in the leg (I guess I have crazy long legs). I'm a bit worried that the XL will be a bit too baggy, so I ordered the Choice pants instead. Pretty bummed because these bibs were awesome (other than the sizing on me).
I had a chance to try these the sethmo pants and jacket up at Keystone last week. The pants/bibs fit great. The med had a tighter regular fit and the large was roomier but not baggy. The cider orange just pops and the versatility of the set up is great. My only concern was the the shell is pretty thin and super light which is good but I was afraid the material might not be that durable. Compared to other gortex pro-shell it seemed lacking in thickness and had me wondering if it would tear easily. I would definitely size up for layering because I doubt it would keep most people warm in below freezing temps because the jacket and pants are very thin even for a shell. I'm still considering buying the set up but I'm going to look around some more. I would say the design is superior overall for functionality though...lots of ways to set it up.
I'm 6'3" 210 36-37" waist. I bought both the Xl and the XXl. The XL fit like a pair of jeans, Almost perfect. I went for the XXL for the baggy fit. The XXL only bulges at the waist.
Seth I am 5'7" and 175lbs what size should...
Seth I am 5'7" and 175lbs what size should i get M or L?
Seth I am 5'11" and 170lbs what size M or...
Seth I am 5'11" and 170lbs what size M or L?
Best Answer
At least Large, I use XL because I wear Pads.
Houston, we have Gore-Tex!
Been a long time in the works for us to get Gore in the line. First time I wore the suit I felt like I was forgetting something due to how light this is compared to previous 3 layer Shells. Nice side thigh to knee venting. No back pocket, no need. Removable chest bid. Cuff saver is reversed to the inside of the cuff for a cleaner look. Simple and light, it only gets better. Its a shell, so you need to layer!!