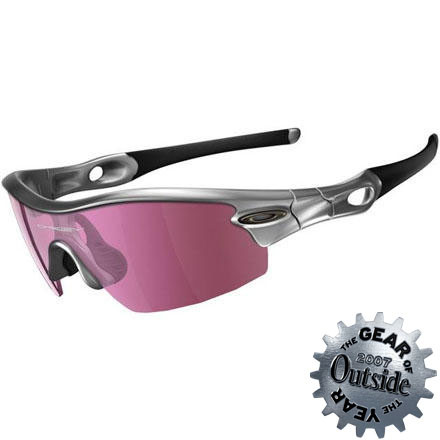 Detail Images

Videos

Community Images
Oakley's engineers designed the Radar Pitch Sunglasses with direct feedback from their professional athletes so you can push your limits through any lighting situation. The Radar Pitch Sunglasses offer a permanent hydrophobic lens coating that repels water, dust and smudges when your backpacking trip takes you into less-than-favorable conditions. As you perspire on that grueling trail run, the Radar's Unobtanium earpieces and nose piece maintain a comfortable, balanced hold on your face.
Oakley Radar Pitch Sunglasses
I love these sunglasses. The larger lens gives me good coverage against wind while biking. They stay on my face well, even while the sweat shower comes from my helmet and having no bottom frame sweat drips right off of them. I love that the temples are contoured to go over helmet straps, yet the feature is so subtle that non cyclists will never notice it- pure genius. Every other pair of sunglasses I have had, were a battle between under or over the straps, because neither ever worked well. I may try other lens tints, but the grey is a good all around tint.
Do they make the path or similar that have...
Do they make the path or similar that have a frame that does not fold? like the pro m frames
All of the Radar line have hinges.
I've had these oakleys before, but they...
I've had these oakleys before, but they got lost, and now i want another pair. do u all think they'll work well for outdoor volleyball?
You may want a darker lens since I feel like you look towards the sky quite a bit playing volleyball. The style though, should work fine. If you liked the ones you had before, I'm sure you will like the again.
Try the Black Iridium POLORIZED lens for really sunny days. But for overcast days, maybe the Grey Iridium, or even transistions* lens may work better. You can, of course, order a frame with multiple lens so you'll be "covered" not matter what!



If you go on the Oakley site, they have a really 'cool-tool' that lets you see a simulated view a variety of their lens (tons of choices!), in a variety of outdoor settings (golf, bright light, overcast, trail, etc.). It's "ingenious"! You can check it out there, and still purchase here!



Hope this helps!
The best sunglasses i ever had. Very protective to your eyes. Sunbeams,reflective sun,insects,dew and wind doesnt stand a chance. An important thing; they never slide down to the tip of your nose:) Once on, forget about continual adjustment. Oakley stay put.

Inge Rese
The Oaclay in shooting is the best glasses in the world.Cogratulations Oaclay.
As I am a recreational fisherman I was...
As I am a recreational fisherman I was wondering if these would be suitable. Also what is the best colour? any info would be helpful
Best Answer
They would work, but the best bet is to go for a polarized lens for fishing. The polarization will cut the glare on the water's surface so you can see into the water and see the fish. Oakley has many polarized lens options available in many different styles.
arethey good for tennis & golf?
arethey good for tennis & golf?
, ☃bcs_badge_alumni_label☃
Sure. Recommended use is sports so you should be good to go.
Try the polarized lenses, or even the 'transitions' lenses for partly cloudy days.
These sunglasses offer great coverage and are very comfortable. I wear them for biking, kayaking, golf and some much more. They are pretty big so if you have a small face definitely try them on somewhere first before you buy them. Also, the lenses really do everything they say they do with beading off water, and repel dust and smudges.
Through some bad luck, I had to replace my sunglasses the week before my first half ironman triathlon. I'd heard great things about these, but couldn't find them locally before I had to leave for the race. I had this site send them to where I was staying and they arrived the afternoon before the race. The glasses fit great (I have a large melon), and don't shift or slip. Optics are great (they are Oakleys after all), with no distortion. They were fantastic for cycling, and I was in a lot of pain during the run so I didn't notice them then, which I think is a good thing. And they say nothing new on race day...