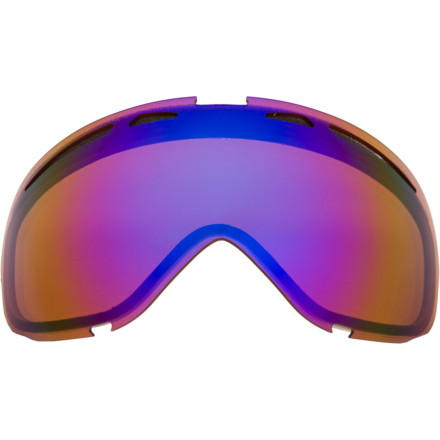 Description
Don't settle for counterfeit imitations, if there are any.
Replace your scratched Oakley Elevate Goggle Lens with the original Plutonite lens to get your old gogs working like new. Plutonite offers zero-distortion, a high level of clarity, 100% UV and unsurpassed impact protection.
What lens choice is better for flat light/storm conditions/works ok at night? I'm buying the oakley elevates with the jade prizm lenses and I would like to buy a low light lens as a spare - I'm thinking of either the hi yellow, hi persimmon, or prizm rose? Clear is out of the picture, I don't ride at night too often and it wouldn't be good for daytime.



i ride on the east coast so no need for lenses for bright light - we don't really get it.



Also, I have a pair of smiths with the blue sensor lenses and I'm one of the few who hates them. I see absolutely zero contrast with them... I think my eyes are sensitive to bright light even in flat light conditions.
Hey ashp -

Hit the link for size next to 'select size & options'. There's a great chart there that'll help you decide what will best fit your wants.
Does this replacement lens fit into the...
Does this replacement lens fit into the Asian fit elevate goggles?


Yes, the lenses are interchangeable!
How to clean the inside antifog lens . And...
How to clean the inside antifog lens . And if it have been done but the result is no good , is there a product to use to restore it , or it have been damaged for good . thanks .
The anti fog coating is proprietary and there is no way for a consumer to reapply it. There is however an easy way to make an anti fog treatment. One drop of dish washing liquid added to about 6 oz (180 ml) of water used as a cleaning solution will impart a temporary anti fog effect. This is basically what is sold at fairs and rally's in small spray bottles for $10 and the sales person will demonstrate the magical effect by holding a treated lens over a mister. Good Luck!
This is another lens that I use quite often. Great for sunny days, but with batches of clouds so you can see in the darker light as well. (I am commenting on the Black Iridium Lens).
I use this lens for when it's perfect bluebird out and I want to keep as much sun out as possible. Mostly use this lens in the Spring time. (I am commenting on the Fire Iridium).
Pink Iridium - Multifunction Goggle
I use this lens more than any other lens. When I go out in the backcountry I like how I can rely on this lens to see where I am skiing. Whether it is snowing or the clouds open with sun. I like being able to see at all times and this lens does that. (I am commenting on Pink Iridium).
Clear Lens - Night Skiing
If you ever ski in the night, this is the lens for you. When I night ski I like to have as much visibility as possible and that is what this clear lens does. The Oakley lens actually clarifies your view even better than your own eye. Well, at least it does it to me. (I am commenting on the clear lens).
I like to use the purple lens when there is flat light, but a lot of bright sun behind the clouds. It allows me to see well when visibility is down and when the sun comes out. (I am commenting on the purple lens).
This orange lens is the lens I use the least. Mainly, because I do not like to ski with it in flat light. The lens does work in cloudy weather, but does not give the same perception as the yellow and purple. (I am commenting on the orange lens).
This is a great lens for skiing in really foggy/flat light weather. Also, this is a great lens for skiing at night. Multifunction lens for flat light and night skiing. However, this lens is not good for sunny days. The light will be very bright and leave you squinting. (I am commenting on the yellow lens).