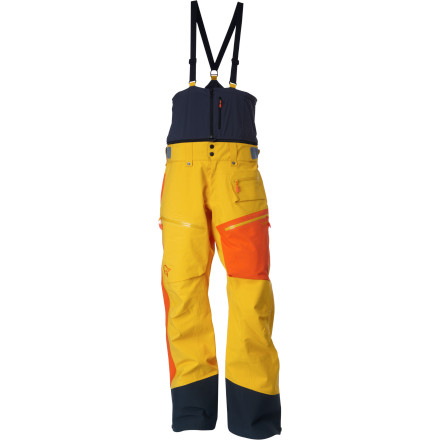 Does your backcountry rep have the approval of the gods? Step into the Norrøna Men's Lofoten Gore-Tex Pro Shell Pant and stomp your style into immortality. The Lofoten Pant features the world-renowned Gore-Tex guarantee and a host of technical features that place it far beyond the reach of average riding pants.
3 Layer Gore-Tex Pro Shell keeps you high and dry while allowing moisture to escape from your body
Aramid fiber (think bulletproof vests) reinforcements protect these bibs from edges, scuffs, and saber-toothed rocks
A baggy, workwear-inspired fit sets the Lofoten Pant apart from too-trim backcountry bibs
Ergonomic pocket placement puts all your gear close at hand
Removable bib suspenders keep your britches held up and snow out the crack
Pant to jacket interface with the Norrona's Zip-Seal system
Fantastic pant. Spent last weekend at Verbier skiing in the Norrona Lofoten Gore-Tex bibs. I like the fit and materials. The fabric appears very tough and should be able to handle many years of skiing. I am 6' 1", 205lbs, 36" waist, and a relatively short inseam of 32". I bought the XL (I could have perhaps purchased the L, but the sale was for XL) and the pants fit well, a bit long, but fine in my ski boots. Kept me comfortable, and I did not overheat wearing fairly thin long underwear. Good number of pockets. I liked the snap on the bottom cuff which prevented the pants from dragging on the ground whilst wearing my hiking boots. Bottom line, I am very happy with the purchase.
Is it wrong to love your pants?
Well, I feel sorry for my friends, because each one I run into has to listen to me gush about these for at least ten minutes. My first Norraa purchase, super impressed. Lets sum up, these are loose for easy movement but not at all baggy, the cuffs are fitted enough that you don't have to worry about walking on them (even while wearing tennies) yet wide enough to easy fit over my snowboard boots. The super gnarly cuff guard material goes full round the bottom of the cuff for added confidence. As others have mentioned, the rest of the fabric feels tough without being overly heavy, the pockets are perfect, not too big, not at all small, and the right one has an internal elastic pocket for a beacon (though sadly no attachment point for the tether. The bibs are not as tight as the OR vanguard version I tried before this (which felt like a corset). Only two things would make this pants better, thin knee and butt pads (what can I say, I'm a snowboarder), and vents with mesh,rather than the almost full side zips that these have.

That said, after searching for the perfect pants forever, these are by far the closest I've found.
So. So good. best pant on the market.
Best snow pant ever
Gender:

Female

Familiarity:

I've used it several times
I got these last year. I've worn the snowshoeing, sking and snowboarding. They are a little baggy on me, but that is because I purchased mens instead of womens because of the color options. I have worn them on days when it's zero degrees out with a base layer and not had a problem. I've worn them on days with rain and stayed dry. Worn them when it was 50 degress out and never got to hot. The only complaint I have is there is no mesh on the vents so I keep putting my wallet in the vent instead of the pocket. Won't stop me from wearing them though.
Burly!!! functional and stylish
Gender:

Male

Familiarity:

I've put it through the wringer
So the fabric is bomber and wrap cuffs are awesome. Hit a 6 foot noble fir at the bird and scuffed pants, but no tears. Pocket size and location is great. Just baggy enough without being too baggy. Great fit, function and style. Got the green and its sweet. Love the 3/4 side zips and gore pro thickness. A littel cold since its a shell, but layer right and your happy.
In what country are the Norrona/Lofoten...
In what country are the Norrona/Lofoten Gore-Tes Pro Shell Pants made?

Thanks
From the sites I have checked looks like it is made in China.



http://www.norrona.com/About/Corporate%20responsibility
Phenomenal and sturdy pants
Gender:

Male

Familiarity:

I've used it several times
I also purchased the coat along with the pants and love the duo. We had good weather over Dec and put these things through the ringer. The have a strong attraction to dirt, but clean easily. The fit for me was perfect 5'10"and 180 lbs (size Medium). I love the pockets and strong material. I don't ever see myself tearing these I have done with weaker pants. Overall, highly recommended
I am 5'9" and 180 lbs with 30" inseam and 32" waist. I bought a Medium for backcountry skiing in Utah and I love them. The first day I tried them out at Snowbird and put them through the ringer on the rocks at The Cirque. They had not one scratch at the end of the day. They are a bit baggy but not overly so, but allow plenty of movement. I like the easy access pockets and detachable suspenders. I wear a light Smart Wool base layer under them and I was plenty comfortable in single digit weather. Yes they are pricey, but I think they'll go out of style before they wear out. In this sport, quality and dependability are everything and these hit the mark in my opinion. Hope this helps!!
Best ski pants I've had
Gender:

Male

Familiarity:

I've used it several times
Before this, I had the Arcteryx Theta SV and Peak Performance Heli Alpine, so I have some good pants to compare with. Bought the Lofoten in Tasty Red XL, both fit and color are excellent. The details that makes the Lofoten stand out is:

-Pants can be zipped togheter with the jacket

-Bibs can be removed

-High and stretchy waist keeps snow and wind out, even if not zipped together with a jacket

-Velcro thighteners at the waist, makes belt unnecessary

-Several large pockets.

-Nice fit, it feels just right

-Good gaiters.



The fabric seems bullet proof, so does the reinforcement on lower legs.
Best Pants I've ever had
Gender:

Male

Familiarity:

I've put it through the wringer
Just received the pants last week and have done a full week in them already. I have worked in the ski industry for 20+ years and can pretty safely say these are the best Ski Pants I've had yet. I am 186cm Tall 84Kg's, athletic build and the size L fits me perfectly. Everything about the pants is done well. Would recommend them to anyone. Yes they are expensive but I believe they are worth it. I would have bought another pair in Green if they still had any left.
some of the best colors this year. 6'2, 210lb male - athletic build. got them in large and they fit perfectly. the XL was a bit too baggy for me and hung around the ankles. I don't like too much fabric down near the ankles/boot area for touring.
Can Backcountry please order some more of...
Can Backcountry please order some more of these Pants in. The only colour left in size Large is Yellow. It's the beginning of the season and you guys are sold out. I had a 'Chat' with one of the Reps online and he said there were none on order at this point. Tasty Red or Noronna Green please!
Best Answer
Hi,



I am also interested by this pant in tasty red, size L. When do you planned to have some on stock ?
Unanswered Question
Hey. Is this the 2012/2013 model? And...
Hey. Is this the 2012/2013 model?

And do you ship to Switzerland?

Thanks




Returned pair, but bought another
These pants are indestructible. Comfortable, warm, protective. Did a crevasse rescue course, arrest course and other activities on Ingraham flats. Never wavered. I saw all kinds of hard shells, but none compared to these. Pricey, hell yes, but dollar bills don't keep you warm or dry at 14k ft.
i actually went into the backcountry store and tried on both XL and XXL. I am 6 ft tall/230 lbs - waist size 38 inches. XL fits me fine with any of the US Manufacturers; Arcteryx, Spyder, Descente, etc - but with this one XL was tight and XXL fit just fine - it is just a bit longer - which allows for freer knee movement anyways. The overall fit, feel and the quality is great. Very happy with the purchase. Skied with it and enjoyed tremendously. Just be careful with the European sizing. If you are slim and tall then you are ok but if you are the average overweight American male then do a size up. :-)
I am in love with Norrona. The pockets are in the perfect place. The pants synch up nicely and hold in place. The fabric seems like it could stop bullets. The cuff are strong and will resist abrasions from your edges. All great stuff.
The best shell pant I've seen
The craftsmanship, material, fashion and ingenuity of this pant is second to none. The moment I saw it, I deemed it worthy of its price tag. The only downside (for me that is) was that the pants run a bit smaller (in waist) than those of other brands. I'm about waist size 31~32, about 170lbs and 5'11" and the small ended up being a bit too tight. I'd definitely size up from what you normally wear (especially if you wear those sizes for TNF or Burton shell pants). I'd say the sizes run more closely to Arc'teryx shells. Additionally, the pants are quite baggy. I have relatively thick thighs and calves and they were baggy on me...which isn't an issue, more a matter of your personal taste. Ordered the small, and by the time I needed to exchange for a medium, it was already sold out. Oh well, I'll get one early next year.
hi, can you told me how facing cold without...
hi, can you told me how facing cold without insulation?
Pretty wind proof but you will want to put on a base layer for sure. Maybe more depending on how cold of temps you are in
I have these pants in the woman's model- same Gortex. I was skiing the other day in -16° weather with medium weight long underwear and I was amazed how warm I was on the bottom! The wind just doesn't penetrate them at all! Great pants, great brand, great quality!!
So far just have it in the living room. Purple is like grapejuice, and lime is bright. Quality is burly. I'm 34-35 waist depending on day and burgers & inseam is 34. Large was too tight and XL was just right. Will likely test this winter and give better review. But finish and features are top notch. True test will be blower and trees. Nice semi freeride fit with XL, but large would never work.
Im giving this 5 stars even if the ass is a little snug!!!!!!

Im a 38 (heading fast to 39) and 32 inseam. They fit well in that respect. The leg cut is baggy and will cover your ski boots well.

What I like about these pants is the tough material. You just can't break them! I also like having 3 pockets on top of my thighs, great for accessing them on the chair lift.

These pants also integrate with my jacket making it an all in one without that lame 80's look (Kids, you might think the 80's look is hip right now, but trust me, I have photos of me in the 80's, you will regret it.......)

Buy these pants, you won't regret it.