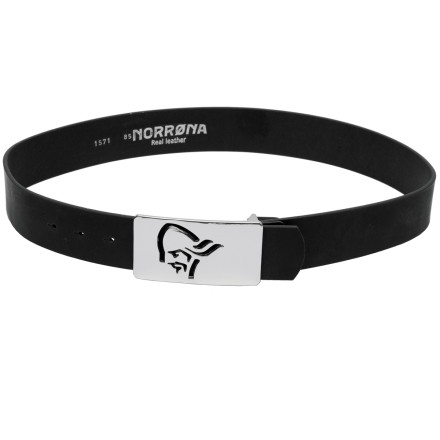 Don't leave home without your trusty Viking engraved Norrona /29 Leather Belt. Besides using it to hold up your pants you'll never know when a glorious battle needs to be fought and real leather could come in handy.
Backcountry.com is the exclusive US retailer for Norrøna products
Impressive belt!
Gender:

Male

Familiarity:

I've used it several times
Great quality belt, have worn it daily for a few months now and there is no wear whatsoever. I wear a size 36 pant, and i purchased the 95cm size which fits pretty well. I would guess size 34 is the smallest the 95cm size will go. The sheer reflectiveness of the buckle is quite impressive, almost mirror like. Could easily double as a signal mirror.
Good quality. Frankly I expected it to be smaller, the picture is misleading a bit. The width of the belt is 4.4 cm (1.73"), the buckle is 5.1 x 9.4 cm. By the way, the belt is adjustable - the buckle can be unscrewed and the belt shortened with a knife or scissors to fit your waist.
The sizing is funky. Anyone know how to...
The sizing is funky. Anyone know how to make heads or tales of it?
No guarantees, but Norrona is Swedish, so I'm guessing length in cm. So a 100 would be 39 inches long. If you have a 32 inch waist, add 6 inches of slack is 38, which is 96 cm so the 95 would work. I'd check with the Live Chat guys, but that makes sense in my head.
Since 1929, elite mountaineers in Scandinavia and Europe have been keeping a secret: Norrøna. This Norwegian -based company introduced Europe to its first GORE-TEX® jacket in 1979 and has made a name for itself with dependable gear that excels in the worst conditions. In North America, we've been kept in the dark … until now. Backcountry.com is proud to be the first and only North American dealer of Norrøna outerwear. Premium materials, cutting-edge technologies, and style that speaks for itself—have a look at what we've been missing for the last 80 years.
Best Answer
Norrøna is Norwegian according to their webpage
http://www.norrona.com/en#main/our-company/