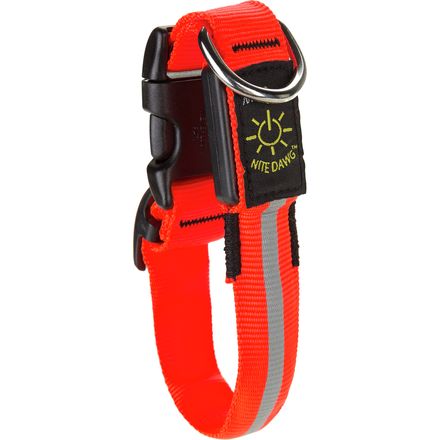 Description
The Nite Ize Nite Dawg LED Light-Up Dog Collar sheds light on your dog's evening walks.
Your pooch will rave over the Nite Ize Nite Dawg LED Light-Up Dog Collar. Nite Ize made this light-up dog collar with a bright LED core wrapped in durable nylon. The Nite Dawg LED Light-Up Dog Collar is visible up to 1000 feet in the dark, so you can feel safe whether you're out for an evening walk around the neighborhood or playing a late night game of fetch in the campground. With a 100,000 hour LED life and weather-resistant battery housing, the Nite Ize Nite Dawg LED Light-Up Dog Collar ensures safety and durability. The Nite Dawg LED Light-Up Dog Collar is available in three sizes according to neck size: Small 10 to 13in, medium 13 to 18in, large 18 to 27in.
I can always find my dog at night!
Familiarity:

I've put it through the wringer
NiteDawg is a great product! Snaps on easily, is strong and quality made. Glows without being obnoxious and can be seen from a long distance. It makes it easy to see your dog and for your dog to be seen when your out in the dark. My dog will likes to run into the woods behind the house and the light up collar makes it so that I can always see right where he is. Highly recommend this product.
Light Em' Up!
Familiarity:

I've put it through the wringer
I have two dogs and these collars work great when we go on night time adventures. I always leave their normal collars on so I don't have to transfer their dog tags so these collars sit a little bit loose on my pups.
For sizing, its very easy to make this collar smaller despite the other reviews- it will just take some sharp scissors to trim the piece that glows from the light. I have the medium for one of my dogs and from my measurement, it can go from 12.25 inches to 17.5 inches. My other dog is a size small (currently can't find it so that's why I'm back on the site to get another one).
Batteries are super easy to replace. All you need is a screwdriver. The battery is a CR2032 and you should be able to find it at any electronic store, grocery store or outdoor store.
The light has two modes- constant or blinking. I usually have one of my dogs on constant and the other on blinking so I can tell them apart. I'm sure keeping the light on constant wears the battery out a bit quicker but I always keep a spare at the house so we don't have to go on a night time adventure without a collar.
This collar gives you a little more piece of mind when you're out and about with your pups at night- get it and you wont be disappointed.

Everyone that sees this collar in action loves it. Adjustments are difficult. I leave it loose and clip a leash to her normal collar if needed. 80 Lbs of dog rocking a large.
Poor design
Familiarity:

I've used it several times
This collar really can't be adjusted smaller. The buckle isn't large enough for the interior light to fit through, thus making adjustments tough. It's light and bright if you can get the sizing dialed in. Overall, the actual product is well made and definitely gets the job done. Good product!
No more sneaky dog!!!!
Familiarity:

I've used it several times
This Collar is great. I can not open the door and let the dog out then stand in the warmth of my house rather than outside with a flash light. I can clearly see where he is now, just not what he is doing.



I had read the reviews about the sizing. I went with a large for my lab, and cut it down to fit. Easy to adjust.
Great product, tricky sizing
Familiarity:

I've used it several times
The large was too big, and I couldn't adjust it down enough, so I got the medium. The medium is a little tight (I can just barely fit two fingers between her neck), but my dog doesn't seem to mind. It lights up great! Love it.
It works!
Gender:

Male

Familiarity:

I've put it through the wringer
I bought large for my GSD and it fits and works as stated.



The whole concept is simple but for the price, it's good.



The battery I have noticed can last a while if going out for daily 20 minute walks but the light does get weaker after week 2. However, in a dark area, the light is noticeable and my dog is still easy to spot in the darkness.



It is water resistant as I took my dog out during a storm and it never failed. I'm not sure about ocean swims though.



Finally, replacing the battery is not that hard. All you need is a screwdriver and a brain.
A nighttime Necessity!
Familiarity:

I've put it through the wringer
Used this collar with our 5yr old yellow lab for years. We use it on nighttime runs, camping, & any time we're out with the dogs at night & visibility is important. It has held up great through all of its use over the last 4 years. Just got a new one because I wanted the reflective strip as well which I think will be quite handy.



Ordered one for our new pup as well & the Medium fit him great - sizing can be tricky & I wish they had a Large & XL as the large is massive (or more "tweener" sizing). But overall, can't imagine going on any nighttime adventures with my pup without this collar.




We purchased a medium and I have opened it up to the max to fit our dog. I am worried that the large might have too much excess and the collar is fairly bulky when doubled up to make a smaller fit. It is a great idea for a dog when walking it at night. I let our dog run off leash and being able to keep track of him when he is running through the bushes is reassuring. With the way most people drive their vehicles nowadays having a signaling light-source on fido when crossing the road attached to leash at night almost seems like a must.
No longer invisible !
Gender:

Female

Familiarity:

I've used it several times
Purchased this collar for our black puppy ... with winter upon us and it being dark at 5, it was impossible to see him while walking/playing at night. This collar is great, it flashes, has a steady on, and also has a reflective strip so even when the light isn't on, he can be seen better by cars. Got the leash to go with it, great add.
Great collar, size is tricky
So first of all, I LOVE this collar, great idea, great quality, super useful.

On the downside is that after reading all the reviews and seeing that others had had problems with the collar being too big I decided to go for a medium. I have a lab puppy, she was 7months old at the time I bought the collar and it was a little snug on her. I kept it because we REALLY needed it right then.

She's 8.5 months old now and still fits snug, I am hopeful she won't have a HUGE neck, but I am afraid I'm going to have to buy the Large pretty soon here.

It is worth to say also, that we couldn't keep her out of the water...she jumped in and we called her out right away. When she came out the collar was wet and still working so it can take a little water.



We were able to see her from far so it was really good, it definitely gives you peace of mind being able to see your dog in the dark. We've used this collar for several camping trips and we only put it on her at night a total of probably 30hrs and still working fine.

I would definitely recommend, beware of the sizing though. When in doubt go for the larger size because you can make it smaller. Do not cut it if you have a puppy unless you are absolutely sure how big you pup's neck will be.
This collar is a must have for black dogs at night. We use it camping, on vacation in Montana, and when walking at night. I ordered the size Small which is a bit bulky for our 8 pound pup but adjusts down to fit his tiny neck just fine. Love it!
Great for night-time play
This is awesome anytime you're letting you dog off leash at night. I use it for playing fetch and going for walks in the woods at night. It makes the dog look like a UFO as he cruises around investigating. Pair with the LED Ball for night-time fetch (see video). It is super fun and super cute!!
Are replacement batteries easy to purchase?...
Are replacement batteries easy to purchase? I didn't see them listed on the site here (but may have missed them). I'd be interested in buying this collar for my dog, but not if it's hard to locate new batteries for it.
The collar uses a CR2032 battery that is readily available at most electronic stores, camera stores, and outdoors stores.
Everything she needed in a light up collar.
It's bright, flashes, waterproof it seems, and as for the sizing complaints, it seems easy enough. My dog is a larger-medium sized dog (50 lbs) and a medium fits her fine. I leave her leather collar on for leashing. This way the light-up collar does not have to be too snug.
hello my dog neck is 18.5 inch which size...
hello
my dog neck is 18.5 inch
which size should i buy ?

thanks
Best Answer
If you pulled it tight, through the fur and still got 18.5 inches I would size up to a Large. If you did a rough estimate over fur..then you have some room to cinch it down and go for a Medium.
I followed the sizing chart and the collars I ended up ordering were too big. couldn't return them since I already took the tags off and put them on my dogs while up camping. Should have ordered a size smaller. Sizing chart is not true.
The rubber tubing will go threw the adjustable part so you can make it light up the whole collar. Someone said that the collar was only lighting up half, because of them having to size it. If you read the instructions it will show u this. & yes the collar is BIG. I have a 85lb lab and got a Lg & it fit him but I think I will order a Med this time. The collar has been great! My dog swims with it all the time and I have had it for about 6wks & it still works fine. The collar gets dirty and makes it hard to see the light but I just wash it and its good as new. The only reason Im getting another one is because so many of our friends want them so Im stocking up to hand out so they can all be seen and safe.
The collar works well and has a good light. My dog has a very short rusty red coat and completely disappears in the park at night. This collar is just what we needed.
I wish there were more sizes; my dog is at the smaller end of 'large' and by the time the collar is adjusted, only half of it lights up. I can see where she is unless she's standing just the wrong way, but as soon as I call her and she moves, then the light shows again.
This collar is great!! It is very waterproof and durable. We go camping almost every weekend and our black lab swims and runs around in the woods and it has held up great! We can always see him. The one thing that I have noticed is that the collar gets a little loose after a few days of wearing it? has anyone else had this happen? I may need a smaller size? I bought a Large for my 78lb Lab. He is only 1 1/2yrs old so I might need a Medium they seem to run Large. Get this if you have a hard time finding your dog at night. It has truly saved his life a few times.