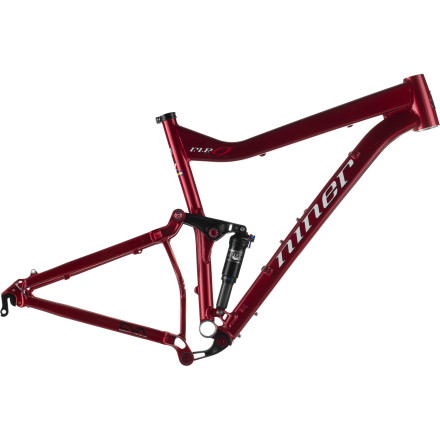 Detail Images
Description
Rip whatever you'd like.
Niner is inarguably expert in the area of 29-inch-wheeled mountain bikes. The company even goes as far as to bet its name on it. Under the umbrella of responsibility that comes with that title is the design and engineering of incredible 29ers for any style of riding. Slotting in between their gravity-riding WFO 9 and the cross-country-focused JET 9, the Niner RIP 9 Mountain Bike Frame steps up as the company's do-it-all, trail-crushing rig.
Working with their proven 29er-specific dual suspension platform, CVA (for Constantly Varying Arc), Niner engineered 4.5in of rear wheel travel into the RIP 9, granting you permission to go anywhere, whether shredding gnarly technical stuff or even cranking out some marathon racing. And CVA is a particular smart system: Because the lower link sits below the bottom bracket and the CVA's instant center is located in a virtual position ahead of the drivetrain, chain tension at the rear axle pulls the two linkages in opposite directions-effectively isolating the drivetrain from the rear triangle. Result: when you press on the pedals, nothing's lost to compression of the suspension, and you won't suffer kickback from chainstay growth when pedaling through rock gardens or under hard braking. It's just smooth, controlled suspension movement, and only when you need it.
Intended for riding both little and big stuff, the RIP 9's suspension is built with incredibly strong, stiff linkages, which move on oversized sealed cartridge bearings for durability and minimal maintenance. The hydroformed aluminum frame's front and rear triangles feature shapes that were dialed in by exhaustive testing and finite element analysis (or FEA) for maximum strength and stiffness at minimal weight. The tapered heat tube promises precise, predictable handling, while the 73mm threaded bottom bracket shell keeps things simple and reliable.
The Niner R.I.P. 9 Mountain Bike Frame uses a 30.9mm seat post, and requires a 34.9mm clamp-on a high-mount bottom swing, bottom pull front derailleur. The R.I.P. 9 now features replaceable drop outs, so while it comes with traditional 135mm rear spacing, you can swap the dropouts out for the stiffer 12x142mm thru axle. The rear triangle offers clearance for 2.5-inch tires and a 180mm rotor. It comes in four sizes: Small, Medium, Large, and X-Large. Niner offers the R.I.P. 9 in three finishes: Raw, Niner Red, and Licorice. Actual weight for a medium frame and rear shock is around 3390g (7.5lbs).