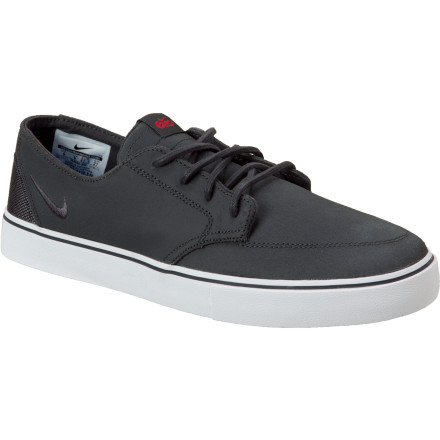 Detail Images
If you let your big bad longboard get away from you, it could easily mow down half of a peaceful, unsuspecting neighborhood. That's why you rely on the the grippy Nike 6.0 Braata LR Preminum Skate Shoe to keep things under control. The grippy rubber tread yields the stickiness you depend on, while the Flex Wrap construction provides vulcanized durability with water-based cements and less energy consumption during manufacturing.
Stretchy elastic tongue gussets mean you can tie the Braata or wear it as a slip-on shoe
A Phylon midsole provides impact protection when you wanna do more than carve through the streets
The durable upper made from leather, nubuck, and canvas looks great while you shred around town
I got these shoes as a gift for my Dad's birthday. He is in LOVE with them. They are the perfect mix of functional without losing style. My Brother-In-Law ended up buying a pair cause he liked my Dad's so much. Great shoe.
...so if you order these kicks go for one half size larger.