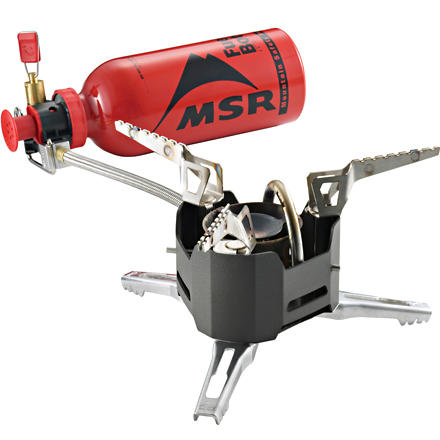 Community Images
Description
Rely on MSR's XGK EX Stove for your extreme backpacking and mountaineering adventures.
MSR's XGK EX Camp Stove boils water quickly in extreme environments, and runs off different fuel types for your international travels. The XGK EX Stove's new flexible fuel line allows this stove to fit in a 1.5L MSR pot so you can fit more into your pack, and retractable legs and pot supports provide stability while you're cooking. MSR's high-output multi-fuel burner uses white gas, kerosene, and diesel.
Great burner.
Familiarity:

I've used it several times
Best stove I have owned to date.
Small and compact. It fits in a side pocket of my pack.
Just got back from a trip to Mt.Whitney where we used it for three days. It had no problems at the higher altitude of trail camp (12,000). It opens large enough to accommodate large cookware.
It does sound like a small jet turbine once fired up but it does not diminish from its overall perdormance. Extremely pleased .
SSSSSSSimmering!
Familiarity:

I've used it several times
After much reading of blogs and trying to find the perfect product, I've found that a normal(home) gas stove simmering plate works very, very well with this stove. The only drawback is that they are made of steel and could be a bit heavier for your liking. They appear to weigh 3-4 ozs. Mine was a thrift store find.

I was able to simmer a rice dish for 30 minutes with no burning! Kerosene was used as fuel.

Have Fun!!!
Unanswered Question
Is there a great difference in performance at high altitude between the MSR W Universal and the MSR XGK?
snow melting champ
Familiarity:

I've used it once or twice and have initial impressions
I just took this thing up Mount Whitney and I was super impressed. I love liquid fuel stoves in the cold, wile everyone has to use hot water or their hands to warm up their canister fuel you can sit back and watch the snow melt while you pump the fuel bottle every now and then, its amazing.



If you can get a hold of a reactor 2.5 liter pot and use it with this thing its awesome! the pot sits on the stove well and is more efficient than a normal pot. I was able to boil a full liter of water with ice chunks in it I got out of a frozen lake in 8 minutes flat at 11,300 feet!!



I am super psyched on this stove because I know it will last for decades and be easy to maintain. I have a whisper light from my dad he bought in the mid 80's that is still going strong, I just wanted something that melted snow faster and had the multi-fuel capacity that this stove has.



the only downer is that it is pretty loud, but its not bad enough to merit a loss of stars. I will take the noise for how fast it melts snow.


Would this pack inside a msr stowaway 775...
Would this pack inside a msr stowaway 775 ml pot?


Bought one of these and I think I found my favorite MSR stove for melting snow.

I had to get a GK jet from MSR and I have to say... Those guys are awesome. I was inquiring how and where I could purchase one and the MSR 'guy' just sent me one at no charge. I have heard people complain before about their customer service.. Nope, not the case.

Now I just have to make a stove board base to stabilize it while on snow.

I also got a Simmer plate that came with it from MSR. I am interested in how well it is going to work... We'll see.


Made for the apocalypse
Familiarity:

I've used it several times
It may not be the lightest weight stove out there but its definitely among the most rugged you will find. Burns most fuels so when your in a pinch you can resort to emergency fuels such as diesel or gas from an abandoned car or jet.



When packed down its size is pretty compact and small enough to put in a pot or pan if your a light packer like myself. It also has that cool factor when your out camping with your buddies you can show off how fast it can boil water. The control valve does not have the best range and really has two settings, medium high and surface of the sun. This works great if your mostly boiling water but you have to keep a close eye on other foods like chili.



Overall it is a great reliable product, I would recommend to anyone who has any remote fear of society falling and being left to fend for themselves.
How to have a proper XGK MaintenanceMain
So Good!
Gender:

Male

Familiarity:

I've put it through the wringer
I haven't been on Everest or anything like that, but I can tell you that for both winter and summer camping this thing is a awesome. Boils super quick and gets the job done without any hassles. I've had other stoves but this is by far the best!
PRETTY BANGIN!
Gender:

Male

Familiarity:

I've used it once or twice and have initial impressions
When purchasing anything I always look for the best price and best quality. At first I bought the Optimus Nova+ after reading many good reviews. Its not a bad stove but it didnt wow me and I had troubles starting it up and keeping it going, I believe mine was defected. I returned the Nova + and exchanged it for this one. Backcountry has amazing customer service and will keep you very satisfied each and everytime. I havent used the MSR XGK EX on any special expeditions but for the test run was perfect! Flawless! And I say this product is quality.
Need a stove that lights up in any conditions? That is what I have found with this one, its not as lite as other MSR stoves but a few mere ounces is nothing! This stove boils water faster than my gas stove at home. It is loud, sounds like a jet engine taking off. Easy to maintain, wide stable base is a huge plus! I have tried all sorts of fuel it, burned it all like a champ. If there is one downside it would be that it doesnt have a low or intermittent setting, but if you are boiling water or melting snow, this stove rocks!
The XGK at full flame.
The XGK at full flame.
Where can i buy these items especially the...
Where can i buy these items especially the fuel tank in dubai? I'm having a hard time looking for outdoor shops here. Thanks.
I would contact MSR directly. They can direct you to somebody. www.msrcorp.com
The Adventure HQ shop at Times Square has the stove and fuel tank (I hope I didn't buy the last one).

Alternatively you can order online through Aramex shop and ship (which I used to get the maintenance kit) although this works out quite expensive.
Maintaining your MSR? XGK? Stove
A video tutorial on maintaining and servicing your MSR® XGK™ stove.

For over 35 years, the MSR® XGK™ stove has been the world's most reliable extreme-condition stove; trusted by mountaineers everywhere. The XGK EX stove continues that legacy with unrivaled performance, dependability and better multi-fuel burning capabilities than any other stove on the market. It features a flexible fuel line that allows it to pack smaller than ever, as well as stable, retractable legs and pot supports, and a powerful flame that melts snow and boils water incredibly fast. No matter where you're headed, with an XGK EX stove along, you'll find fuel to burn and the absolute dependability that has made it the first choice in liquid fuels stoves on expeditions for decades.
does this stove require a pre-heat before...
does this stove require a pre-heat before lighting....such as older mil-spec stoves? thanks
Best Answer
It does. Turn the dial a bit and liquid fuel will collect in the cup below cover on the burner. Light and wait for it to settle down, then turn the stove on. This must be done to vaporize the liquid gas into a gaseous state so it'll burn properly. I believe the only stove currently on the market that uses liquid fuel that you don't have to prime/preheat in this manner is made by Soto and called the Muka.
The Muka is the only stove not requiring priming. The trade off is that the Muka needs much more air pressure - 5-10x more pumps!
This is a terrific little stove. It will pack down very small in a hard-wearing stuff sack provided by MSR. Because this stove is multi-fuel it's incredibly versatile, it will burn petrol, diesel, white gas, kerosene and others. The XGK will boil a litre of water in less than 2.5 minutes in my own experience. Some reviews have mentioned that because the fuel-pump has a plastic pump-arm it feels rather weak, it does but it's incredibly strong in reality and keeps the weight down. There are three sizes of fuel bottle that I know of, all of them ideal for different lengths of expedition. This stove is not for those who are looking for gourmet camp food but it's intention is to provide a rugged, near indestructible, any altitude stove, it will simmer food but it has to be very closely watched. I ought to add that this stove sounds like the after-burner of a Tornado jet, very loud indeed but a superb bit of kit. Buy the maintenance kit if you intend travelling to more hostile regions, that way you'll never go wrong. Very highly recommended. *****
Does anybody own this stove along with the...
Does anybody own this stove along with the MSR Dragonfly, which do you prefer?
Best Answer
I prefer the dragonfly if I'm going to try and cook food in the pot - it simmers really well and has a range of temperature options that are easy to get without fiddling with how much air you put in the fuel bottle. If I'm going to try and boil water at high altitude and or cold temperatures - and just boil water/melt snow, the XGK works better. In larger groups and depending ont the length of time we're out, we usually bring a Dragonfly and a XGK.