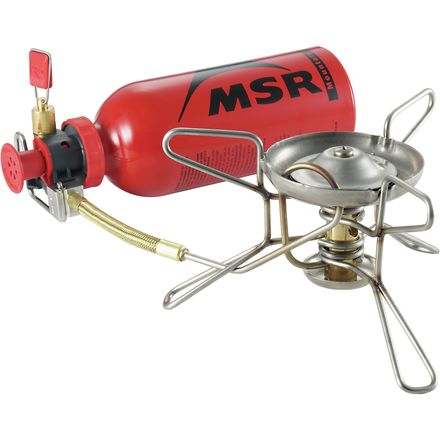 Videos

Community Images
Description
MSR's simple, durable design makes the WhisperLite Stove your reliable, go-to cooking companion for years to come.
The trusted leader in backpacking stoves for over 15 years, the MSR WhisperLite Stove sets a tough standard with its simple design. Simple means easy to use, easy to pack, easy to clean, and easy to maintain. For minimalist backpackers, this 14-ounce stove is extremely compact, fitting nicely into a 1.5-liter MSR pot. Bring this durable stainless steel and brass stove on all your camping adventures, year after year. MSR's Shaker Jet Technology lets you clean the WhisperLite with a simple shake. *Fuel and fuel bottles sold separately.
Simple and bomber
Familiarity:

I've put it through the wringer
This stove is the way to go. I had one for 15 years that just blew out the gaskets so I went ahead and bought a new one. Other than a jet boil I think this is the only camping stove I will ever need!
dont go changin
Familiarity:

I've put it through the wringer
seriously though, this stove has been one of the best stoves ever, while it may be a little large it has always worked i needed it too even when drenched with sand and water, a quick shake and you are up and running. if you dont mind it taking up extra room in the pack it is a must have for longer trips
Classic
Familiarity:

I've put it through the wringer
I was brought up using this stove, and I've only ever used this and the Dragonfly. I know this works. I've had mine for 18 years and, as far as I can remember, never had to repair it. I've used it in most of the New England mountains, above 10,000 ft in the Rockies, and the same in China, used it in all seasons but winter, although I've used it with snow on the ground in Spring. True, it has a tendency to be super-hot, but you just have to hold the pot a bit in the air if you're frying something. And when lighting it, don't put your head directly above the stove, and beware of lighting it inside a tent vestibule. The flames sometimes shoot up. Easy to use, inexpensive, and dependable.
Not a fan
Gender:

Male

Familiarity:

I've used it several times
I know: everybody loves this stove, but I can't say that I'm a fan.



It's bulky, it takes a bunch of setup time, and it's heavy too. Lots of moving parts to depend on, and lots of bits to keep track of. Doesn't pack well.



When I'm backpacking and I almost feel guilty eating instead of logging miles, that's a bad combo.



Flame control isn't very good either. (Certainly not as good as my SnowPeak litemax..)



I know they have drawbacks, but I'm much happier with a canister stove (unless it's winter!)



For backpacking, unless it's winter, I just like the canister stove better.
Great for the long haul
Familiarity:

I've put it through the wringer
I have had this stove for over 20 years. I changed the gaskets once. It is fast and reliable heat every time.
Simple and Effective
Familiarity:

I've put it through the wringer
There is a reason why the Whisperlite is a favorite among backpackers. It's simple, light, and effective. I used this stove during a month long expedition in olympic National Park. If a malfunction did occur, it's simple construction and technology always made it a pretty common sense fix. Highly recommend.
Great stove
Familiarity:

I've used it several times
I bought this for my boy scout son and he loves it. Easy to set up and use.
Simple, Easy to use, Easy to maintain
Familiarity:

I've put it through the wringer
I've used my whisperlite all over the US and love it. As far as liquid fuel stoves go, this one is legendary for a reason. The only down side is packability on solo trips. If I'm going out by myself, I'll usually bring my pocket rocket, or a tin can alcohol stove, but for group trips, I love my whisperlite. Other than a good shake before each use, and a cleaning at the end of a the season, this stove needs zero maintenance. Boils water quickly, but will burn the heck out of anything you try to pan cook on it if you aren't careful. Overall, you can't go wrong with this stove, especially if you're just getting into the outdoors. It's an awesome and affordable starter stove, and a great dependable back up or alternate if you're into redundancy.
good for backpacking not for wall climbs
Familiarity:

I've put it through the wringer
excellent stove for backpacking, but i wouldnt recommend it for big walls or similar, because is kind of hard of making the pot stand still if you dont have a flat erea.

the great thing about it is that it heats up anyting in a really fast time.

another thing i like is that the fuel is a lot cheaper that gas canisters, although a bit heavier
Great simple stove.
Familiarity:

I've put it through the wringer
For simplicity of use in a liquid fuel stove, this is tops. The ease of use is great for scout groups, etc. Long-lasting. It's fairly stable. Make sure to practice using it before you go on any treks (Not on any flammable surfaces. Picnic tables will catch fire when you spill white gas on them!) Only real complaint is that the temperature adjustment is off-hot-hottest. Wish they still made the simmerlite, but oh well...
GIT ER DONE (well-done)
Familiarity:

I've used it several times
I bought this WhisperLite stove based on the recommendation of five thousand mountain men... and I am not disappointed.



The only gripe I have (and it looks like other people here had too) is that it doesn't really simmer, it's settings are: hot or hotter.



What it does do amazingly well is burn with the fire of five thousand volcanoes and boil water like a champ at any altitude; and when all you're making is freeze-dried camp meals that's exactly what you need. Just don't try to cook bacon or simmer sauces, it will burn the s**t out of it. But what the hell are you doing schlepping bacon around in your stuff sack anyway, being bear-bait?!



Lighting it takes a bit of practice, just don't put your face over it or you may burn your eyebrows off.



You can use any white gas, I got Coleman brand gas from Dick's sporting goods and it works like a charm.
Excellent White Gas Stove
Familiarity:

I've put it through the wringer
My Boy Scout troop used these on our Philmont expedition, and they kept us fed and happy for the whole trip. They do take a little practice to prime and pre-heat, but once you get a feel for the process there's nothing to it. Routine maintenance on the trail just involves shaking the stove about ten times after you use it; the "shaker jet" will self clean and keep you in hot meals until you run out of fuel. Assessing your fuel store is easy, since you can just unscrew the bottle cap and look in, something not possible with canister stoves. While it is heavier than other options out there, especially my other favorite MSR stove, the Pocket Rocket, it keeps things low to the ground, providing more stability, and can be used with a wind screen and heat reflector (both included!) unlike a canister stove. As others have noted, this model only burns white gas; if you need fuel flexibility, look at the International or Universal models, instead.
Great little stove
Familiarity:

I've put it through the wringer
This is a great little bullet-proof stove. You cannot go wrong with this purchase. It may not be the lightest or most compact stove you can purchase, but like the watch, it takes a licking but keeps on ticking! We have used these for hundreds of my Scout Troop's backpacking trips and I just purchased this one for personal use.



- we do preventative maintenance once a year to keep them ticking

- Can't speak for fuel efficiency as these are all I have ever used.

- One medium MSR bottle easily lasts an entire weekend for our group of 7-10 backpackers for two meals a day.

- We use them to straight up boil water and also to cook pots of pasta or rice dishes and it works great

- It can be a bit finicky in colder temps, but they have never failed us. But then that may just be the fact of teenagers using it! LOL



Buy this stove with confidence!
One time purchase.
Familiarity:

I've put it through the wringer
I'd like to think the 63 five star ratings speak for themselves so I will keep it short. Here is my list of things to know about the amazing whisperlite.

-They have left the design basically unchanged for 25 years. why fix whats already perfect.

-This stove only burns white gas, if you want a stove that can use a variety of fuels check out the international.

-startup on the whisperlite can be finicky, you have to barely turn the fuel control nozzle or else too much gas will be released and drop to the ground beneath your stove. Be careful, don't start a forest fire.

-it is incredibly durable, I have had mine for 6 years now and have had no problems.

- do maintenance twice yearly or you will see a reduction in flame strength. Its easy, and takes around 15 minutes.

-The one problem with the whisperlite is its flame strength depends on the number of pumps you give the fuelbottle, there is no simmer function. If you require a stove that can simmer I recommend the dragonfly by MSR.



Bottom Line: There is no better stove for the price, breaks down small, cooks hot, and doesn't guzzle fuel. Go buy it, you wont be disappointed.
Can't imagine a better backpacking stove
Familiarity:

I've put it through the wringer
I've used this for several years, and have zero complaints



It's light, durable, reliable (you sort of start to figure out how to troubleshoot small issues as you use), packs nicely, and is pretty cheap to fuel



I found it fits perfectly inside the MSR 1.6L stowaway