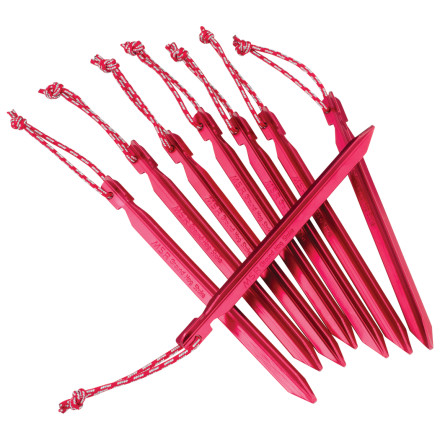 Community Images
Description
Drive your stakes deeper than you've ever driven them before.
Replace your scoop-shaped stakes with the y-beam-shaped stakes in the MSR Groundhog Tent Stake Kit. Rugged 7000-series aluminum makes these stakes strong without adding unnecessary weight. A small loop of nylon cord makes it easy to pull these stakes out of heavily compacted ground once it's time to pack up camp.
Upgrade your tent/tarp
Familiarity:

I've put it through the wringer
The worst part of a new tent are the stakes that are included, I opted to upgrade to these the moment I bought my latest 4 person tent and will use these with every tent I own moving forward.

These are super secure, but still easy to pull out of the ground when you need to pack up and leave.
Great Versatile Stakes
Familiarity:

I've used it several times
These stakes are great stakes for a variety of ground types, very light and sturdy
I use the minis
Familiarity:

I've used it several times
I replaced the stakes that came with my Alps Mountaineering Choas 2 with the MSR groundhogs. Lighter and much sturdier than the originals.
Excellent replacement stakes!
Familiarity:

I've used it several times
Factory stakes are just plain horrible. That's definitely the place the tent companies try to pinch some pennies. These have been great! The pull cords are reflective, which was awesome for setup after dark, and they came clean pretty easily with a shake in the stream. Holding power is really awesome, and is very noticeable at any angle, which is where the trident shape excels.

Overall the quality is excellent, the weight is very light (maybe not minimalist, but certainly within the normal camping range), easy to clean and the reflective straps are a big plus! I wish I would have bought these years ago instead of trying to make the bent wire cheap ones work.
My new tent came with a set of the standard silver "hook" type stakes. Every time I have used them in the past, at least half bend on the first outing. This time I figured I would upgrade and save some weight. I am glad that I did. The Groundhogs worked great and were easy to see even while staked into the leaf covered forest floor. The reflective cord is a nice touch if you have to tear down before sunrise. I have not had a chance to try them in hard ground yet, but I am sure they will fare better than the silver hooks. The only minor drawback is they take a little bit of extra effort to clean off when the mud sticks in between the flats.
Snapped in half
Familiarity:

I've put it through the wringer
Liked these stakes for the first two days until I was going into some hard pack soil and while using the back of my hatchet to hammer the stake snapped right in half. I don't know if it was just a random incident but I thought these were much sturdier than that. Used them a lot since then and haven't had problems though.
Great quality
Familiarity:

I've used it once or twice and have initial impressions
Bought these to replace the cheap stakes that came with my Marmot tent, and I was not disappointed! Got them into the ground easily with no bending! The ties on the ends make pulling them up super easy, as well.
big upgrade
Familiarity:

I've used it several times
after years of backpacking and camping I finally ditched my stock stakes and picked these babies up. Blown away at the weight and how much easier they were to drive into the ground.

A little surprised that on the maiden voyage I bent one of the stakes when stepping on it. Ground was moist and muddy, but cold and I suspect I hit a rock or some frozen ground beneath the initial moist soil on top. still functional and haven't had any of the others bend in the 3-4 uses since.
Best Stake on the market hands down!
Familiarity:

I've put it through the wringer
Aconcagua tough, used them all the way around the tent untill camp 3! Baller stakes! MSR got it going on! out of ten I only broke two by smashing them with the rock too hard!
The MSR Groundhog Stakes are the best, period. My MSR Groundhog Stakes have been used with my tents and hammock tarp/fly setups. MSR Groundhog Stakes are made of aluminum, weigh 0.7 ounces each and are strong. My MSR Groundhog Stakes have been in rocky, loose and tough ground and pounded on with the back of knives, axes and hammers and have never bent. Sure my MSR Groundhog Stakes have a few dings and imperfections, but they are going strong. They have a attached cord for ease of taking them out of the ground. My MSR Groundhog Stakes have never come out of the ground on me, and I have been in some super windy and weather ridden days, they stick and stay. Berz Rating: 100/100



www.facebook.com/CaptainBerzFanPage

www.twitter.com/CaptainBerz

www.captainberz.com
Solid but not perfect
Familiarity:

I've used it several times
These are extremely light weight and strong tent stakes. They hold their place in the ground incredibly well and I am very happy I got them. I've had one thing I don't like about the stakes but I don't think this is necessarily worth docking off a star, more of a personal irritation. I scuffed them up pretty bad driving them into rock ground. There weren't any big rocks but the ground was very tough and the stakes had several gouges in them after I removed them the next morning. They still function perfectly fine but now have sharp little edges on them so I need to take extra care to not cut myself or catch any fabric on them. Aside from that these have been phenomenal.
Unbelievable!
Familiarity:

I've put it through the wringer
These stakes are tough & lightweight! What more do you need? I have used them for over a year now & they have held up great & have held my tent in place flawlessly...



If looking for a lighter more compact tent stake look at the MiniGroundhog Tent Stake... They are awesome!
Wow!
Gender:

Male

Familiarity:

I've put it through the wringer
Now I understand why the other reviewers rave about these stakes - once they're in, they're in! I upgraded to both these (7.5") and the Groundhog Mini's (6") and used them recently in both soft desert sand and pounded into root filled cement-hard dirt, in 30 mph plus winds. The Groundhogs held true, didn't budge by even a smidgen. Even in hard ground these stakes went in easily without bending and were easy to pull out. These things are awesome and well worth their price, they are a definite must for any tent kit. And thank you Backcountry for your excellent service!
Great upgrade to any tent
Familiarity:

I've put it through the wringer
Every tent comes with those cheap stakes that fold as soon as you hit hard dirt or a rock. With these stakes you can hit rocks, tree roots and anything else without fear of them folding over. A huge plus is the reflective cord it is attached to the stake making it easy to spot for a low light set up or take down.
Great stakes
Familiarity:

I've put it through the wringer
These are nice strong stakes that will hold up to abuse. They work great for guy lines on tarps and such. They hold into the ground even when the wind picks up. I have only used them for tarps so far, don't know how they would work with holding down tent corners but for guy lines they work great
A little heavy but very worth it
Familiarity:

I've used it several times
I bought these stakes because of how durable they seemed. I had been using titanium stakes before, because they are so light, but I quickly got tired of them because they were kind of wimpy. After hammering them into tough ground with rocks, I can testify to their durability. They are a bit heavy, but worth their weight. You want solid, dependable gear when in the wilderness.
Tough stakes.
Familiarity:

I've put it through the wringer
my groundhogs are not red anymore. They have taken a beating...into stumps, roots, gravel and sandy soil. They are still in perfect structural condition. Wouldnt go with any other stake.
Great Upgrade Stakes
Familiarity:

I've put it through the wringer
Like some others have said, I have replaced all my tent stakes with the groundhogs and they are awesome. I have some of the older sets, but since they've put the reflective pulls on, theyre the perfect stakes for me and my hammock system. They hold in anything, even some softer soils..but not so much in loose sand. Can totally de driven into cracky rock, but you might not get them back out...even though having the pulls make it much more possible. Talked to someone who claimed they drove them into some northeastern shale...but have yet to try that out.
The picture is deceiving. These stakes are way smaller that the normal groundhogs, hence the mini. But these are way lighter. They still hold well in the ground. i personally hate shepard hooks, so i like these much better for a little more weight. I will probably end up buying more of these because i like them so much.
These stakes are super tough. The y-shape provides excellent holding power in most kinds of ground. I have had these freeze in the ground, so sometimes the hold is too much. The only time one of these stakes has ripped out is when it was holding a large tarp over my hammock as a rainfly and 20-30 mph winds broadsided me all morning, and it finally pulled out. But in a tent, they are bomber. A little heavy, and sometimes a little more than needed, but they give me peace of mind that in the event of horrible mountain weather, my tent will stay nice and dry. Plus they are super durable and resist a lot of abuse.