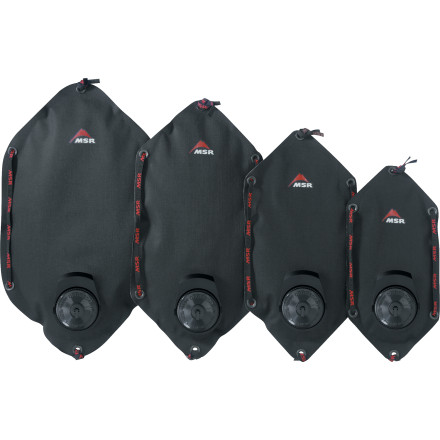 Colors

Community Images
Description
Stay hydrated with the re-designed MSR Dromedary Bags.
MSR Dromedary Bags take the hassle out of filling, carrying, and pouring water in the field. MSR designed their Dromedary Bags to withstand the most trying conditions. With a temperature threshold from freezing to boiling, and abrasion-resistant cordura construction, these sturdy Dromedary Bags hold up to the most rigorous adventures. MSR added a low-profile handle making it easy to fill. MSR Dromedary Bags have added perimeter webbing allowing you to attach it to your pack or hang it up at the base camp. The bonus 3-in-1 cap ensures effortless filling, drinking, and pouring from the Dromedary Bags.
Share your thoughts
What do you think of the
MSR
Dromedary Bags
? Share a...
This is the one piece of gear you shouldn't skimp on! They're so sturdy and seal up so tight, even if you drop your entire pack on it, it's not going to pop or leak. My wife and I each carry a 4L version, enough for a good overnight trip but no extra weight of equipment to notice. We like these over the "Dromlight" versions because of the tie-downs around the edge, make it a LOT easier to pack and to use in camp!
5 years now
Familiarity:

I've put it through the wringer
I use it for 5 years now. it look like is will never end
It is bomb proof!
Required!
Familiarity:

I've put it through the wringer
We've used two of these on the John Muir Trail. Can't go wrong with this product. Reliable and durable it is a must for any extended backcountry hike. We used it for drinking, bathing, cleaning dishes.
critical piece of gear
Familiarity:

I've put it through the wringer
I don't know about you all, but I love water. As compelled by this love, I consider my drom to be one of the most important pieces of gear that I own.

It's lighter than water bottles, more packable, and has a greater capacity. Plus, these things are tough as nails. I work as an outdoor educator and I've seen these droms survive 10+ years, with hundreds of field days each year, and that's with teenagers using them.

I've heard a couple of complaints about them, specifically 1) that you still need to carry a water bottle to fill it and 2) that the caps are prone to leaking. I find that 90% of the time you can fill these most of the way without another vessel. Even when you can't, you likely have a thermos or a pot that you can use to top them off. As for the caps, I've never had one leak on me and I've never seen one crack or degrade. I have had friends get defective lids that leak from the get-go but MSR has always been great about respecting their quality guarantee and replaced them on warranty. (Also, a fun fact about the MSR lids: they are sized the same as nalgene products. The large lid is the same size as a water bottle lid and the smaller nozzle is the same size as the 2 oz spice/liquid containers that they sell so you can replace them on your own or put an emergency cap on if you're in a pinch.)

Also, these droms have more uses than just replacing the use of water bottles. They're key for dry-camping and even when you're just the standard 100-200 ft. from your water source while camping, I love keeping a store of water at hand for cooking and hot drinks. These are also the best back-country hand-wash system out there. You can hang it up in camp and keep norovirus at bay without rinsing soap or your nasty-human-hand-funk into your water source.
I haven't used the bag as much as I wanted to yet, but so far (along with the adapter kit), the bag hasn't leaked. I have noticed the "garden hose taste" that other reviewers mentioned, but that doesn't bother me much (I've drank out of garden hoses before). I wanted get away from using 2 three liter bottles and various 16oz bottled water bottles. So far I like the water bag.
will the katadyn shower adaptor fit the 10L bag
Toughness where you need it
Familiarity:

I've put it through the wringer
These bags are so tough. I fill them up before going on the river, weekends in the xterra or added weight while hiking. Hold water and don't leak.
I have a 4L bag and will mostly use it once we setup camp on the trail for drinking & cooking. If I expect to be on a trail with limited water sources it functions great as a "Plan B" and this is one of the better purchases I have made recently.
Great Water Bag
Familiarity:

I've used it several times
This is just an all round great water bag, I have had no issues with leaks and it has held up very well, I use this bag for a few things one for extra water on the trail nothing scarier then running out of water in a drought having a backup can put a mind at ease, this bag also works well to hang in a tree and to use it to wash your hands with camping soap or to wash your pans.
Get a new lid
Familiarity:

I've put it through the wringer
Tough to rate this - I love the bag, hate the lid it came with. The original leaked like a government source. I replaced it with a humanGear capCap and it's now totally solid. Bag gets a 5-star, lid gets a 1-star.
Convenient bag
Familiarity:

I've put it through the wringer
I go car camping, for 4+ days, and I fill 4 bags. When I am done, the extra bags fold up to nothing, and I am using only one. They work perfectly, and do not leak.
I have been using these bags for years, and I highly recommend them.
Tough and light
Familiarity:

I've used it once or twice and have initial impressions
I purchased a 4 liter from REI and was pleased with the dromedary. Slight taste of plastic, hoping that will go away but otherwise it's great. The 4 liter fits perfect in the hydration sleeve of my kelty coyote 80, and also the laptop sleeve of a TNF backpack. It weighs in at 8.5 oz with hydration adaption kit attached (sold extra) I have had a camelbak in the past and didn't care much for it, pleased with the MSR.
I'd like to know if you send the items to...
I'd like to know if you send the items to Brazil?
If yes, how much to send the MSR Dromedary Bags (4L)?

Thanks,

Cristiano Vieira
Hey Cristiano,
MSR is a Cascade Designs brand, unfortunately, we cannot ship Cascade Designs outside of the US. For a complete list of companies we cannot ship internationally check out the link below.

http://sales.liveperson.net/hc/s-9551721/cmd/kbresource/kb-5587613131803721629/view_question!PAGETYPE?sc=120&sp=94&sf=101133&documentid=239527&action=view&VisitorProfile=BCS2&MESSAGEVAR!home=yes&MESSAGEVAR!cookie=no&MESSAGEVAR!docid=239527
Great Water Tight Bag!!!
Familiarity:

I've put it through the wringer
Have several of them in different sizes used a lot and have not had any leaks but water has little taste from bag if stored to long.
Water Taste
Gender:

Male

Familiarity:

I've put it through the wringer
I have a Dromedary 3L bag from 1998. Still in use but always had a plastic taste to the water. I just got the idea to call MSR customer service and inquire about what they used to seal the bag in 1998. It has not changed. However, the rep noted that a bad batch was associated with bags that had brass grommets and indeed mine has brass grommets. He told me to send it in and they will swap the bag after 16 years of use! Great customer service. Obviously durable bag - used on endless climbing trips and back country ski trips over the past 16 years.
Mobile kitchen sink
Familiarity:

I've put it through the wringer
I like to use my 6L domedary bag as a dish and hand washing station during camping trips or beach side bbqs. I wish it came with the spigot stock since I pee harder than the standard shampoo travel cap. Other than that it's a solid product.
No more multiple trips the the stream
Familiarity:

I've put it through the wringer
These bags are awesome. Before I got one of these we would always fill up our reservoirs and a Nalgene which didn't give us much water. We would have to go fill up at least twice in the evening and twice in the morning. I got the 10 L one and it lets me get enough water for dinner and breakfast. It is nice to be able to relax and cook without worrying about filling up before bed or in the morning. I would also highly recommend getting the spigot attachment because it makes using the drom much easier. Even if you already have a reservior for while you are hiking you should pick up one of these and keep it empty in your pack until you get to camp. It will make your trip much more enjoyable.
Long lasting. Great product.
Familiarity:

I've put it through the wringer
I have had my dromedary for 3 years and take it just about everywhere I go. It is as solid a bag as I have found. I haven't noticed the strong plastic taste others have noted, though there was a slight taste at first.
Pick up the Dromedary. You won't be sorry.