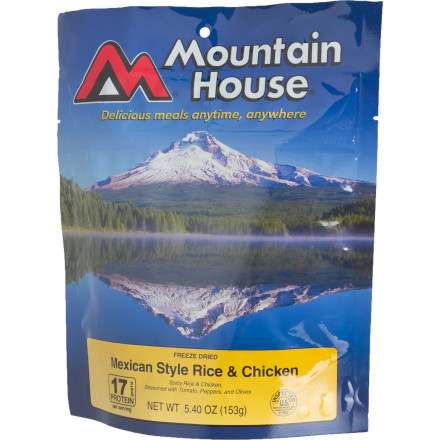 Detail Images

Community Images
Description
Eat better while wandering.
When granola and jerky don't cut it while camping or backpacking, the Mountain House Mexican Chicken with Rice provides three servings of south-of-the-border deliciousness to mix up the blandness of normal camp food. This freeze-dried entree only weighs 5.5 ounces, so you won't hesitate to pack it for your next backpacking trip. Then you and a partner can stuff yourselves on spicy rice with chicken, tomato, peppers, and olives under a starry, smog-free sky.
Add boiling water directly into this bag, reseal it, and wait for your meal to cook to perfection
Compact vacuum pack won't take up much room in your pack or expand at high elevations
Contains protein and carbohydrates to keep you going in the backcountry
Check the tech specs (on right of page) for complete list of ingredients and nutrition facts
convenient
Familiarity:

I've used it several times
Mountain house food is delicious and convenient to carry in your backpack.

I ate this food for 5 days in a hiking trip in the Andes and was very pleased with the natural flavor and weight
This stuff is tasty and reminds me of a taco soup or chili with rice in it. Super good by itself and with tortillas if you have the room to pack them. Feeds a hungry person, or two people.
Nom,nom,nom
Familiarity:

I've used it once or twice and have initial impressions
Took down a Mexican Rice with Chicken at Fawn Lake while hiking through the Mallard Larkins. I liked it. I've enjoyed every Mountain House meal I've tried and MRwC is no exception.

I'm surprised to see some folks calling it spicy, not to say it's bland but I wouldn't call MRwC spicy. I ended up tossing a Taco Bell salsa packet in part way through to jazz it up. I wouldn't hesitate to pack it again but I do rank some other Mountain House meals ahead of it; Lasagne, Chili Mac with Beef, New Orleans Style Rice with Shrimp.

After a hard day of hiking and an evening of fishing, this rice hit the spot. I could see adding a Mountain House Fajita wrap to this for a 3-4 person dinner.
Very Tasty
Familiarity:

I've used it several times
These were surprisingly tasty. This meal saved us more than a few days from going to bed hungry and underfed. Easy to prepare after a long day of hiking, full of protein, and tastes good to boot. My kids loved these, too. From now on, we'll always have these for long hikes or extended camping. NB: If you're really hungry, this is more like two adult servings.
not bad
Familiarity:

I've used it once or twice and have initial impressions
Had this for a couple of meals. It wasn't bad at least it was edible.
Good value
Familiarity:

I've used it once or twice and have initial impressions
Good value for not a lot more money. Flavors were good, but it's not enough for 3 people. More like 2.
Delicious, a little heavy on seasoning
Familiarity:

I've put it through the wringer
I'm a backcountry guide in Yosemite, and I do a lot of personal backpacking and climbing trips. Sadly, I eat a lot of these meals. I'm incredibly familiar with almost all of them.



I definitely have my favorites, and this is one of them. Think of it as a traditional Mexican rice that is a little too heavily seasoned. A little spicy, but the chunky chicken is nice.



PS. Its a little complex and heavy for high altitude. Above 11,000 or 12,000 feet this meal can sit in your gut for a while.
This is probably the best offering that mountain house has. It needs to be cooked a little longer than simply boiling water and dumping it in (this is at altitudes above 10,000 feet). I just wish they weren't so pricy.
All you need are some tortillas and you've got a great meal in the backcountry.
Rather than write a small review for each individual item I recently purchased I thought I would share it all in one concise review. (Note with most Mountain House I add 2-3 oz less than it recommends)

Recommend:

Breakfast:
Backpacker's Pantry Granola with Blueberries and Milk – Favorite :) (serve warm)
AlpineAire Strawberry Honey Granola With Milk – healthy and good! (serve warm)
Backpacker's Pantry Denver Omelet (needs pan) – best quick eggs I have tried.

Lunch/Dinner:
Mountain House Chicken Ala King – Favorite :)
Backpacker's Pantry Katmandu Curry - Yum
Mountain House Macaroni And Cheese – Oh to be a kid again!
AlpineAire Chicken Gumbo – Delicious

Sides/Deserts:
Mountain House Potatoes And Cheddar With Broccoli – Favorite :)
Mary Janes Farm Organic Garlic Pesto Fry Bread – I love bread! (bring oil)
Mountain House Peas – Eat your veggies! Add 1-2 oz less water
Mountain House Corn – Favorite, Add 1-2 oz less water :)
Mountain House Green Beans – Add 1-2 oz less water
Mary Janes Farm Organic Brownies – Yes really good!
Mountain House Ice Cream Sandwich – Don't get the Neapolitan, this is much better.
Mountain House Blueberry Cheesecake – Nice size berries, make in a bowl NOT the package. (Note it will NOT keep
Overnight).

Pass:
Backpacker's Pantry Garlic Herb Mashed Potatoes – The Mountain House Potatoes and Cheddar with Broccoli are MUCH
better even the resident mouse in our cave didn't like it.
Mountain House Scrambled Eggs With Bacon - Backpacker's Pantry Denver Omelet is much better IMO but requires a
pan.
Mountain House Scrambled Eggs With Ham - Backpacker's Pantry Denver Omelet is much better IMO but requires a pan.

Neutral:
Mary Janes Farm Organic Couscous And Lentil Curry – Not bad but I like my curry with more curry!
Mary Janes Farm Organic Black Bean Corn Bread – Not bad but NOT cornbread just a bread with some cornmeal in it.
Mountain House Noodles And Chicken – Yet to try will update
Mountain House Pasta Primavera – Yet to try will update
Mountain House Mexican Chicken With Rice – Yet to try will update
Mary Janes Farm Organic Alfredo Pasta – Yet to try will update
Backpacker's Pantry Chana Masala – Yet to try will update