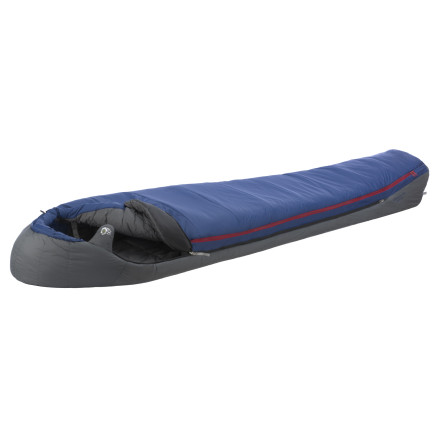 Videos
Looking for a quality synthetic-fill sleeping bag that won't break the bank? Look no further than the Mountain Hardwear Switch 20. On cold nights, zip its Quantum expander closed to keep the lofty Thermic MX insulation close, and on warmer nights, leave it open to give yourself some extra room to move.
An EN lower-limit rating of 23° F means that this bag is best used for three-season camping and for occasional use during mild winter conditions
Quantum expander zips open to add eight-inches of girth to the bag; keep it zipped closed for maximum warmth or leave it open for extra room and airflow
Synthetic Thermic MX insulation traps in gobs of warmth, keeps you warm even if it gets slightly wet, and compresses well
Tough nylon taffeta shell fabric stands up to abuse without adding unnecessary weight or bulk
Face gasket and tailored hood block drafts and seal in warmth
Comfort mummy cut efficiently maximizes warmth without being overly constrictive
Insulation allows for excellent compressibility without sacrificing warmth
Comfort Footbox follows natural foot position for greater comfort at night
Nylon stuff sack makes packing a breeze
Share your thoughts
What do you think of the
Mountain Hardwear
Switch 20 Sleeping Bag: 20 Degree Synthetic
? Share a...
Does the bag roll into a sac, if so what...
Does the bag roll into a sac, if so what are the dimensions of it L by W?
It does stuff into a sack which measures 8" x 16"
Down vs. Synthetic Sleeping Bag Comparison
Jason discusses the basics behind sleeping bag insulation types.
Very comfortable, good value
This is a very comfortable sleeping bag, temperature rating holds true for me, but then I do tend to sleep warm. I like the extra shoulder room with the expansion section zipped open.
This bag is very comfortable but after using it in 20-30 degree nights I had to use a liner. It was not adequate for those temps. It was comfortably warm when it was 40+ but I would definitely get another bag if I was going to be in those temps again. The zipper that zips up the bag is horrible too and would always snag.

As far as the "Quantum expander", its not a huge difference really. I didn't even notice a difference when I zipped it up actually. I do love the length of the long though. It was perfect for me, as I am 6'3", 240.

The bag is comfortable, but I am not happy with it.
Unanswered Question
Do the abbreviations LH/R and RH/R refer...
Do the abbreviations LH/R and RH/R refer to left-handed or right-handed bag in regular size?
This bag is very comfortable, but if you do hit about 25 degrees, it won't be enough. Great for late spring or cool weather. I recommend getting a 15 or 0 degree if you may hit freezing temps. You can always vent it if you do get a little warm. Synthetic is great if you don't use a tent footprint to keep out ground moisture.
This is a good synthetic bag. Had a couple threads loose that kept catching my toes, but other than that I stayed very warm at 30 degrees. However, I do recommend down bag. The Marmot Sawtooth is a 15 degree down bag and is almost 1lb lighter than this bag for only $50 more. I would highly recommend going to the down bag because of weight, comfort and heat.
Lovin' the Lite Weight and the Switch Feature
I purchased this bag for backpacking into the Grand Canyon from the South Rim in late September. The first night I slept in the back of my pick-up under the stars and temperatures dipped into the 30s and I was snug and warm. The next day I hiked 5000' down into the Canyon and the temperature stayed around fifty, so I unzipped the expansion feature of the bag and adjust the main zipper to create a roomy and perfectly controlled climate. The bags light weight was an added blessing for hiking out of the Canyon where weight was a primary concern. I like the larger storage sack that came with bag so it does not damage the fill when it lies in the closet waiting for the next trip. This is a great bag at a good price.
Write your question here...
1 is this the...
Write your question here...
1 is this the bag that is adjustable +8" girth expander.
2 why does the long size seem tighter than regular size (
Shoulder / Hip / Foot Circumference:
[Reg] 78 / 62 / 58in ( 198 / 157 / 147cm); [Long] 64 / 60 / 40in (163 / 152 / 102cm))
Brad. This is the bag that is adjustable. There are two zipper tracks in the bag... one to get in and out of the bag and one to open the bag expander. As for the sizing, I am not sure why the numbers are showing up that way. Maybe a typo... here are the measurements of the long: Inside length=84", Shoulder Girth=64", Hip Girth=60", Foot Girth=40". Hope this info helps.
You can not beat this back for the price. I have used mine on countless nights with temps varying from ~25 degrees all the way to ~75 degrees. In the cold it does an excellent job at keeping warmth in. I've never been cold in it (I always wear a thermal top and bottom though). In warmer months it is still great because it vents very well and can actually help to keep you cool. I have had some minor trouble with the zipper on just one occasion, but it wasn't a big deal at all.
Better sleep then I get at home...
On my fire crew we were issued two sleeping bags, the Switch and the Phantom from MH. Previously, I have always known that if I am spiking out on some fire that I will sleep horribly, its just how it goes for me. First off I liked this bag compared to my old bag because it can compress super small with a little bit of work. I used this bag for the first time on a fire in Idaho where I managed to dig out a little hole to try and make myself as comfortable as I could for the restless night. Next thing I know its 1am and I'm being woken up by another crew that had started a warming fire, I just slid inside my bag and rolled over. I woke up the next morning very refreshed. The bag kept me warm (I am always cold) and the insulation on the bottom had great cushion. I used this bag many times throughout the season and loved the expansion feature so that you didn't have to feel so restricted in the sack. The only criticism I heard from other crew members were people that were getting too hot in the bag. I would recommend Mountain Hardwear to anyone, in fact I want to buy my own Switch bag for non-fire use.
Best Answer
Max User Height:
[Reg] 78in (198cm); [Long] 84in (213cm)

Shoulder / Hip / Foot Circumference:
[Reg] 78 / 62 / 58in ( 198 / 157 / 147cm); [Long] 64 / 60 / 40in (163 / 152 / 102cm)

Stuff Size:
8 x 16in (20 x 41cm)