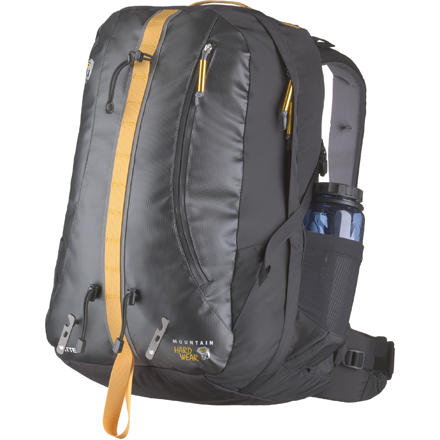 Community Images
This pack, with all of its organizational features, is pretty much OCD heaven- everything can have a place, everything is easily accessible- clearly, some very good thought went into making this piece of gear. The material is burly and keeps stuff dry, and the pack is just big enough to carry my trad rack, a 60m rope, shoes, harness, chalk bag, a bit of food, sunscreen, a couple bottles, a shell, and a guidebook.
It is heavy and bulky for a pack of its size- I'd think twice about hauling it into the backcountry as a summit pack on that basis. The framesheet is plenty stiff, but the internal racking loops aren't attached to it- they're attached in front of the hydration sleeve (so hanging unsupported gear from the racking loops will sag), but this can be mitigated by making sure to cinch the internal compression panel or the exterior compression straps on whatever you have in there.
This is a very usable piece of gear. Durability-wise, it's sort of ridiculous. As a straight-up crag pack, it's very tough to beat.
However, will be returning it. Needed a more multi-purpose pack. This one seems geared towards serious climbers and since we don't climb then we'll leave it to the experts. It has very cool compartments and is very cool aesthetically.
Go to sport climbing crag pack.
This pack fits everything I need for a long day of sport climbing, keeps it well organized, and carries it comfortably. It is a cragging pack, and should not be confused with an alpine climbing pack. It is not designed to haul gear for 8 hour approaches. The longest approach hike I've had with it was 30 - 45 minutes and it felt good.

Pros:
1. Big enough to fit everything (15 - 20 draws, 10 lockers, grigri, reverso, PAS, 2 pairs climbing shoes (size 43.5) harness (arc'teryx x350a), chalk bag, 70 meter 9.8mm rope, rope tarp, keys, wallet, cell phone, 2 nalgenes, snacks for the day, helmet, sun block, bug spray, first aid kit, and a lightweight compressible puffy.
2. Keeps things organized. 3 gear loops at the top of the pack keep your sport rack organized. Special pockets for 1 pr shoes and chalk bag keep them in place. Nylon divider keeps your rope & rack separate from your other gear. Internal pockets hold snacks, keys, wallet, cell phone.
3. Complete clam shell opening lets you get to your gear fast and easy.
4. front pocket is big enough to fit lots of snacks and clothing even when the rest of the pack is full.
5. included rope tarp is big enough to hold a 70m 9.8mm rope.
6. outer nalgene pockets are deep enough to securely hold a water bottle even when the rest of the pack is stuffed
7. burly zipper takes some serious abuse.
8. daisy chain on the outside of the pack lets you attach extra gear if you need the space
9. shoulder straps and hip belt are padded and comfortable.
10. It carries high density loads very comfortably

Cons:
1. the 'ice axe' attachment on the front of the pack is flimsy and silly - i can't think of a use for it.
2. when you have a full rack clipped to the gear loops, the weight tends to pull the top of the pack down, which wastes space and renders the load lifters useless. (this problem can be minimized but not eliminated by laying the pack on it's back to pack it)
3. I would like to see some sort of secure external helmet attachment
i am interested in this pack. I am 5'11,...
i am interested in this pack. I am 5'11, 32" waist, and 160 lbs. i looked at the MH size chart and they recommend the medium. however, i am looking for a real life recommendation... large or regular?
Regular. Their recommendation for a regular torso length might seem a bit short, but it is most likely spot on. If you want to get a real accurate fit, have a friend measure from your c7 vertebrae (the lowest prominent bump in your neck) to the small of your back, and use that number to choose the size. While it might be tempting to get a large for the increased volume, the looser fit won't be worth it. Also, the torso length isn't the only thing they stretch for a larger pack, the waistbelt is also longer, and having that misfit could be detrimental
Great Crag, Gym, Travel, or Bike Pack
I've had this pack for about six months and I've used it for cragging, hitting the gym, traveling, and biking. It's a little on the large size for just going out for a sport climb, but it fits everything nicely with room to spare and allows for some nice organization.

I also like that it is just big enough for a long weekend trip while small enough to fit in the overhead bin of an airplane with a little shove.

On the occasions I've had to bike with my laptop to work along with some clothes, this pack has been great on a 15 mile ride. The straps worked nicely and weren't uncomfortable at all on the ride.

Overall though, I use this pack as a climbing gym pack and it's great for it. Toss multiple pairs of climbing shoes in there along with your harness, chalk bag, and keep your keys and wallet nicely organized in one of the top compartments.

Lastly, this pack seems like it will hold up for a long time with its nylon and ballistics cordura.
It's not perfect, but it's really darn close!

I got this pack as a bicycle commuter (5'9" in Seattle), and I think any cyclist would be happy to use this pack. I got the medium size, which holds a full load of groceries, but would probably buy the large if I had to do it again.

This pack is very well designed, and solved a number of my problems:
-Soft sided packs leave bad lumps, making for uncomfortable riding. The HDPE back plate eliminates this problem, and helps add necessary stiffness.
-The padded, quality waist belt removes unnecessary stress from the lower back. Why don't more cycling packs have a waist belt? It continues to boggle me.
-The pack is nigh water tight, so my gear stays dry. In a pinch, I just put in a plastic bag and then it's hermetically sealed.
-The straps are very adjustable for a comfortable fit.
-The padded bottom means that the fit is extremely comfortable and the durability is great - I have no worries of rub-through.
-The split open design makes finding things a snap.
-The tarp is handy for all kinds of random things you wouldn't expect (need a jury-rigged sun shade, no problemo!)
-The back of the interior cavity has one of those cloth compression areas, which nicely fits a laptop sleeve, making this pack a reasonable applicant for a school pack (important for me as well)

My major complaints are lack of diverse pocket space, and the damned half-moon zipper. Why would you design a pocket like that?! Of course, as a student and commuter I'm not using the pack for its intended purpose, so I let these points slide. Overall, I'm still very happy with my purchase, and haven't found anything else on the market I'd rather have.
Anyone out there know if the Splitter can...
Anyone out there know if the Splitter can fit a full trad rack (eg 12 cams, set of nuts, set of Tricams, bunch of slings/cordage/biners/etc)? If all this stuff can make it into the pack, how does it feel on your back? Thanks a bunch!
Shouldn't be a problem. There is a full PE framesheet, so you won't have cams jabbing you in the back, and the pack carries REALLY well. Go for it!
You can fit a fairly large trad rack (18 cams, a couple sets of nuts, tricams, a dozen draws, slings, etc), a 60m rope, harness, shoes, and some clothes (a shell, hat, etc) and that's getting pretty full.

The pack rides comfortably when loaded this way- as others have noted, if you try to rack a lot of weight on the frame with nothing under it (via the racking loops) it will sag, but if you support that weight using the internal compression panel and the external compression straps, it works well.
I looked around for a while for a good mid-size cragging pack that would have easy access to the contents and some organizational capability. This pack meets my needs and so far seems really sturdy. The built-in pockets are really nice and I always appreciate a key clip so I know where the car keys are. I also like the gear loops for attaching things that I am not using so they don't get lost. I wouldn't hang a full rack on them though.

I am 5'7" and the regular size pack fits me well.

My only complaint is that the straps seem a little close to each other, so that they rub on my neck a bit. This might be an issue for a longer approach.
over all I thought the bag was pretty cool,but my problem was that when you load a full rack into the bag it pulls the top of the bag down which makes the load lifter straps a moot point which means a long hike is out of the question. my suggestion would be, if your going to put gear loops in the top of the bag, it needs to have some rigid support so that it still functions like a real pack. I know that I'm trying to use it for something it was not intended for, so for short walks to local crags, its great, maybe they'll make a long distance version next.
Stealth pack/organizational system
This isn't just a bag, it's an organizer, with compartments and pockets for everything. Comes with a tarp, and has a clip point inside for it. The gear loops have plenty of racking space for a stout sport rack (it gets crowded if you've got a lot of gear), and the internal compression panel allows you to put the heavy stuff against your back, instead of in the bottom of the pack.

As a pack, the harness is comfy and adjustable, no surprises await you here.

Once you're at the crag, it opens all the way up, making everything easy to see and sort- a definite luxury that my buddies comment on. If you're an organization fetishist with firm opinions about everything having its place, this pack has a spot for pretty much everything. The material is plain burly, perhaps over-engineered, but waterproof and confidence-inspiring.

I find that if I put my rack + shoes + harness + a full water bag that getting a rope in there is an iffy thing- even though this is big for a 'day pack', it's not quite big enough for everything- I keep my rope in a separate bag- but it's waay convenient to just grab this and a rope on the way out of the garage!
Unanswered Question
Does the waist belt detach and can it...
Does the waist belt detach and can it handle light hauling?
I've had this pack for a month now and have taken it on several trips. I love it! It distributes the weight beautifully and holds everything!! I have told all of my climbing buddies about and expect to see more of these packs at the gym and crag.
I was originally using a top loading pack for all my gear and it was finally time to get rid of it. I got tired of losing stuff at the bottom and tearing everything out of it to find it. Got this baby for my b-day and have to say it nears perfection! I'm an organization freak and it's got all the spots, allthough wasn't sure about some of the pockets at first. The mesh pocket is perfect for my shoes (and keep them aired out), there is a smaller fold over pocket for your chalk bag and loose change, and a nice roomy pocket I put my harness in which even handles the essentials still clipped to it. The other side has three gear loops for all my other hardwear with plenty of room at the bottom for misc. webbing and stuff. A nylon panel clips to cover and keep it all in place. Oh nice big tarp too! I don't know about sticking a rope in there, with all my gear it was a pretty tight fit, so I'll be keeping that to a rope bag. It's nice to get to your favorite rock, open it up and have everything right there to get ready fast. Even a last minute call to head to the rock gym the other night was easy because I knew everything was in it, where it should be, and ready to go. Comfort on the back is OK, but your not going on all day hikes with it either. I looked at many others and would say if your in the market for a crag bag this is it.
Jamming with the Splitter!!
Overall I am very stoked on this backpack. The organizational features are a very clever design and it definitely helps me from getting nervous that I didn't pack my shoes, harness or chalk bag since there is a place for each item. I know before leaving the house that I have everything packed. The thing that sets this pack apart from any other that I've used for cragging before is the feature that allows the pack to split into two and fold out like a suitcase. The burly Cordura (drybag) material is thick and durable so the pack can lay in the dirt, on rocks or on muddy surfaces and not get all beat up and worn like your typical nylon pack. I learned it sheds water very well after I got caught in a hailstorm last weekend. It also comes with a ground tarp useful for laying out your gear or a spot for the dog to lay down. If you are over 6 feet tall I would suggest getting the large/long version since the torso length on the regular is pretty short.
I love it yet the only down fall is hanging rope on top, there is very little to tie off to.
hey does anybody know the difference between...
hey does anybody know the difference between the large and regular on this guy?
200 cu in the reg. is 2150 lrg is 2350 and also the torso size
The torso size is the main difference you between the two sizes that you should be looking at. If you just by it for the bigger capacity but you need the smaller back length of the regular, it will not fit as well and it could make long approaches even less pleasant. Hope that helps.