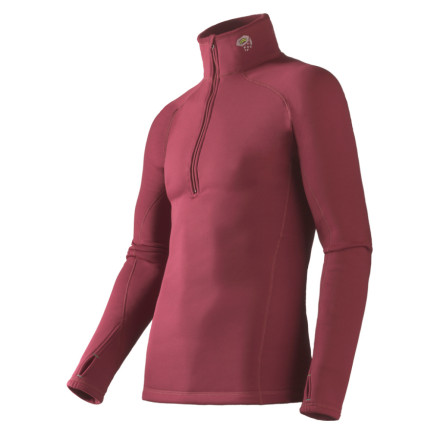 Detail Images

Community Images
From trail runs to weekend backpacking trips to mountaineering expeditions, the Mountain Hardwear Men's Power Stretch Zip T will rule your layering system. Made from stretchy, moisture wicking Polartec Power Stretch, this lightweight zip shirt cuts the chill on mild days or insulates under your shell in the big mountains. Flatlock seams eliminate chafing, and thumb loops keep the sleeves from bunching when you layer up.
Getting free drinks at the bar..
Just like the old saying " A girl has got to do what a girl has got to do.." I think it is the same for being a man. You ski all day, you work up a thirst and head to the lodge. Just tell your buddies you are going to hang out at the bar and 'put out the vibe'. It's not creepy to let some older woman buy your drinks.. Heavens no. Women have been doing it for centuries and it's about time we men do the same. Unzip the front and let your male peacock out. Blow a little kiss and share a little wink with the table full of grandmas who have had a few and you are set for the evening.

What other piece of clothing have you come across that can do double duty as ski wear and be ever so sexy to the grandmas out there?

This is the real deal.
Worn for over 250 days of ski touring
Gender:

Male

Familiarity:

I've put it through the wringer
I've been using the classic Mountain Hardwear Power Stretch Zip T as my main top baselayer for years for ski touring. It is very warm, comfy and has a fit that is trim without being overly snug or binding. It does a very good job of moving moisture (sweat) away from your body, which keeps you from feeling cold and clammy.



It also dries quickly, which means you can "walk off" wet clothes by remaining active to help dry them out. I wear the Zip T underneath a shell and that is all I need for a wide variety of conditions.



The long neck zipper is nice as it allows you to fully vent when/if you are getting hot while hiking, then batten down the hatches when it is time to ski deep pow. When I first started using these shirts, I really wanted a small chest zipper pocket, but after getting use to them, I prefer the clean, minimalist style of having no pocket on the shirt, and instead having one in your pack, shell, pants, etc..



As a micro tech-tip, the black color will help absorb heat, so it is my preferred expedition color.



Fitwise, I am a textbook men's "medium" and these fit me perfectly.
Wrangell-St.Elias Range - Pwr Stch Zip T
Wearing a MHW Power Stretch Zip T in the Wrangell-Saint Elias Range of Alaska.
Not so good if you're tall
I have serveral power stretch tops from other manufacturers and purchased this one on sale. I ended up returning it. Like many items from Mountain Hardwear, this one is great if you're less than 6 ft tall. For us taller people their products, including this one, tend to be short in the body and arms. MH has not yet figured this out, and being 6'3" I'll continue to look elsewhere for a better fit.
This shirt is comfortable. You can wear this all day inside and if it gets too hot turn it inside out so the fleece is on the outside. Yes this is reversible. You can also unzip the shirt and dump heat as you wish. Wearing this as a mid-layer is perfect winter gear. For the price and the quality this shirt is a no-brainer.
Super comfy, warm, runs true to size chart
Super comfortable and soft. Seems to provide a good amount of warmth for the thickness.

Just got this piece so I can't comment on durability, but assembly seems to be top notch w/ no hanging threads and pretty much every seam a soft, low profile, double or triple flatlock stitch.

Sizing-wise it seems pretty dead on the chart. I'm 6'2", 185-190lbs, ~48" shoulders, 44" chest, and usually a 35.5 or 36" sleeve. I would usually go w/ an XL in Mountain Hardwear tops (and most other brands) to get enough sleeve and torso length even though I'm probably on the upper end of the L sizing through the body and shoulders. Based on feed back in the reviews here, I initially went w/ a XXL to avoid the skin tight feel and was swimming in it. The XL is actually a bit long in the arms and fits right on the edge of too baggy through the body but the neck, shoulders, and upper arms fit spot on. The only weirdness in cut IMO is the wideness of the forearms, it seems like it causes a bit of bunching and bulk when layering. I could probably have gone w/ the large in this piece, especially for use as a base or second layer. As is, it fits nicely in a semi-casual way, but I'd probably just stick to the size chart rather than sizing up if you're looking for an athletic/technical fit or plan to layer over the top of this shirt rather than under it.

Overall, I'm very happy w/ this purchase on sale, at full retail it would feel pretty over priced however.
little Pilling but otherwise love it
I have had some pilling going on on the sleeves in high abrasion areas, but otherwise i love the high collar and thumb holes. nice tight fit and hits below the waist so good coverage against wind and when moving around. reversable is nice, but honestly rarely use the fleece loft to the outside. would buy it again, or a second one.
Nice fit, awesome warmth and easy to layer. Doesn't seem to the most durable powerstretch piece I've used, but it does well.. some pilling around the collar after several wear/wash cycles. I would certainly recommend.
This thing is really warm! It's also awesome that it's reversible, so you basically have 2 pieces in 1, which is great. They breathe really well, and are somewhat wind resistant. I went running in these in 25 degree weather, and was comfortable. I highly recommend these!
This is a very warm, very functional mid-layer. With a base layer worn under it and a vest or shell over it I can be comfortable down into the 30's easily. I love the versatility of the reversibility.

My reason for keeping it at 4 instead of 5 stars is the smooth side of this shirt pills pretty easily. I guess that's kind of the nature of the fabric, but it's kind of frustrating to me if I want to wear smooth side out and I've got bumpy areas on it. To echo what other reviews have mentioned as well, the thumb holes make the sleeves kind of drafty if you're not using them or if you're using this shirt as a heavy base layer. It's not too big a deal, but it would've been nice if the thumb holes were a little closer to the end of the sleeve. The zipper also comes unzipped pretty easily. Although I still really like this shirt and am glad to have it in the arsenal, it falls slightly short of 5 stars.

Update: While I'm not disappointed I have this, I must add that I highly recommend the MHW Microgrid Zip T over this. Much tougher material, no breezy sleeves, napoleon pocket.
I am very happy I purchased this item it works great to wear over a t-shirt and I can see it being a great layer piece. I can't wait to see how it works when I use a base layer and a shell over it because as it is this 1/4 zip is warm. I also love the fact that you can flip it inside out if you want a midweight layer or wear it fleece side down for a heavyweight layer. I am 5' 11" and 155# and a medium would fit nicely but I got a large so it would be a little looser then a compression top, either would work just fine for me.
what is the measurement across the chest...
what is the measurement across the chest of this shirt in a medium or large? i find size charts to be somewhat misleading.
ed. Not sure of the measurement across the chest in either size but being Powerstretch... it is super stretchy. If you post your height and weight I can give you a go idea of which size to get. Thanks!
This top (along with it's matching bottom) were my most widely used mid layers this past winter. This past winter was exceptionally cold and snowy and this set fit the bill for all outdoor cross-country, snowshoeing, and hiking activities. When used with my soft shell top and bottoms I was good in temperatures from 10 - 35 F. If I added my Capilene3 layer I could easily go down to 0 F. Mountan Hardwear makes some of my favorite performance clothing and these items are at the top of my list - comfortable, form fitting, and good at wicking away moisture. At 5'7" and 215#, the XL top and L pants fit well.
This is the second shirt like this I bought. I just like the first so much. Do not know how something so thin can keep me so warm. I really like the thumb wholes.
Mountain Hardwear executes this Power Stretch top pretty well. Deep zipper, reversible details (you can wear the smooth side in or out), thumb holes with longer sleeves for keeping the wrists warm, and athletic fit. The downsides - no pocket to stash keys, and the thumb holes prove a bit drafty when not in use for morning runs.

I'd give it 5 stars if it had a pocket.
Bought one for myself a couple years ago and loved it, so I bought a second one for me. Just bought one for the fiance and he loves it. So absolutely warm, cozy and durable, perfect for Colorado winters.
Excellent Shirt I have 4 of them....
Garrett. Due to its stretchy-ness it is a little more slim fitting. With that said, it will fit a variety of body types due to this uber stretchy-ness! Hope this helps!
Best Answer
If your question is "Will this reveal my less-than-perfect-athlete mini beer-belly and love handles?" The answer would be Yes, yes it does.
In fact, it's a love-handle highlighter.