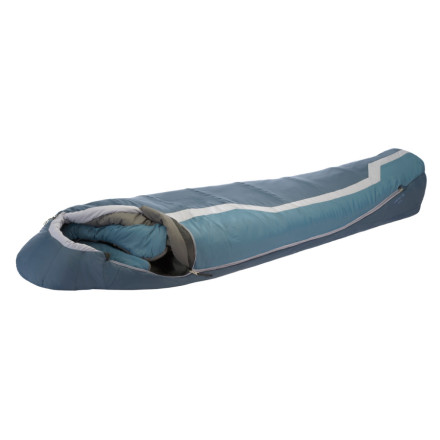 Community Images
The Mountain Hardwear Lamina 20-Degree Synthetic Sleeping Bag features Mountain Hardwear's proprietary Thermic Micro insulation. This insulation is high-loft and compressible like down, but it doesn't lose its warmth if it gets wet. The Thermic Micro is welded directly to the bag, which increases durability and eliminates the need for baffles, and decreases cold spots.
Comfort mummy cut designed to maximizes weight savings without being overly constrictive
Durable, lightweight nylon shell features a DWR treatment to repel dew, condensation, and frost
Thermic Micro synthetic fill is soft, compressible, and durable
Welded Lamina construction helps enhance loft and reduce cold spots
Soft polyester lining wicks moisture while you sleep
Comfort footbox follows your foot's natural shape for maximum warmth and comfort
Face gasket and tailored hood block drafts and seal in warmth
Full-length, #8 zipper features double sliders for versatile ventilation
Included nylon compression stuff sack and mesh storage bag make storage and transport a breeze
Warm everywhere but the foot box
Great, light bag with solid construction. I typically use it as a hammock top quilt when I'm not ground camping. In both scenarios I've noticed my feet get a little colder than my last bag. Other than that, it's a damn good bag. Packs down small, is fairy light, and lofts nicely.
Nice bag bro!
Familiarity:

I've put it through the wringer
I really like this bag! It's very packable, light enough for backpacking and I think warm enough for those semi-cold nights (I've used it when it was mid-teens and was perfectly warm enough). I haven't had any durability issues with pretty heavy use over the last 3 years or so (and that takes into account my 3 German Shepherds making our MH Lamina 20 bags into a wrestling ring every time we camp). The only gripe I have is that one of our MH Lamina 20 bags zippers can be difficult. The other bag is totally fine, so it seems like it's maybe just a glitch. I would certainly recommend it!
Really Great, but a Zipper Nightmare
Familiarity:

I've put it through the wringer
This is a great synthetic sleeping bag; It's warm but rarely stuffy, definitely 3 season and 4 season in the South, it's light to carry, it's easy to pack up, it hasn't gotten stinky, it's soft and comfy, very durable, and it's aesthetically pleasing.



I would say this is the ultimate go-to sleeping bag, but that stupid zipper can be the worst! All sleeping bag zippers suck, but this one has really screwed me over a few times. There is no sneaking out of it if you're trying to let someone else in the tent sleep: you will huff and puff and grunt with all the exertion and frustration of trying and failing for MINUTES to get out of bed. Was that a wolf or a dog trying to get into the rainfly that one night? I'll never know, because I was stuck in my bag. And then there was the earthquake.....I really don't know why all sleeping bag zippers are all so terrible, but this one is exceptionally bad. Yet I feel the bag itself is exceptionally good. All nightmare-realities aside I doubt I'll ever find a better sleeping bag.
Great bag, nightmare zipper!
Familiarity:

I've put it through the wringer
True: Super soft, truer to rating than most bags, good fit. Packs down well. Lightweight for synthetic.



I have a down bag of similar rating but the dang thing loses so much insulating value not just if you get it wet but if it is damp out or if you breath into it at night. So for synthetic, the MH Lamina is nice.



YOU WILL NEVER GET OUT OF THIS BAG ONCE YOU GET IN. The zipper really is that bad. If you have claustrophobia or if a bear is trying to get into your tent, you will experience your worst nightmare. You ever see those videos of monarchs trying to extricate themselves from their pupa shells...



Though this is still my goto bag (I have 5 bags), I'm still searching for the right bag.
Great bag.
Familiarity:

I've put it through the wringer
Packs down pretty small. Temp rating seems accurate. Def a 3 season bag.
Nice Bag @ a good pricepoint.
Familiarity:

I've put it through the wringer
It's very packable, light enough for backpacking and I haven't had any durability issues with moderate use over the last 3 yeras. However, it's never quite been warm enough on 20* evenings. Great bag for cool weather.
Very happy with the product, over night hikes on the Appalachian Trail in Virginia and working at a summer camp that always got super cold at night this thing was perfect, it packs up super small, is pretty lightweight, and fits in the bottom of my Osprey Pack no problem, I always sleep in a hammock and never had too tough a time getting situated in it. Note this, I am only 5'6 and got a normal size so I definitely could see getting the long just to have a little extra room because my feet are only a few inches from the end. All together happy with this bag
Great bag with a shitty zipper.
Familiarity:

I've put it through the wringer
I took it on the Jonh Muir Trail and it performed well other than the zipper. I am astounded that such a great company would apply such a bad zipper design to such a good bag. The black piece of insulating material that lines the zipper gets caught almost every time i zip and unzip. I resorted to worming my way in and out of the thing every morning and evening. The hood and neck tighteners work well once you get to know how they operate. Im six feet tall and the long version fit me well. I was uncomfortable under 32 degrees.
Summer bag
Familiarity:

I've used it once or twice and have initial impressions
I bought this bag knowing it wasn't the warmest but didn't know what to expect. It is very thin with minimal insulation. I tried using it with a thermarest solar ridge pad inside my house and was still chilly for at least 15 minutes. I don't see how this could possibly be warm if I had jeans and a long sleeve shirt indoors. On the positive side it is light. It packs fairly well but that could be due to lack of insulation. The material is extremely comfortable to touch but not support. If you plan to he a more winter bag grab a marmot tressle 30 for $20-$60. It will be bulkier but compresses very well for it's size and will actually keep you warm to 30 degrees (Fahrenheit) or possibly lower and will last longer.
Warm, Comfortable, Compact
Familiarity:

I've used it several times
I have used this bag in the spring camping in Idaho, and from the Oregon California boarder to Southern California. I was surprisingly warm the first two nights and adjusted layers and my tent to stay comfortable. I have since then used the bag in the high of summer near Redfish Lake Idaho and was perfectly comfortable. I love that the bag is lightweight and compact. I have previously used an old down bag that is much heavier and larger. I would recommend this bag to anyone who enjoys camping in Spring, Summer and Fall.
great bag...even better with two...
Familiarity:

I've used it several times
i picked up two of these a right zip and a left zip for myself and my girlfriend. super warm and roomy....kept us both warm and dry on a week long river trip. perfect at cooler temps with two people but a bit too warm with two people at around 45 degrees. the zipper does snag but not that bad if you know its going to.
Great for the money
Familiarity:

I've used it once or twice and have initial impressions
It's a great synthetic bag for the money. Other reviewers are correct in saying that the zipper snags, but they are exactly what I was suspecting.
great sleeping bag!
Familiarity:

I've used it several times
We went camping in Bruce Peninsula in Ontario, Canada. I enjoyed my sleeping bag so much and so is my sister. I bought mine in your web site and my sister too. Thank you so much!



Joceline
Just got this a few weeks ago. slept outside when it was in the 40's and with a few layers and no sleeping pad i was plenty warm and I hate being cold. also used it when it got in the high 50's and it wasnt too hot. Will be testing it when it hits the 30's this fall. If its still good in the 20's 30's I'll give it a 5. I would recommend this. Stuffs easily into the stuff sack too
This bag has to be one of the best deals. It packs down to a reasonable size, and doesn't weight too much.

A full length #8 zipper makes it compatible with most other sleeping bags if you want to zip them together.



This bag packs down to the same size and weight as a lot of 600-fill bags, but costs a fair amount less. If you're looking for an entry level sleeping bag that will be good for all around camping and a bit of backpacking, this is it for sure.

The draft tube does get caught in the zipper sometimes, but that's not different for any other sleeping bag so I am not making an issue about it
Excellent lightweight bag
On it's first outing the temperature went down to about 30 degrees and the bag kept me very warm. I have not had any problem with the zipper any more than any other bag I have owned. I am 5'11" and the bag fits great with just a couple of inches of extra room. At 3 pounds it was just the weight I wanted for my backpacking outings. The compression sack gets it down to a very small size.
I haven't tested it out yet, but it seems like quality material and it really does pack down quite nicely. I'm 5 ft. 9 inches and I fit in the regular bag, but not by much.
Other reviewers noted that the zipper gets stuck, and yes it does got hung up, but its warm and light, so who cares if it takes an extra minute to zip up? I've used it in the low 30's and found it to be plenty warm, so at 3 lbs I'm very happy to get it at this price point.
nice budget bag if you want compression
This isn't a down bag but it still compresses well for a synthetic and has an AWESOME stuff sack included. Zipper snags a lot, but overall it's a great bag. I sleep cold so it's comfy to about 45 degrees for me. Also check out Kelty Light Year and North Face Cat's Meow as alternatives to see what suits you. I'm a skinny 6'1" and the long is really roomy for me...I could have gotten away with the regular.
great bag,soft and warm !
Great bag and it packs really small in your backpack !