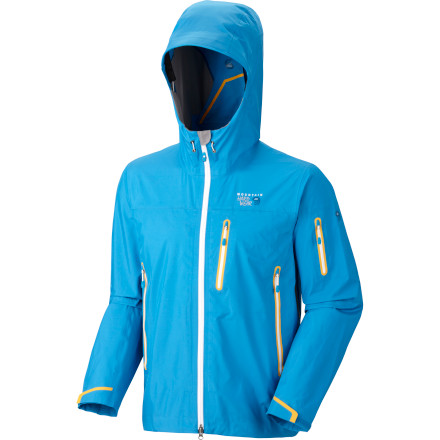 Detail Images

Community Images
The Jovian Jacket from Mountain Hardwear is the lightest 3-layer jacket in the line. This packable shell was designed for backcountry adventure in varying weather conditions. That's why it's equipped with Mountain Hardwear's mad-scientist approved Dry.Q Elite waterproof and moisture managing membrane.
Water resistant and highly breathable stretch side panels reduce the need for underarm vents and bulk from zippers
Chest-high hand pockets are accessible even when wearing a climbing harness or backpack
Welded water-tight construction on pockets blocks out moisture at an otherwise vulnerable area
Helmet-compatible hood easily pulls over your brain bucket and the pronounced brim rolls water off to the side
Single-pull adjustment system on hood cinches down easily (even with a glove on) to provide unrestricted vision
Superlight underarm vents are extra long for dumping heat with a quickness
Micro-Chamois interior chin guard keeps the zipper out of your grill and won't rub your mug raw
Alpine fit for unrestricted movement and less weight while still allowing for extra layers
Great winter shell
Familiarity:

I've put it through the wringer

Fit:

True to size
I really like this jacket. Bombproof, durable, breathable and functional. I use it for back country skiing and other winter mountain pursuits where functionality and light weight are a must. I am 5'10 145lbs, and the medium fits me great. If I weighed 10 pounds more I would probably go for the large, very athletic fit.
Unanswered Question
Hey there, I am interested in purchasing...
Hey there, I am interested in purchasing the Jovian jacket. I am 6.2" 220lbs 48" chest 34" waist with an athletic build. What size should I get?
Great shell/jacket for BC Skiing
I've been using a Jovian for backcountry skiing for the last year and a half and love it. It breathes well enough to hike in, the hood is roomy, the material is supple and weatherproof. When it's time to head down, it zips up nice and tight to keep the snow out.



I'm a "men's medium" and I though this jacket fit well. It is loose, but not baggy.



We don't often ski in the rain in Utah, so I can't speak to the jacket's ability to keep you totally dry in a gushing rain storm, but for skiing and snow, it is fantastic.
Jovian being used for skiing in the Wasatch. Photo by Tommy Chandler.
I have had the Jovian for one day and am very please thus far. The slim alpine fit is almost perfect for my body. I have 5'10" and 147lbs with an ape index of just about 1. The torso, back and chest were perfect for me, and the sleeve length was just enough. The sleeves could use one more inch on them, but they are just barely enough to fully cover my wrist and the beginning of my hands with my arms fully extended in front of me. The hood is huge and beefy. The main zipper is a bit stiff, like other reviewers have mentioned, but I did not have any trouble zipping it up or down. To zip it down you do have to use both hands if you have it zipped all the way up because the collar folds down otherwise, but that applies to every single jacket in the world with a high collar. Just give it a good tug with one hand holding up the collar and it zips straight down. The multitude of pockets make the jacket very functional, and as far as I can tell so far, the jacket breaths well and is completely windproof. I will post a review on the breathability of the jacket once I have put it through the wringer in some adverse conditions. But overall i am exceptionally happy with the jacket, especially given that I bough mine on 60% off.
I'm pretty impressed by the new MH membrain. When I ski with this jacket + goretex (standard version) pants, my body stays dry waaayyyy longer than my legs; this wasn't the case with jackets that I've owned in the past.
I'm 5'8'' 155 lbs; the medium leaves room to layer under, but still has an athletic shape. For me, the sizing seemed pretty normal.
Antarctica tested and approved!
I spent 9 days skiing in Antarctica and being exposed to a variety of temperatures, precipitation, wind and weather in the Jovian. I was very impressed with the breathability, wind and water/snow resistance. The new DryQ seems to be a much better technology than what MHW was previously using.

Height 6'2", 195lbs and the Large fits great! Guess I'm one of the lucky ones. It's on the tight side, but I just like to wear one or two thin layers underneath and layer for warmth over the top.
Let me see where to start. I am 6-1, 200 lb, with an fairly athletic build. About a 45 1/2 coat size. Bought the Jovian because of the DryQ Elite fabric. And also because I got a deal on it through Mountain Hardware's Pro Purchase. Had I paid full price, I would have been annoyed overall.
As most have said here, the fit is off. I bought a large hoping the shell would fit close to my body, as I only wear shells when necessary and do not layer underneath. I don't use shells for any warmth etc, only for bad weather. So, I wear a powerstretch or similar base layer underneath and that would be it. Good thing because the fit is tight across the shoulders and back. Also, as one person mentioned here, the sleeves are short. But get this, after I was wearing it i could swear the right sleeve was shorter than the left. Guess what? It's about a half inch shorter! Seriously? Ok, now for performance.
I have used this shell enough to write about it. My longest trip was to Ecuador for some volcano climbing. We had some bad weather so I wound up using it quite a bit, from acclimitization hikes in the rain to some bad weather, wet snow and high winds on the bigger mountains. Here are some of what I found:
1) Zipper is crazy tough to work. I noticed the curvature of the neck contributes to the problem. Once fully zipped up and you are trying to unzip it, lift your chin up toward the sky, hold the shell with one hand under your chin and unzip with the other. This sort of straightens the neck line and it unzips easier.
2) The fabric seems to pull some moisture from your body, but it traps it in the pockets...what I mean is I had an iPhone in the chest zipper pocket and it got soaked (was not raining but snowing). IT seems like the moisture does not fully travel through the layers? Not sure, but Goretex Proshell seems to breath more efficiently.
3) Cut is not super low and barely is below my harness. When you lift your arms over your head to place a tool or whatever, there is not too much room in the shoulders and there is quite a bit of lift.
4) Wind did not penetrate material, and it was good. I also like the material better than Proshell in terms of comfort, sound. I thought the softness of it would mean durability issues but not so. The material is pretty tough as I was hit with some big chunks of ice, rolled and there were no abrasion marks. I also threw it in my pack and was tired and threw my crampons on top and they didn't puncture or tear. I was surprised at that, so that is good.

Overall, a decent purchase but I qualify that due to the price I got it for. I would be disappointed had I paid full price. It's good overall but far from exceptional.
Jacket seemed very nice and well constructed. I was pretty excited to try out MHW's new Dry Q Elite technology, but as others have alluded to, the sizing is a bit off. I normally wear a medium in just about everything, but with this jacket it was too tight in the shoulders and upper back. I also tried on the large, but it was way too baggy. The Snowtastic was a similar fit in the medium.
Not quite as good as the hype
I bought this jacket because I was excited about the increased breathability of the air-permeable DryQ membrane. Took it on a 1.5 hour fast hike in 30-35F weather, wearing only a light Smartwool base layer underneath. At the end of the hike, the base layer was pretty soaked, and the inside of the jacket had quite a bit of moisture built up on it at the chest, back, and sleeves (I was NOT wearing a pack). I repeated the same hike in the same weather with an older Arcteryx Gore XCR jacket with very similar results. The only advantage I can see that the DryQ jacket had is the inner face fabric absorbs some moisture rather than letting it condense on the surface.

I did another hike in 35-40F weather climbing a steep trail for 2 hours up wearing only a base layer, then as the sun was getting low I put on a thin fleece and this jacket for the hike down. At the end of the down hike 1.5 hours later, my layers were still wet as well as the inside of the jacket (see photo). I even had the pit zips open.

This is not a bad performing shell, but I can not see any advantage it has over proven Gore membranes such as Pro Shell. It's been a dry winter, so unfortunately I haven't had a chance to fully test its waterproofness. The front zip is the most difficult to zip of any WP zipper I have ever tried. You'll swear you have the fabric caught in the zipper. And often you actually will as the chin guard is not stiff enough and 1/2 the time I try to unzip the front it gets caught on the chin liner. All other zips are equally as hard to operate. The sizing is not very athletic - I'm 6'1" 175 lbs and the Large fits me well for arm and torso length, but I could carry a basketball inside of it. The hood is enormous - it fits easily over my ski helmet. The drawstrings do a good job of cinching it down to normal size though. I do like the interior goggle pocket - I use it to carry a small flexible water flask to keep it from freezing. And the hand pockets are just high enough to use with a pack waist belt on without being so high that it feels like your hands are up in your armpits.

Bottom line, for this price I would prefer to have a better-fitting jacket, better zippers, with proven Pro Shell fabric that as far as I have experienced offers the same level of breathable comfort. I'm returning this for an Arcteryx Beta AR instead.
I am 5'11" and 180lbs, chest 40inch. Which...
I am 5'11" and 180lbs, chest 40inch.
Which size for layering?

I tried DRYSTEIN in L size and it is perfect cut for layering or normal use.

Thanks!
I would suggest a Large and that should give you room to layer.
There are many shells and alll seem very...
There are many shells and alll seem very close in comparison, would you consider the Jovian to be the top of the line. How should the fit be in a layered system as the outer layer or under a say sub Zero, none of the sites actually cover the fit for those of us novice climber in the 5000-7000m rage
The Jovian is top of the line for certain. It's light and high tech. Breaths really well and sheds any precip. The fit is very form fitting. I would go bigger than normal if you want to layer much. It would be really hard to fit a sub zero underneath, but really you can just wear a sub zero over the top. If it's that cold it will be snowing not raining.
I am looking for a waterproof/breathable...
I am looking for a waterproof/breathable shell that I can layer under for skiing and snowsports but which will also work in wet weather in warmer months. Will the Jovian (or any other DryQ product) fit that profile?
I use the Drystein, which uses the same Dry.Q Elite material, year round. It breathes quite well and keeps the rain out.
BEWARE OF FUNKY SIZING!

I want to echo Cory's comments above. I'm 6'1, 175 and wear a Large in everything else. Purchased a Large, but the fit was odd. Tight around the back of the shoulders, very short in the arms, big in the body. Upsized to an XL, and it was huge, and the proportions were still off. As much as I love Mtn Hardwear's current line up of Dry-Q offerings, the sizing is off. This applies specifically to the Drystein, Jovian, Kepler, Snowpocalypse, and Snowtastic, to name a few. I'm perplexed as to why Mountain Hardware missed the mark by so much this year.
What is the difference between this jacket...
What is the difference between this jacket and the Kepler?
Best Answer
Tuanto. The Jovian Jacket is a hard shell jacket that is made with a 40 D DryQ Elite 3-layer fabric. The Kepler is considered to be a 'softshell' jacket and it made with a 3-layer DryQ Elite Softshell fabric with complete with a brushed fleecy back. The fabric is a little bit thicker in hand due to this lightweight brushed back but the performance is similar. I hope this info helps!
Can you get some pics up of the jacket...
Can you get some pics up of the jacket soon? Like the pit zips and other features.
Also wat is the country it was made in?

Thanks
Jim. As with most technical outwear in the world the Jovian Jacket is made in China. We'll get some pictures up soon! Cheers!
I have two questions. I was wondering what...
I have two questions. I was wondering what the difference in terms of waterproofness is between a gortex pro shell jacket and the dryQ elite material. In the tech specs of a gortex jacket the waterproof rating is "guaranteed waterproof" and the dryQ elite material has a numerical value associated with its waterprooness.
My second question is I am familiar with RAB's neoshell material is the dryQ elite material a similar concept? I know that RAB doesn't claim complete windproofness with the neoshell fabric but MH does with the dryQ elite.

Thanks!
The method used to measure waterproofness is mmh2o. This measures the amount of h2o (water)in mm stacked on the material, until it leaks. Those psi ratings can be converted to mmh2o by multiplying them by 576.384 (You can find this at http://www.snowboardingforum.com/outerwear-accessories/7859-waterproof-breathability-confused-explained-3.html. Gore-Tex's Waterproof rating is about 28,000 mmh2o on the hydrostatic head for most of their fabrics (Paclite, Pro Shell, Performance, etc.), which is about 12,000 mm worse than the 40,000 mmh2o of the dryQ elite. You can find this at http://www.sierratradingpost.com/lp2/waterproof-guide/ even though it does not show dryqelite (I was caught between Conduit and dryqelite). Even though th e 40,000 mmh2o is extremely high, the breathability seems unusual. For a jacket, the 40K is extremely high, which may be part of the air-permeability .

Also, some of Backcountry's ratings are COMPLETELY WRONG, such as the Stoic Vaporshell, which they recently changed to 28,000 mmh2o, which is still off, when according to the official site states is 20K and the breathability, which they state is 68,000 gm/24hrs (http://www.backcountry.com/store/review/200108808/Hydrostatic-head-quot;Waterproof-Ratin.html). However 20,000 is already a lot and the more waterproof, the less breathable.

The breathability for Pro Shell is about 25,000 g/m2 24 hrs which is less than dryqelite according to bc, however is better than any type of waterproof/breathable technology, including eVent, which is 22,000. However, some companies, such as Polartec Neoshell thought that 20,000 mmh2o is too much and made theirs 10,000 mmh2o and is extremely breathable, possibly more breathable than Pro Shell and dryqelite.

With windproofness, the rating for waterproof/breathable tech is about 4-7 cfm, which is not like Gore's Windstopper fabric (which is 0 cfm), but is windproof as the mininum is 5 cfm (I've also heard that MH dryqelite is 0.5 cfm). Gore's new Active Shell is also quite breathable, possibly more than neoshell and dryqelite, however if you are not walking into a downpour, but just some light to mild rain, you might want a softshell. Also, The North Face's HyVent Alpha's waterproof rating is quite high, about 43,000 mmh2o, however the breathablity is not very good.
Best Answer
Alex. As you can see in the tech specs on the right side of this page the waterproof rating given to DryQ Elite is 40,000mm which is based on independent lab test using a test called the "Inverted Cup Test" which is how just about every single company in the industry (except Gore) measures waterproof-ness of their particular textiles. The higher the number... the more waterproof. The 40K waterproof rating is about as high as you are going to find in the waterproof/breathable shell and softshell industry and will keep you dry in any condition.

Now, breathability is another animal and it is measured by MVTR or Moisture Vapor Transfer Rate and this test measures the grams per meter squared of moisture vapor moving through a fabric over a 24 hour period or gm/m2/24 and is written, as in the tech specs above for DryQ Elite, as 40,000 g/m2/24. This is also EXTREMELY HIGH and is about as high as you are going to find industry wide. ProShell, eVent and other fabrics included.

Air Permeability is NEW to the shell and waterproof breathable market this season and is measured in cubic feet per minute of air moving through a textile or CFM. The DryQ Elite fabric from Mountain Hardwear and the Neoshell fabric from Polartec are the only fabrics on the market at this time to exhibit complete waterproof-ness/extreme breathability AND Air Permeability. Both DryQ Elite and NeoShell exhibit .05 CFM of air permeability which is unheard of and allows INSTANT breathability from a textile or fabric. This allows for use in a wider range of environmental conditions and ultimate comfort in the field more so than any of the above mentioned Gore fabrics. Gore will keep you dry and it does breathe... but it is NOT air permeable.

rums's answer throws a couple of numbers and mis-conceptions out without explaining them and I have a couple of issues with this: 1. Where are you getting your numbers because they are way off... even for the Gore product you describe? 2. It is NOT true that the more waterproof the less breathable. 3. The statement "With windproofness, the rating for waterproof/breathable tech is about 4-7 cfm, which is not like Gore's Windstopper fabric, but is quite windproof." Does not make sense. What are you saying? Industry-wide anything below 5 CFM is considered to be "Windproof" by definition and by performance. What "waterproof/breathable tech" are you describing? 4. Which "HydroStatic" Test?

rum41454672... get back to me on this would you? Don't want to spread the wrong info out to the world. Thanks!

Alex12. I hope this answer/comment/ helps to straighten out any questions you may have had about DryQ Elite fabrics and other waterproof/breathable fabrics on the market, how they are tested, and how they perform. Cheers!
Short answer: 1. (you need to know the definition for Hydrostatic Head) and you can compare the numerical values for an "on paper" perspective. Both are guaranteed waterproof.
2. They are both a similar concept looking at how breathable they are. (This is the air permeable aspect).

There are arguments and discrepancies with both answers listed here: rum is partially correct in stating Proshell has a hydrostatic head of 28,000mm, though this is the minimum standard required for a Proshell garment, it is fair to say 28,000+. Many garments on the market that use Proshell will be between 30,000 and 40,000mm. How breathable a garment is also depends on the face fabric used, so mvtr numbers should only be used as a rough guideline. Typically, the heavy, more durable face fabrics will be less breathable than the lighter due to the fact a greater surface area of the membrane is covered by thicker solid fibres which do not absorb moisture (this applies to nylon hardshells, not polyester used in soft shells).
It should also probably be pointed out that Neoshell and Dry Q are not the first air permeable membranes on the market, nor are they new this season. eVent is air permable, as is the Gore's Starlight. Essentially, eVent is based on the original design for the Gore-Tex membrane, which is expanded PTFE. The main difference is that eVent is expanded further, which allows faster transfer of moisture through air permeability, but reduces durability, and must be cared for more to retain optimum performance. Neoshell, as with eVent do not belong to Rab, they are on the open market for manufacturers, and yes, is 99% windproof according to Polartech.

All in all, this is all irrelevant. Anything with a hydrostatic head of over 4,000mm which has taped seams is classed as waterproof, and there are few places on the planet people will experience rain with enough force to equal the pressure of 28,000mm. So both will keep out the elements if you are an enthusiast (as opposed to a polar explorer say).
An air permeable garment will vent much faster than one that isn't due to the fact it doesn't require such a difference in internal and external humidity/pressure to shift moisture (like osmosis - if you have ever done that experiment with potatoes). However, I would not like to state the durability.
Leading to the final point of the face fabrics - with the heavier being less breathable. This depends on the ability to shed water, a fabric that does not repel the water and instead wets out will be much less breathable, so keep it proofed! And at the end of the day, lifetime is important. If it isn't very durable, the membrane will break down or become damaged much faster, and so none of the above will be relevant for very long!