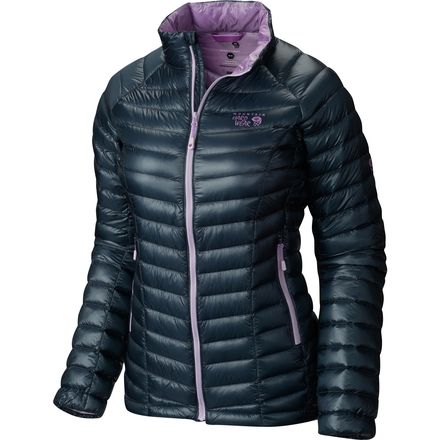 Detail Images
Description
Simple, lightweight, and warm.
The Mountain Hardwear Women's Ghost Whisperer Down Jacket is ready for backcountry touring, winter ascents, long belays, and hut-to-hut trips. The lightweight 7Dx10D Whisperer ripstop nylon works with the lighweight down to make this jacket weigh a mere 6oz; the lightest down jacket on the market. The 800-fill Q.shield insulation provides plenty of warmth without weight while you're on belay or ripping skins, and it resists moisture so a little water won't thwart your insulation. A single interior toggle hem saves on weight and makes adjustments quick and easy. And with its stowable design, you can quickly stuff it in one of its two zippered hand pockets and throw it in your pack whenever you're headed to the hills.
Whisperer nylon ripstop
Q.shield 800-fill down
Active fit
Single interior toggle hem
2 zippered hand pockets
Stowable design
GET ONE YOU WONT REGRET IT
Familiarity:

I've put it through the wringer

Fit:

Runs large
I have lived in the Midwest my entire life and I have been through several different winter coats. After many hours of researching coats, I found that this one met my needs best. I absolutely love how light it is. How compact it can become. It is worth the money. If you want a hood, this may not be the best option. I would definitely buy this item again.
La recomiendo super caliente buena para toda ocacion
Great jacket
Familiarity:

I've put it through the wringer

Fit:

True to size
I love this jacket. Its super light, got a great range, looks good and keeps me warm. I often wear it all day because its so comfy!! Fits true to size. Great for layering too.
super warm and light weight
Familiarity:

I've used it several times

Fit:

True to size
It is a very nice light weight jacket that packs small in a suitcase. It is very comfortable. I am a flight attendant and I pack it for my layovers. Great for the fall. . It would not work for bitter cold weather.
Nice but not for me
Familiarity:

I returned this product before using it

Fit:

True to size
I got the L size in Bright Rose. It's bright, saturated magenta, and I liked the color. It is very lightweight and the nylon has a silky feel. The main reason I'm returning it is the fit. While it seemed a bit too roomy in the upper arms, the armpits were a bit constricting. Otherwise I liked the fit, especially the neck. On some jackets, the stiffness of the zipper makes the neck uncomfortable when zipped all the way up, but that wasn't the case here. (I did find the zipper a bit sticky, like others have said.)
lightweight, soft, comfy
Familiarity:

I've used it several times

Fit:

True to size
i haven't had the chance to use it in super cold weather yet, but I took it on a trip in the Sierra and was impressed by how compressible and light it was.
Nice
Familiarity:

I returned this product before using it

Fit:

True to size
I bought the Aristocrat color for my wife thinking it was purple. It's not, it's a really cool blue color. She wanted purple though so I returned it. She loves the way it fits so we ordered the same jacket with the hood. She loves it, but hasn't worn it in the freezing Idaho winter yet. She likes that it is not long and can be worn without poking out of her Beta AR shell.
Stylish and Light but a little Flimsy
Gender:

Female

Familiarity:

I've put it through the wringer

Fit:

Runs small
I was so excited to get my Ghost Whisperer. It is super light and decently warm. I got the Backcountry exclusive color of black with blue zippers and I love it. I've taken it on several backpacking trips and it keeps me nice and warm. I get complimented on it nearly every time I wear it.

However, I have had it for less than a year and already have a pin sized hole near one of the cuffs that is leaking down. The fabric is super light but feels too light and I worry about tearing it every time I zip it up.

The sizing was also confusing. I currently own the small and it is fairly tight across my shoulders but fits well everywhere else. I ordered and medium and had to return it because it was huge! So for the product fit my experience was: the small is just barely too small, the medium was way too big.

Even with the above problems I still really like the jacket but it could definitely be improved. It's enough to keep me warm with a few other layers and it is nice for backpacking as it compresses small and saves on weight.
Sacrifices warmth for light-weight
Familiarity:

I've put it through the wringer

Fit:

True to size
I've had the jacket for at least a year now and worn it in all sorts of weather. Overall I have decided that it is simply not warm enough to insulate in 60s and below without some significant layering. I guess this is what you sacrifice for its ultra-light weight.

I haven't had problems with ripping or holes but I am also very gentle with it. The material does feel thin and delicate but will hold up nicely when you're packing it into the pocket.

WARNING: my friend and I are the same size and she tried to buy a S/P in BLACK but had to return it . It was way too small. I tried it on as well and it was NOT consistent with my GRAPHITE/ROSE S/P. Definitely way smaller.

I am 5'3 130 lbs and a rock climber and I have the S/P in GRAPHITE/ROSE. It can be a bit tight across the shoulders/dig into the armpits. I was surprised since Mountain Hardware makes a lot of climbing clothes and they didn't accommodate for this.

I do like that I can machine wash this jacket and tumble-dry on low. It's held up fine over the year but overall I think this jacket is pretty much just average. Maybe if you're a hardcore backpacker and need to shave every ounce, this is the jacket for you.
Decent so far
Familiarity:

I've used it several times

Fit:

True to size
Like everyone else says, it is very very light. I bought it for use when I go to the mountains to see my family in the winter, for casual use, and also to use to keep warm after activity in the hard cold. It does an AWESOME job of insulating any heat you produce, but you want to keep sure that you keep moving. The colder it gets, the worse the insulation power if you are just sedentary. I layer it with a thick fleece under and a hardshell over it, and I was nice and toasty at 10 degrees. I have noticed every now and then a tiny little down feather appearing near a seam. This usually happens after I pack it into its own pocket (which it does not fully compress into btw). I hope this does not become a habit. Would not pay full price though so wait for it to go on sale.
Unfortunately not as warm as I expected for 800-fill insulation.

I bought this jacket for PCT hike.

I was so excited to receive this cute light jacket. Color is beautiful, feather light, and very packable.

So I went out at night with it and it was in 50's. I had light long sleeve shirt underneath so I expected to stay nice and warm but my arms were chilly.

My cheap $29.99 Costco down jacket like this keeps me warmer than this jacket.... :( I'm so disappointed....
Best Answer
I was quite disappointed in the warmth also. It's really light and cute, but I was wanting warmth for backpacking. It's probably the warmest you will find for 6 oz, but only good for moderate temps. I was quite chilly in the 40s at Grand Canyon (light wind).
Great Price, Great for Around Town
Familiarity:

I've used it several times

Fit:

True to size
I bought this jacket simply because it was cold. I am a native of Colorado but three years ago I moved to Alabama. I was a bit ashamed to admit that I was cold. I started looking for jackets that were thinner and warm, but not too puffy because I didn't want my family laughing at me. I decided on this jacket. I picked up the package and was shocked it didn't blow away because this jacket is so light. I immediately put it on. The static build-up was enormous the first two days. I kept shocking everyone I touched. But with each day I began to fall more in love with this jacket. Its terrifying that the material is so thin so I am very careful with it. The material is so specialized it can only be weaved at one place so BE AWARE THAT IF THIS RIPS THERE IS ONLY ONE PLACE IT CAN BE FIXED. But I don't see it ripping any time soon. I wear this every day and I wear my back pack with it. It fits nicely in the pocket as well. The only issue I have is when I walk around with the jacket unzipped and my hands in the pockets, my hands freeze because the pockets are thin (this reduces weight...) but this could be fixed by zipping up the jacket. Also since the pockets are so thin, I am slightly scared to put my keys in them. Overall this is not worth the $320, but it is worth the $170 on sale
Great Jacket to pack in a carry on or back pack. Very light & warm.

Not worth MSRP IMO, but definitely worth the clearance$.
What is the sleeve length on size medium of this jacket?
So the sleeve length is going to be 33 inches. That is measured from the center back to the cuff of the sleeve. If you were looking to pick up one of the colors that isn't heavily discounted already, contact me directly and I can help you save some cash if you were to place your order with me. My email is skdavis@backcountry.com
Unfortunately Deceiving
Familiarity:

I've used it several times

Fit:

True to size
This jacket is warm and I get a lot of compliments on it. However the material is very thin and easily tears. I've been wearing my jacket since the end of October and I have 3 holes and had to have the zipper repaired once already. Honestly I've only been wearing this as a run around town coat and not everyday. The one hole in my pocket was cause by putting my keys in my pocket. BC won't replace it or return it, so while it is cool it's absolutely not worth the $$$.
Love It
Familiarity:

I've used it several times

Fit:

True to size
So light and comfy. Love the shiny fabric and fits great underneath my ski shell.
Looks better in the pictures
Gender:

Female

Familiarity:

I returned this product before using it

Fit:

True to size
On first trying it on, the zipper was difficult to zip up and down. I also had a down feather poking me in the arm which should not happen on first use. Was also a slightly bit more bulky than the patagonia version which I ended up going with (it was also a little cheaper due to sale).
Light like a feather.
Familiarity:

I've put it through the wringer

Fit:

True to size
Great layering piece. My most used article of clothing from Mountain Hardwear. The material is incredibly lightweight and feels great. Love this jacket. Compresses and stuffs into it's pocket. I always have one on me for those times when you inevitably need the extra warmth. Love the color ways and the zipper pops. Layer this one under a shell for backcountry hiking and or just wear it as is. This is the lightest weight fully functional down jacket on the market.