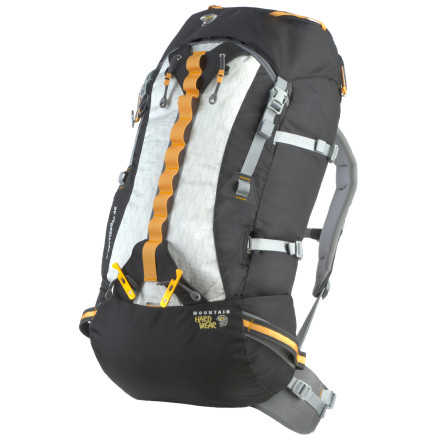 Detail Images

Community Images
Quick summits and extended tours don't come easy, but they may seem simpler if you have all the gear you need stuffed in and strapped to the Mountain Hardwear Direttissima 46 Backpack. Ready to trek through a shark-toothed landscape in any season, this tough top-loader can carry your skis, tools, ropes, and layers conveniently and comfortably thanks to its suspension system that helps spread the weight like an invisible Sherpa.
One hollow stay adds the structure you need to carry 50-pound loads and can be removed for lighter alpine quests
Removable HardWave framesheet keeps the pack flat on your back for a comfortable and predictable carry over goat paths and creek crossings
Low-bulk waist belt redistributes the majority of the load to your powerhouse legs and can be swapped out for an included web belt when putting on a climbing harness
A large, stowable front strap condenses the main compartment when you're carrying a smaller, low-bulk load
The removable top lid features a rope strap for alpine climbing trips and utilizes glove-friendly compression straps to shrink the load on the go
FlapTop design means that the pack remains weather-resistant with or without the top lid attached
Pack extends to provide up to 375 cubic inches (6L) of extra space during expeditions
Ski straps, ice-axe loops, and a shovel-friendly front pocket secure your gear for ambitious descents
Water bladder exit and flat top lid
The removable lid also easily strips some cargo space for you but I've always been a fan of having it for the extra pocket for organization. HOWEVER it is important to note that there is a pocket available on the flat-top lid for use as well (shown here)! Super great feature. Another great lid-related feature is the straps under designed for keeping your ropes organized (not shown). I love using this to keep a layer within reach when I don't need ropes.



The Direttissima does not have pockets for water bottles on the sides- at first this held me up for a minute - I knew why they didn't (to make it more ski friendly) but it still made me go aww why not just include it! Fact is - if they did you-d lose more lashing points (and if you read the rest of what I've said below you'll know I LOVE lashing points), it would be hard to get bottles in and out and chances are whatever pocket they'd put there either would only work with bottles in boots or wouldn't work well with booted bottles. So I'm glad they left that out. Better not to do something than to do it poorly and add weight for no feature. There are plenty of ways to attach a bottle with ease (and unattach one handed with ease) in all seasons.



If, like me, you prefer the hydration bladder route for water, you'll be pleased to find out that the pouch for your bladder is accessed externally with a dual zip top so the hose can exit exactly where you want. The bladder pouch is also HUGE and fits my 3L osprey bladder with ease. If you've never had a pack with the external access pouch with dual zips I strongly encourage trying one - It performs better than the open ended external pouches as it routes your hose better and keeps your bladder from pushing into your back like some external hydration pouches do.


Good Winter Pack With Versatility
Gender:

Female

Familiarity:

I've used it several times
I picked up the "old" version of this pack shown here because I liked some of the features about it more than the new one (but there are some things about the new one that are much better too ? if only we could have both?). Mostly I wanted to have the extra centered lashing points via the webbing, the cinch straps that are easy to route internal or externally, and ice axe loops that work as bottle openers (no kidding).



I'm always a bit hesitant about men's packs because I am fully aware that I have large-ish hips and most men's packs aren't made for that. I pulled the trigger knowing that MHW packs have the ability to trade out hip belts. The good news is that no matter how much crap I packed into this thing it was always comfortable on my hips and shoulders. To test it out I overloaded it with water as deadweight and shoved it full of layers til it weighed over 50 lbs to see how sore it would make me. After 12 miles like this my shoulders and back were a little sore but not terribly so that it lasted.



When all suspension and comfort features were in the pack the fit and weight distribution was nice and there was ample padding where necessary. Don't worry ultra-light types, most of this is adjustable/removable (hardwave sheet, hip belt can be replaced with included webbing belt) to lessen the weight and support for you types. While I haven't hiked with it stripped to total ultra-light, walking around the house and yard it seemed still comfortable.



here's the short version (more details in photos to come) :

Pros:

Lots of room but ability to strip down and compress as needed

Wicked comfortable even with a lot of weight

Great hydration bladder pocket

Good # of little storage pockets (one on flat top and one on lid) without overdoing it

Ski, climb, hike friendly

Comes with padded hipbelt and webbing hipbelt



Cons:

Pocket on front too small for some

No built in crampon pocket

No external waterbottle pockets

No hipbelt pockets (problem for some)
Much more weighted down here - carried quite the heavy load with ease! Plenty of nice features to keep things handy.



The front pocket of the pack has had some negative reviews - based on the reviews I was skeptical about what I'd fit in there. The pocket does pack a little odd because if your internal main pocket is FULL of stuff it can push out into this front access pocket. However, if you pack smart and think ahead, you can fit more in here than some have suggested. I'm a novice at many more serious winter activities beyond hiking so I don't have the biggest of shovels but mine (CAMP Alu Tele) fits with ease. If yours doesn't there should be ample room to shove it in the main pocket or lash it outside.



Another complaint has been the lack of crampon pocket (newer models have this) but I don't have an issue with this personally because I'd rather just have my crampon pocket that I can attach to any bag and put exactly where I want but I see where people are coming from with that. Crampons also fit easily strapped underneath the cinching straps to the outside as many pictures show. These straps also easily hold snowshoes or other such winter accessories (including another option for your larger shovel). One thing I liked about them is that rather than simply sliding to cinch there is a lock on the left side (looking at front of pack). This design is nice and makes it easy to adjust just one side of your straps as you re-attach and also prevents things from sliding around (zoom in to see this).


sweet pack makes it to the summit
At this point the pack was pretty well compressed because most of the gear attached or inside that was unnecessary on most of the hike was necessary and was being used to keep warm and help on the approach.



This pack fits a loooot of stuff. It feels bigger than other 46L packs I own and probably because at size large it's really running close to 50L. If you read the other reviews here or look at pictures you can get an appreciation for just how much stuff people fit in and ON their bag. There are a ridiculous number of lashing points... like more than you will even realize from looking at pictures. And in terms of internal space I sized up from a 35 L pack to this and in the process got a lot better at packing just what I needed so I found myself with ample room to spare on my first hike with this pack. I would love to add the via rapida 35 to my "collection" of packs for smaller trips BUT I can't justify it because the Direttissima 46 cinches SO WELL that it holds a lighter load without things bouncing around. The internal main pocket is large and easy to dig around in because of its width. The top skirt of the bag has two different cinching points depending on your load ? giving you the ability to carry even MORE (an extra 6L) stuff (like you really NEEDED that with this pack?).
Direttissima Video Review
A quick run-down of the D-46 while being used for 25 days of camping and skiing in Alaska.
This pack is awesome!! Mountain hardwear never disappoints on quality and comfort. This pack allows you to carry anything you want in comfort. I mostly used it for one night backpacking and works perfectly.
Simply awesome and very flexible
Such a great and flexible pack. It can carry heavy loads comfortable but I really like that fact that once one has arrived you can easily remove remove the hip belt, lid and even internal frame to get a very light pack for quick speed trips. Highly compressible so 46 l is never too big. Only thing missing is some external pockets for e.g. water bottle.
My favorite pack
Gender:

Male

Familiarity:

I've put it through the wringer
I have used this pack for everything from week hut trips, 3 day weekend tenting, to overnight and day trips. You can pack it full of tent, food, clothes, and climbing gear and it carries a full load well or strip it down and use it for a day of skiing (Removable waistbelt and brain). The ice axe attachment works excellently - I can remove an axe without taking off the pack.A-frame is the only option for skis but thats not a big deal. The bottom flares out and is especially spacious. The material is tough and durable against rocks and hard snow/ice. Plus MH stands behind their gear. When I broke a shoulder strap they got it fixed up better than new!
Sturdy and Minimal Pack
Gender:

Male

Familiarity:

I've used it once or twice and have initial impressions
I bought and tested the size L, and although I returned it because I needed a larger volume, I really liked the pack. It has minimal but stellar features such as the wrap –around compression system with straps that store in the front pocket. The material is burly and will take a beating. I measured the parts separately: Al stay (90g), Frame Sheet (105g), Alpine Hip Belt (205g), Lid (135g), the second webbing belt (60g), and the stripped down bag itself (1165g). It was stuffed, with little or no room for food for a minimalist weekend trek. The color scheme is bold and manly too! I tried the South Col 70 as well, but it did not have the same thick fabric on the sides and it did not fit nearly as solidly on my back as the Direttissima. The comfort is what you might expect for a climbing bag–sufficient and comfortable when loaded properly, but not spectacular. My vote is that it is a 5 Star pack. Thank you.
I love this thing so much. Size, pockets, fit, everything. This is my main go to pack for everything from simple days at the sport craigs, to mountaineering trips and even ski tours. I can fit eveything I want in it with the extendable main compartmet, or I can sinch it down for the light weight summit pushes.
When it comes to packs, I am extremely picky!! I spend hours reading reviews, asking questions, and looking at other similar packs in varying brands. I was looking for a mid sized pack that i could use everywhere from the crags to my next winter 14ner accent....and so far, this pack has been absolutely perfect for that. Mountain hardwear has done an amazing job with this pack, the fabric and construction put into this pack make it extremely durable...im sure ill be able to through it around and abuse it for years before I even begin to see signs of wear and tear on it. The backpannel is comfortable, and the options are endless when it comes to wanting to strip it down, or use every accessory it offers. Strapping on crampons and axes to it are very easy, as well as taking them off.
If you are looking for a pack that can be used all year long...youve just found it, search no further!
This pack works really well as a regular climbing pack as well. All the extras strap on nicely to the back and the rope carry feature is outstanding. I took this through multiple days of scrambling, climbing and hauling and it held up really well.
Is it possible to fit a bear canister into...
Is it possible to fit a bear canister into this backpack - in particular, the big Bear Vault canister?
I think it will fit but it will take up some serious space in a 2800 CI backpack.
Can you really get an avalanche shovel in...
Can you really get an avalanche shovel in the pocket of this backpack? I've read online that there is a shovel pocket, but some think it is too small to be useful.
There is one external pocket, but I've not had much luck fitting my shovel into the pocket, which is a BCA Traverse shovel. You could lash it to the outside, but its also much much easier to loose - I wouldn't want you doing that if you were my partner. Alternatively, you can just leave it in the main compartment; its worked fine for me!
A BCA B-1 bomber shovel fits easily.
A Black Diamond Deploy 7 just barely fits.... but it fits.
If it was an .125" longer it wouldn't. Its basically a press fit.
There is a zipper that allows you access to the compression strap hide-away compartment. A shovel fits in there..