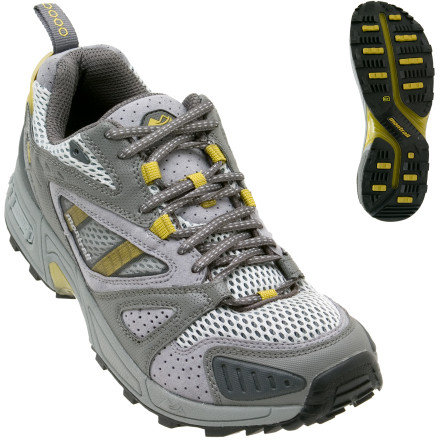 Detail Images
Unanswered Question
I loved the Montrail Contininental Divide...
I loved the Montrail Contininental Divide trail running shoe, especially its snug, stiff fit giving a lot of stability and support. It hasn't been available for years. What close current equivalent do you recommend?
Montrail makes great shoes and I needed a new pair. Got these for a great deal on SAC. Def a little stiff at first but feel great. Awesome traction and nice material. Have held up well so far. I would buy another pair!!!
My favorite shoes. They have a nice wide toe box and are one of the most comfortable shoes I have ever had. I don't run marathons in them but they make a great everyday shoe. Good in the mountains or if your on your feet all day at work.
I love the look of these shoes with them being trail runners. They have a great look and cut but after my first short overnighter with these the Montrail logo on each side of the shoe started to wear off. So on one side it says M il, and the other side Montr il. I know the logo doesn't effect its performance but I would think the logo should stay on, even when used in the backcountry.
Unanswered Question
i have really wide feet with a high instep...
i have really wide feet with a high instep and a high arch would these be good for me
Not a bad overall ride for an "overbuilt" trail runner. I bought a pair of these last season and while they feel secure on foot I did not find them so durable. I managed to catch a root on my home trail on the HURT Trail 100 course and completely ripped off the top of the toe box. Okay, so it happens. My biggest beef, the Montrail of old would have replaced these in a heartbeat. Columbia; however, basically told me I was SOL. Alas, the last pair of Montrails I owned.
Recommend Continental Divide
I've only gotten a few short runs on these shoes, but I'm very pleased with them so far. Very durable. They were a little stiff out of the box, but now that I've gotten them broken in I have zero complaints.
I understand that everyone's foot is different. My "cruel shoes" may be your favorites. That said, these are the best shoes I have ever owned. For the first time, after hiking for a few hours my feet don't ache. I am buying a third pair to wear to work (yes, the shoes will look odd with my suit). My only warning: they are sized small. That is, I normally wear a US size 9 or 9.5. In the Montrail, I wear US size 10.
Are the Montrail Continental Divide's being...
Are the Montrail Continental Divide's being discontinued? They are not on the Montrail website. Montrail designed an awesome shoe for heavier runners and/or rough terrain here...the only flaw was color options. Apparantly they forgot they were in the trail running biz!
Sorry to say we are discontinuing the Continental Divide. Stick with us though as we have some amazing shoes this season that are already gaining accolades from around the industry. Check out the Mountain Masochist and the Hardrock '09 to see what I mean. We have not forgotten our roots!:) Cheers.
Favorite runner gone for good?
I've been running in these since they came out a few years ago, before that I ran in Hardrocks, and it looks like I'll be going back to those, because it seems that Montrail no longer makes these (which I imagine was why I got such a good deal on them here at Backcountry--nearly half-price!). Fortunately I got the last two pairs in my size at a good price, they should last me through summer. These shoes are tough, very stable, and supportive. For trails and road they are my favorite (after running in them for years when I tried a pair of road shoes I felt like I was going to slide off the soles) I'm 5'8", 175lbs, and run about 30-40 miles a week
great shoe for rough trails
This is my 3rd pair in 3 years. I love them. I run almost exclusively on singletrack trails in the ROCKY mountains. The sole is very good at protecting my feet from sharp, pointy rocks. I've tried lighter, thinner soled shoes and have had a lot of trouble with sore feet following a run. these babies may not be the lightest, fastest shoes around but they last a whole running season and protect my feet very well.
About the "size up"...Most running shoes...
About the "size up"...Most running shoes say to size up, so when you are all saying size up, are you saying size up beyond that? My street size is Women's 11, my running size is W12 or M10.5. Would you recommend a Men's 11 in this shoe or to stick with the 10.5?
Well..everything I put on my feet is a 10. Boots, dress, tennis, runners, including these awesome Cont's are all 10's. So the 1/2 up may be a myth. Hey Karl...what do you think?
I got these on steep and cheap for a great price cause I thought they looked cool...when I put them on they hurt my feet and felt like I was walking on ridges or something...but then I persevered and wore them longer and longer and finally they are becoming comfortable and I've even wore them to work on a twelve hour nursing shift...but the break in kind of sucked so I took a star away
Montrail Continental Divide
Been using these shoes for a few months now and I like them a lot. I primarily run on trails and these shoes have held up really well..no signs of coming apart-These are Tanks. Yes they are a bit heavy but they are very solid shoes! I plan on using them for light backpacking as well as trail running. I went a half size up to allow for foot swelling on summer backpacking trips. I've had no blisters with these shoes and they give great support and cushioning. Overall these are great shoes in my opinion for trail runs and packing light...not a road race shoe..way too heavy. They do require a break in period.
I've been a fan of these shoes for a few years now. About to start my third pair. I get at least a year of life out of each pair so far. I used to run in a Nike shoes and then strapped these on my feet. Rocky trails became smooth and asphalt and hardpack became soft. They even performed solidly on the 22+ mile day hike up Mt. Whitney. My biggest fear with these shoes is that they will stop production of them.
Montrail took a great shoe, the Leona Divide, and ruined it by making the fraternal twin to the Hardrock. I switched to the Brooks Cascadia.
As another reviewer said... This is a clunky shoe on anything other than an earth trail. Shoe feels heavy. Tried it on an asphalt track and it beat me up. The removable insoles are the cheapest I have seen on a name brand shoe. Will be throwing those away real quick. I did order a half size larger which is a good thing. It still feels someone narrow but is acceptable and the toe box is fairly wide which I like. Don't know how long this shoe will last, but it looks like it should go for ever... Time will tell. Can't say I would buy it again.
I am training for a half marathon, and have been doing a lot of running in the snow lately. These shoes are incredibly comfortable, and at the same time offer excellent traction on seemingly any surface. I absolutely recommend them for anyone looking for a reliable and comfortable shoe.
My all time favourite rocky terrain shoe
I get my exercise on The Billy Goat Trail along the Potomac River's Mather Gorge in Maryland. The terrain is almost all rock, with at least distinct types in the two miles of the trail.
It takes stickiness to hold to the flat surfaces, stability to balance on the angles, rigidity to step on the points, and edges stiff enough for the little lips and nubs.
This shoe has all four, and is comfortable on the runs through the woods afterwards.
I'm on my third pair, with the fourth in the box, and am distressed that they're getting hard to find.
They do fit small, but that's what I need.
Solid shoe...a little heavy
Did two hours (16+ miles) in them after "breaking them in" for a day....feet were fine. No blisters, no problems. The size thing is true, 1/2 size up. Even though the toe box is roomy, it wasn;t a problem and besides, you need a 1/2 inch for swelling. Did not feel the rocks like I did in my light weight Nike S+ (ok for pit/crushed gravel, not for anything heavier). They are a bit heavy but that's like asking for fat free nuts....it's not going to happen. You can't get superior protection in a lightweight shoe. Having accepted this, these shoes were great