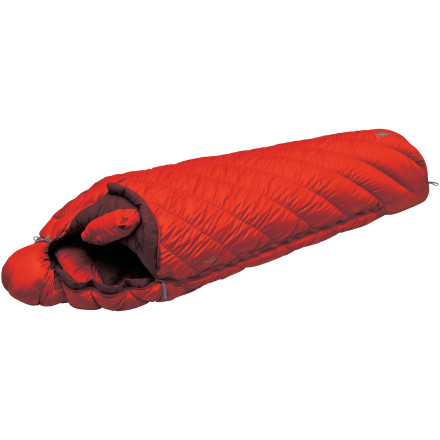 When you're hiking in the backcountry, temperatures can plummet into the single digits almost any time of the year. With the MontBell Super Spiral Hugger #0 Sleeping Bag you won't have to worry when things get frosty, because this goose down bag is rated to 0 degrees Fahrenheit. The Super Spiral Stretch System moves with you to eliminate dead space and keep the goose down next to your skin for warmth. And this bag's zipper is compatible with other MontBell bags so you can zip two together if the mood is right.

Rated to 0F, this goose down bag will keep you camping every season of the year
650-Fill goose down means the Hugger packs down super small in your backpack without adding excess weight, and the down provides superior insulation without stuffiness
Burly nylon shell with a DWR coating keeps moisture out and stands up to use and abuse
A double draft tube, adjustable tunnel hood, and draft collar keep the cold winds out and body heat in
Multi-Tube construction with Flowgate prevents the down from shifting over time
Montbell's Super Spiral Stretch system uses a biased-cut fabric and elastic stitch so the bag stretches with your movements and the down stays close to your skin for warmth
2-way auto-locking zipper stays put during the night and is designed to be compatible with another MontBell bag so you and that special someone can stay close even in the wilderness
Stuffs down to a tidy 8.7 x 17.1 inches
Is this 800 or 650 fill? Montbell website...
Is this 800 or 650 fill? Montbell website says this is 800 but the description on backcountry clearly states 650.
There are a couple different versions of the Super Spiral Hugger, I believe the one you saw with 800 fill down was the U.L. version (ultra light). This one is however the 650 fill, if you are looking for the U.L. Super Spiral Hugger on our site it is item #MTB0189 for the zero degree version.
love it!
Familiarity:

I've put it through the wringer
I have had this bag for a few years now and it has done great. Lot's of cold fall/spring camping and a few backcountry skiing trips in the sierras and B.C. super warm, great quality, and the weight is hard to beat in this price range for a down bag.
How does this bag preform for winter camping...
How does this bag preform for winter camping in the low teens?
Best Answer
You'll be fine in the low teens. You have 1 lb 14 oz of 800 fill down according to Montbell's website. I have the Marmot Lithium which has about the same specs as this and I use it down to it's temp rating and slightly below it. You'll definately be fine in the teens. Montbell makes awesome products, I have a number of their jackets and they're great.
Right on. The Marmot Lithium was the other bag I was looking at.


After wanting this bag for years, I finally got it last Christmas to much anticipation. Unfortunately, I returned it due to several factors. First, the elastic spiral baffles did not cinch to the degree that was shown in the pictures. Mine looked overstretched. Because of this, the bag as very loose leaving many cold areas. Even using a hot Nalgene bottle to help warm me in my bag wasn't sufficient. The last straw was the customer support at MontBell. Although their call center was in the USA, the company was very impersonal and not very helpful. This is not what I have found with stateside gear companies. I do have to say that Backcountry has been WONDERFUL though this whole experience! They now have a lifetime customer!
Great bag, by ireviewgear
I was really excited when I finally received this bag. I was looking for a 15-20 degree bag to cover all of my back country archery hunts for late September through the late season, and I found what I was looking for. There are a number of top notch bag that someone could buy that would fit your needs for a backcountry hunt. But I feel this bag has the right combinations of temperature rating, weight and features I look for in a sleeping bag. That is why this bag is my number one choice for a do it all sleeping bag to cover all seasons of hunting for the DIY back country hunter, here is why.

The first thing you notice about this bag is its angled baffles and stretchy stitching used! This is the first and only bag I know of that has these features. It is the most comfortable bag I have ever used! If you are someone who gets claustrophobic this bag is for you. Part of the reason why backpackers use mummy shaped bags is because there is less material and fabric so they weigh less, but they also keep you warmer, and warm up quicker when you jump in them. See if a bag is too big for you there is extra air space to heat up around you. So you want a snug fitting bag to maximize warmth and decrease the time it takes to heat the bag up. The Montbell UL Spiral down hugger takes care of this by making the bag stretch. So you can move all around spread your legs out and the bag adjusts to your body, but if you are like me and sleep as straight as a bored on your back then it is a snug fitting bag and fits very nicely.

The other design that stood out to me was the hood of the bag. It is not an overly big hood, which now that I have used a tighter more contoured hood, I don't want to use anything else. A hood is used to keep your head and face warm and in my mind any extra space is wasted weight I am carrying and wasted air space I have to heat up. People wear beanies and hats that are very tight around their head so why would a company make an overly large hood for sleeping? Doesn't make sense to me, but Montbell nailed this one.

Other things I liked about the bag:
-Snag free zippers
-Well designed draft tubes
-Large foot box that is not restrictive
-Compacts down very small

Let me tell you why this is my number one choice for guys looking for a do it all bag for scouting, hunting, and all around backpacking. It is lightweight for the amount of warmth it gives you. You could easily add a liner, a bivy sack, or sleep with you base layers to make this bag a 4 season bag. I know everyone sleeps differently so the last sentence depends on the user; I tend to sleep a little warm so take that into consideration. For summer months or early September hunts you could easily unzip this bag and you are still not carrying excess weight. The last reason I would suggest this bag is comfort. You can't hunt hard if you don't get a good night's sleep, and with the Montbell UL Spiral Down Hugger, I do not think that is going to be an issue. This bag can be found for around $350 so all things considered this bag is a great value when considering other top end bags.

Cameron, ireviewgear.com