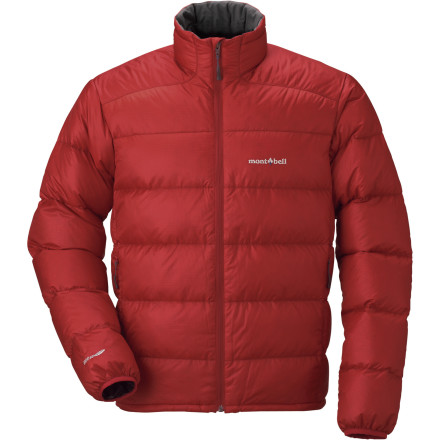 Detail Images
The MontBell Men's Alpine Light Down Jacket is just waiting to warm you in the mountains, and it'll do so without clearing out your bank account. The premium 800-fill down insulation provides incredible warmth without making you feel like you're wearing twenty heavy blankets. And both the shell and lining have wind-resistant Ballistic durability for long-lasting strength against rocks, trees, and other sharp objects out in the wilderness. When it gets warm out in the woods, you can compress this jacket down to about the size of a Nalgene bottle and stash it in your pack in case it gets cold again.
The Alpine also features elastic cuffs that softly seal out any blustery winds blowing across your body. A drawcord cinches tightly to retain all that wonderful warmth, and a microfleece collar prevents any uncomfortable rubbing against your neck. MontBell lined the hand pockets with fleece to keep your hands cozy as well as warm when you enjoy the view from the top of the mountain you just conquered.

20D Ballistic ripstop nylon shell with DWR coating
20D Ballistic nylon taffeta lining
800-fill down insulation
Stuff sack included
Elastic cuffs
Drawcord at hem
Two fleece hand-warmer pockets, two interior drop-in pockets
Microfleece-lined collar
Unanswered Question
which jacket is warmer: the mont-bell alpine light down jacket
or the mont-bell alpine light parka ? and why
Unanswered Question
After spending hours researching down jackets, I like this jacket but have some questions regarding fit. I'm short (5'5") and compact & chunky (180lbs). (North Face L was too small and XL too big). I like the 26.5" measurement of the back on this jacket and have read other reviews saying the sizing runs a little small. My question is would you suggest a L or XL for me? Thank you.
I'm about 5'10'' and 149lbs, chest measurement 36", waist 32", which size should I choose? small or medium?
Ordered medium and it fits perfectly.
Unanswered Question
Does anyone else notice that the bend in the elbows develop cold spots on this jacket?
It does the job........ok?
Bought this to replace an old REI "michelin man" jacket. This is very lightweight (14 oz). and purchased on the advice of a Backcountry CSR. I am 5'10, 160 athletic build with a 34/35 sleeve and a medium fits just right. This jacket is much warmer than the Patagonia Down Sweater which I bought and returned, it barely felt warm in in 35-40 degrees! This is a perfect jacket for southern winters in the colder months. I have used it in a low of 10 degrees with layers (100w. polarfleece and a shell) and it was fine. If you want a warmer coat that does not need layers this is not the choice. But if you want something to throw in the back seat, take the dogs out or a chilly night on the town, buy this. I've had it for about 3 months and only about 2-3 feathers have popped through and I just pulled them back in. For the price it's a no brainer. Just expect to pay double or more for something that is extremely toasty in the sub-freezing range.
Nice jacket, but very odd sizing
Familiarity:

I've used it once or twice and have initial impressions

Fit:

Runs small
I've only had the jacket for a few days but had a chance to get out in some well-below freezing weather. The jacket performed exceptionally well and kept my core warm despite only having a light long sleeved shirt under it in 20 degree temps. The down is very well lofted and, as the higher fill weight suggests, warmer than most other puffies. I got two jackets, the first I ordered in a Small (which was too small) and the second was a Medium. The second jacket seemed to have a little more down leaking out of the seams and a couple of stitching errors, but the first jacket was nearly flawless.



Now about the sizing issue. I'm about 5'-7" and 140 lbs with a fairly slim build and a flat stomach. Based on other reviews here I initially ordered a small. With a light fleece base layer on, I could barely zip up the zipper it was so tight against my hips and mid-section. It was somewhat tight against the chest and the shoulders were slightly narrow but nothing terrible. The sleeves felt about perfect. But the midsection was so tight it started to de-loft the down and become less effective at insulating as you went down the jacket. It also ran fairly short as it barely covered up my waist (and I'm short). So I ordered a Medium thinking that would be perfect. Well, I just tried it on and it is literally the exact same size as the Small. I laid them both out on the floor and measured key dimensions on the jackets, and they are the exact same plus or minus about a quarter inch.



I don't know if they've got quality control issues or my jacket was just mis-sized, but the difference between a Small and Medium that I have is literally nothing. Seeing how most reviews are stating it's true to size, I have to question if my coat had the wrong size label placed on it. Because there's no way anyone who is over 5'-7" and not skinny could fit comfortably in this.



Sizing issue aside, it seems like a great jacket for the price.
Still going strong.
Gender:

Female

Familiarity:

I've put it through the wringer

Fit:

True to size
I bought this for my husband last year and it's still in great condition. This is saying a lot, because he is hard on things. He throws it in the back of he truck with his sharp tools all the time. Drives me nuts, but its been just fine.

At first, there were a couple of feathers that we just massaged back in, but since then, none. It's very warm, of course. He tried the medium, but he has broad shoulders as he is an avid climber, so the medium pulled in that area and didn't look great, so we went with the large. He has a 42" chest and a 18" shoulder span. He's still super happy with it.



More Questions? Hit me up!



Emily Jenson

Expert Gearhead

ext 4406

ejenson@backcountry.com
Does this coat have a hood?

Also, for a man 130lbs, 5'8" would you recommend a medium or small?
Hi there,

This model does not- but MTB0230 does have the hood! In regards to sizing, I would recommend trying the size Small
Alaska tested
Familiarity:

I've used it once or twice and have initial impressions

Fit:

True to size
I am 5'10" and 225lbs. I ordered an XL it fits comfortably. I pretty much hit the nail on the head for sizing. I am usually in between a large and XL so it is difficult to order clothing online. I don't think a large would of fit me unless I was strictly using this jacket as an outer shell with only a light weight shirt underneath. I will be able to wear the XL under an outer shell on really raining/snowy days and I have enough room for a mid weight base layer and a thin fleece underneath it if I want to wear it as an outer shell.

Alaska weather is just now getting colder and from testing it out on cooler mornings, I have no doubt that this jacket will exceed my expectations.
Warm Jacket!
Familiarity:

I've used it once or twice and have initial impressions

Fit:

True to size
I went backpacking and had to use this jacket when we were camping in the mountains. As soon as the cold hit during the night I immediately put this one and felt no cold piercing through my jacket. My chest and arms were pretty warm and fuzzy. It felt like no amount of cold could bother my core. Temperatures probably ran in the mid to low 40s degrees F.



Came with a nice stuff sack and the material felt like it was made with high quality. Inspection on the seams and corners of the jacket proves that the craftsmanship was a 9/10 if not 9.5/10 (not perfect because I'm pretty picky)
Hi, I had a couple of Q's about this. There is also a MontBell Alpine Light Down Parka. What is major difference? I'm most interested in keeping warm in snowy weather. Also, do they both use ripstop? My final question is sizing. I'm about 6'1, 210 with a broad chest, but normal waist. I like a snug fit. What is the best size for me in both the Parka and Jacket? Thanks.
Best Answer
They both use the 20D ballistic nylon. The Parka has a hood, same fill weight. You are going to fit in the XL best, I think the L would be too snug.
How small will this jacket compress? I...
How small will this jacket compress? I am also looking at the North Face Thermoball (which seems to be very compressible - though it may not be as warm).



Also, I'm 6'0" 190lbs - Medium or Large?



Thanks!
Best Answer
Hey Casey Rummel,



Thanks for your question.



If you click on the video below you can visually see the size that this jacket compresses to while it is in the stuff sack. For your size I would suggest a Large instead of a Medium.



I hope this helps.



http://youtu.be/bzHKPvikW18?t=8s
I am 6'5" 175lbs do you think a large would...
I am 6'5" 175lbs do you think a large would work for me?
Hey Angelo,



I would bet that you might be a Large pushing an XL for this jacket but its really hard to say since height and weight are really poor determinants for selecting jacket sizes. Since your legs take up so much your height and weight and have nothing to do with how a jacket will fit your torso it is generally best to get your chest and sleeve length measurement when determining your jacket size.
Best Answer
Wayne hit the answer to your question, spot-on. One more thing to note explicitly is that Montbell clothing tends to run a bit on the smaller side, so if you do ultimately determine your measurements with the help of a friend, make sure you check that you are comfortably in the range of a size of your choosing. If you are right on the fence between a L and an XL, I would go XL without trepidation. For instance, I have the Alpine Light Down Parka by Montbell, this model but with an attached hood. Normally in essentially any clothing style and brand, I wear a S (or perhaps an XS), but with that particular Parka I ordered a Medium and it ended up fitting me like a glove.

Hope this helps.
Amazing Warmth!
Gender:

Male

Familiarity:

I've used it several times

Fit:

True to size
Great down jacket! I absolutely love wearing this thing. I researched down jackets/sweaters for about 9 months, purchasing the Outdoor Research and Arc'Teryx Cerium, neither of which 'cut the mustard'. This Mont Bell has got the best weight, thickness and density of 800 fill down of the others while having a very good fit. It fits true to size for my 170 lb body with 40 in. chest. Athletic fitting while allowing great movement of the arms and shoulders during activity.



I've owned the jacket for about 6 weeks and wear it every opportunity I can. Great casually, as an undergarment, albeit puffy and warm, doesn't bulk up under a wind/water resistant shell. Great compress-ability and surprisingly light given the dense fill. This winter had a record book number of days below zero here in Wisconsin, and I have plenty of warm gear, but nothing like this for lightweight, wind resistant warmth. This is my first Mont Bell product and also first purchase from Backcountry.com and I will certainly recommend both as they both delivered as promised. Thanks also to Gifford's review, for literally filling in the gaps with down jackets! So, if you've found this review, reread Gifford's as he was 'spot on'. Buy this jacket, you won't be disappointed.




What a great jacket
Familiarity:

I've used it several times

Fit:

True to size
Looked around for a while and I'm so glad I read Giffords review. Spot on. Super light yet really warm. The outer shell is very soft not a rigid nylon. Love the lined collar and pockets.
I am looking for an XS size. Can I get...
I am looking for an XS size. Can I get that size for this jacket?


Hey Ashwin,



Unfortunately MontBell only makes this jacket in a Small and does not make it in and XS size.
If you could provide some of your bodily measurements, I might be able to tell you whether or not the S size would work for you. Aside from a few select garments, I know that MontBell attire tends to run on the smaller side of things. I happen to have this jacket in the parka style in a S, and it fits like a glove. Get back to me with some measurements if you find the time and don't mind taking a sec to tackle the task.

Hope this helps.
THERE'S MORE TO WARMTH THAN FILL POWER!
Gender:

Male

Familiarity:

I've put it through the wringer

Fit:

True to size
First off, I absolutely love this jacket. I spent hours doing extensive research on down jackets, I bought 3 different styles (this, a patagonia, and a marmot), and this is what I found:



One of the greatest misconceptions about down jackets is that "fill power" (800-fill, for example) is the most important spec to consider-- but if you're only considering fill power you're missing half the story! A down jacket's warmth is actually derived from a variety of factors: fill power (or loft), fill weight, and wind resistance.



Fill power relates to down "loft" or "fluffiness", and has to do with feather size- larger feathers means better loft and more air an ounce of the down can trap; increasing warmth and contributing to a lighter and more compressible jacket, but not all 800 fill jackets are made equal...



Even before you try them on, if you lay two 800-fill jackets side-by-side and you can immediately tell which jacket is going to be warmer: it's the one that's thicker! It's common sense. The more insulation shoved into the jacket, the warmer it's going to be. The problem is, browsing online you can't put products side-by-side and squeeze them. You have to look at pictures, and read numerical stats. Unfortunately fill weight isn't always publicized (I had to actually look at the physical tags for some of these to get their fill weight numbers). So let's take a look:



Fill Weight (Primary Determinant of Warmth):

- MontBell UL Inner = 2 oz

- Patagonia Down Sweater = 3 oz

- Marmot Zeus = 3.5 oz

- MontBell Light Down (this jaceket) = 4.3 oz



The numbers don't lie: this jacket has the best fill weight out of all that I considered. No wonder it's by far the warmest!



As for the third factor, wind resistance, the 30 denier ballistic ripstop nylon nylon shell is the strongest, lightest, most wind resistant shell fabric made.



So there you have it! I hope my legwork helps you make a fully-informed purchase decision... to get this jacket!!
Best Puffy Jacket Ever
Familiarity:

I've used it several times

Fit:

True to size
My wife gave me this Jacket to replace an old tatter puffy. I typically use Down Jackets as a mid-layer, and have rarely used them as a standalone because they aren't wind resistant. This Jacket has great wind resistance! I've skied on cold windy days and this Jacket performed beyond expectations. The Jacket has two lined hand warmer pockets which are effective, two inside pockets which are great for gloves. About the only thing this Jacket lacks is a chest pocket.
good basic down jacket
Familiarity:

I gave it as a gift but have feedback to share

Fit:

True to size
Bought this as a gift for someone to get them through the Utah winters. great basic jacket, simple, comfy, warm, and good pockets. the inside pockets are pretty and the outer pockets are really soft inside.
Does anyone have this current season jacket?...
Does anyone have this current season jacket? Is the fabric still shiny like before. The photos don't look like it. Any real life pics?
I had the same reaction when I saw these pix. I looked at a new model in person and it definitely has a duller finish than previous models, though still very attractive and a little more shiny than the average.