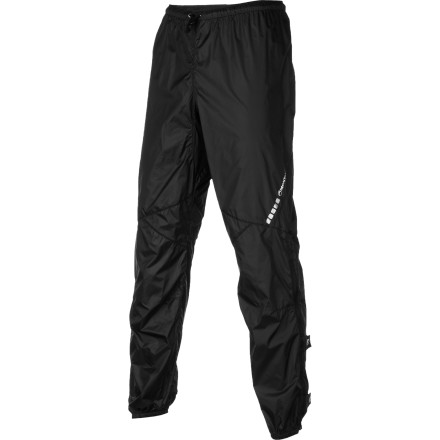 Detail Images
Description
Your energy bar weighs more than this Montane rain pant.
The Montane Men's Featherlite Pant provides lightweight protection when Mother Nature tries to rain on your parade. This 4oz (yes, you read right), windproof pant packs down to the size of an apple in the included stuff sac when skies are clear. Montane's Enhanced Breathing Panel (E.B.P) in the lumbar region provides increased breathability in a usually high-moisture area. Articulated knees and ankle zips give you more freedom of movement when you hike, bike, and run. The Featherlite's reflective elements help keep you visible when it gets dark.
Montane Featherlite Pant -
Here is a good review from Run Oregon of the Featherlite Pant:
http://sport-hansa.com/montanes-featherlite-pants-are-a-rainy-day-necessity-at-run-oregon/
Smaller than a baby fist
Familiarity:

I've used it once or twice and have initial impressions

Fit:

True to size
I hauled these pants on a multi day Colorado trail ride this summer and while I never got rained on, they did not take up much room in my bag, If you are looking for an ultra light, packable rain pant, this is the one.
Nicely made, very light
Familiarity:

I've used it several times

Fit:

True to size
These pants are just as light as advertised which is what I was looking for. I've used them on paddle days (kayak) when the temp is between about 45 and 55 deg F. I wear them over compression shorts. The pants are well made with nice details and features.
light and comfortable!
Familiarity:

I've used it several times

Fit:

True to size
Pants have super nice fit and incredibly light. When combined with inner layer (compression) you got the perfect combo of wind proof and lightness for a winter under zero run.
Perfect for an ultralight shell
Familiarity:

I've put it through the wringer

Fit:

Runs small
I picked these up for use on the JMT, both as a wind shell and an ultralight pant to keep the bugs at bay. They are somewhat fragile, not designed for wearing around camp or sitting in. But for cold weather hiking when you are on the move, they are brilliant. Cuts the wind and breathes well. I'm on my 2nd pair of now, managed about 60 nights on my first pair.
So these are an amazing product, but too bad the sizing is all over the map. I have a 32 inch waist and the pants fit remarkably well in a size medium in all areas but the inseam. The pants are literally 2 inches too short, though they boast a 31-32 inch inseam. Aside from that, super light and compressible. I keep them inside my running shorts when running up summits in the front range. They provide the wind protection I purchased them to provide, but incredibly short. Those of you looking for more of a proper fit, check out the Patagonia Houdini wind pants; just as light and fit much better. If the sizing was more consistent I would say the two of those would go neck and neck. Of course this is my opinion and others may have a different perspective.
I guess the title says it all ... they are good but they run small. I have a 32 inch wasit and udually wear a mens small/medium. Since thse will be used over what I wear when I hike I figured I go for a size large. They are barely big enough to go over regular hiking pants ... every time I wear them I'm waiting for them to tear.
Perfect for putting in a ruck sack when you want to hike. As others said, they are about the size of a large apple, but weigh less, when in the stuff sack. I travel on business for 2 weeks at at time, and like to be able to hike or sightsee on the weekends, but the weather in Europe does not always cooperate. I have only used them once, but they kept my jeans from getting wet during a bit of rain. I ordered L, but exchanged them for XL. If you want them to fit over a pants and belt, so you might one 1 size bigger than the chart says you need. Just incredible to get rain protection in such a light small package.
Unanswered Question
Can anyone compare these to the GoLite...
Can anyone compare these to the GoLite Reed pants?
I love these pants! They probably would wet in a heavy rain but they repel light rain and wet branches pretty well. They breathe really well which dries them out quickly, and they pack up into a little baseball sized stuff sack. A cool feature of these pants is the velcro tabs on the bottom sections of the legs. The velcro allows you to tighten the pants on the bottom for a tapered MC Hammer kind of look that's functional for running etc. I would NOT want to attempt any bushwhacking in these pants- super thin material and my paclite pants (which are 2x as thick) are already patched in 3 places from winter trekking. The weight of these makes me think something is wrong or I am being tricked but I can't figure out how yet...
Wondering about the inseam? Hoping these...
Wondering about the inseam? Hoping these are long enough for a 6'1" body, usually wear 33-34" inseam in jeans. Anybody know?
For a 33" or 34" inseam you would need to get the XL or the XXL. Here are the inseam lengths for these pants:
S - 30"
M - 31"
L - 32"
XL - 33"
XXL - 34"
Best Answer
I wear 33w x 34-length jean, and ordered the Large, but I think they are too small, mainly in the waist. The size listed is right, but I plan to put them over hiking shorts or jeans, so you really need the next size up. I am 6'2" and the XL fits me nicely. As other's have noted, you almost cannot believe the weight of these pants. They weigh less than the 2 plastic bags they were shipped in.
I have a pair of these, and use them a lot. In the summertime I use them as windbreakers. In the wintertime while doing xc skiing I use them over thermals down to -10 C without problems. They are lightweight, comfortable and easy to adjust.

However I use them primarily as windbreakers. They will withstand 10-30 mins of moderate to heavy rain, but after that you will be soaked.
First the good parts, Wind resistant and repels water, good for cold rainy days. Easy to put on other trousers, I am size medium but bought size large for this purpose. Packs small as they say.

The bad - somewhat expensive I was hesitant to say it since I did pay $80 for it. But I was expecting $80 worth which it is not.
The zippers are small and don't lock well. They open easily when the edge is pulled rather annoying.
The Velcro is a good idea but not a good quality, it doesn't stick well and rather small.

The other issue I had was that mine had tons of white/silver dog hair all over it. I could have returned it but I needed it, it had the tags and didn't look used but I could not figure out where all the hair came from. May be someone at backcountry can explain.

There it is, If there was something similar and better I would buy that, but I could not find anything else.
Exactly what you need, nothing you don't
Tough, light, breathable. These windpants include features for hikers and cyclists alike. I took them bushwacking for two weeks and they stood up the ripstop worked great. Stomping out an errant stove fire, I melted the inner right ankle of the pants. However, the burn sealed off the edges and no further fraying was noted after the ensuing milage through thick brush. I'd buy again.
I would generally stay away from calling anything perfect but these are exactly that, perfect. Light enough to stuff in a pocket as an extra layer, stout enuff to repel rain and maintain relatively high breathability. Size Large 4.2 oz on my scale. when layered adds quite a good degree of warmth.

One thing not mentioned is that the taper of the legs can be adjusted via velcro making them looser fit or slim fit (which goes well under gaiters).
I've owned the Montane Aero Windshirt since my thru hike of The Appalachian Trail 07 and love it for trapping body heat and cutting wind when needed, while breathing very well and resisting light rain too. For just 3.5 oz it rocks! My best ultralight investment to date...NOW I purchased the Montane Featherlite Pants for my thru hike on the New England Trail (500 miles in 5 weeks from the NH/Canadian Border, thru MA & CT, Sept/Oct 2009. Hiked through lots of wet chilly days, typically in the mid to high 30's by day, lots of drizzle and light rain, occasionally heavy rain; If it warmed >50F and the rain stopped we hiked in shorts. I typically hike in shorts through most rain unless its cold & sustained rain and <50F outside. This trip was different. We hiked almost continuously in rain/wind pants. My Montane Windpants were the bomb! They resisted light rainspray & tons of wind. Even better is I usually kept them on while hiking even after the rain stopped. This is unusual for me, but since they breathe SO much better than most rainpants I own they were very practical. The ankle zips made donning/removing them over my trekking shoes so easy and practical - it took just a few seconds allowing the freedom to adjust my clothing system on the fly, based on changing weather conditions. It just doesn't get any lighter weight at 4oz! They proved durable enough for this trek and still look great. (Obviously I was cautious, but even did a little bushwhacking); Clearly they are not suitable for true winter conditions or when lots of abrasion is expected, such as winter glissading downhill on your butt. Note they DO wet through in heavy sustained rain (just like my windshirt) but as soon as the rain stops they dry in a flash. I Highly recommend the Montane Featherlite pants as part of a SUL hiker's wind/rain resistant clothing system.
Invaluable across multiply activities
I bought these 3 years ago as they are simply the lightest of their kind on the market (200g size L including stuffsac). They are ideal when you are looking to move fast and have very little room to pack. I have been back-packing on the GR20 in Corsica, ran 2-day mountain marathons, and frequently get out on my XC mountain bike, these have proven an indispensable piece of kit every time. Worn over technical pants, Lycra tights, or even shorts, they keep the wind out whilst being incredibly breathable. The lower legs have Velcro adjustment so they can go from normal fitting pants to slim fitting ideal for running or biking. The legs are also slightly articulated with knee darts. The DWR finish extends their performance into light rain showers and unless the forecast is predicting heavy rain these will always be packed instead of full waterproof pants. As long as the activity is high paced then the rain without the wind is not enough to cool you down. The stuffsac is the size of a small apple.