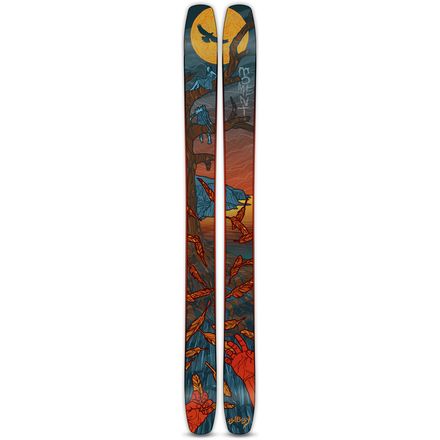 Detail Images
Description
I'm baaaaack!
Imagine a world without ice cream. A place where children didn't smile, where Grandma didn't love you, where dogs didn't go to heaven, and where snow fell as ash. On top of all that, imagine that your favorite ski was chopped up, stomped on, set fire to, and thrown into a boiling and sulfurous pit while your eyes were held open, Ludovico-style, so every lurid detail was burned into your mind for eternity. That's how we all felt last fall, when we learned that Moment was dramatically changing the beloved Bibby Pro Ski. Thankfully for all of humanity, though, we rebelled in the face of gross injustice—even Josh Bibby, for whom the ski was named, wanted to bring back the original—and by pestering the living hell out of Moment, we were able to convince them to bring the old Bibby back unchanged. All's not lost, after all.

If you're a Bibby diehard, stop reading and go buy a few already. If you haven't already sampled the powdered fruit-punch drink, though, allow us to explain why it's so tasty. The Bibby is the perfect combination of all things skiing good—stability, power, playfulness, quickness, surfiness, stompiness—and it's capable of shredding just about anything you care to point it at. Moment built it on a snappy but stable aspen and pine core to balance dampness, energy, and stiffness, and sandwiched the wood between multi-directional fiberglass and carbon-fiber stringers, so it stays torsionally stiff and stable when you're railing turns but maintains enough pop to boost off terrain features so you don't need to keep your skis glued to the snow. Moment skipped out on metal entirely, which avoids the damp but dead feel that plagues more one-dimensional skis, and we think the folks that've called the Bibby a playful charger are spot on.

Last year's redesigned Bibby was a pow-specific jib ski, but the redesign has brought the Bibby back to its more directional roots. Moment's Mustache Rocker combines decent amounts of tip and tail rocker with a solid cambered section underfoot, giving the Bibby a nearly unparalleled ability to float over soft snow, charge through chop, and slash big sideways turns when conditions call for it. The tails are simple to break out when you need to scrub speed, and the Rockwell 48 steel edges have been covered with a VDS rubber dampening layer for a smoother, less chatter feel on hardpack. We should also note that despite what we said earlier, the Bibby does, in fact have one small change: Moment's updated it with a more durable semi-cap construction, which helps prevent topsheet chipping and edge blowouts, so it'll be a more durable ski that ever.

Mustache Rocker (rockered tip and tail, camber underfoot)
Aspen and pine core
Fiberglass and carbon fiber laminates
Semi-cap construction with UHMW sidewalls
Reinforced binding mount layer
Rockwell 48 steel edges with VDS rubber dampening
Durasurf 4001 sintered base
Share your thoughts
What do you think of the
Moment
Bibby Pro Ski
? Share a...