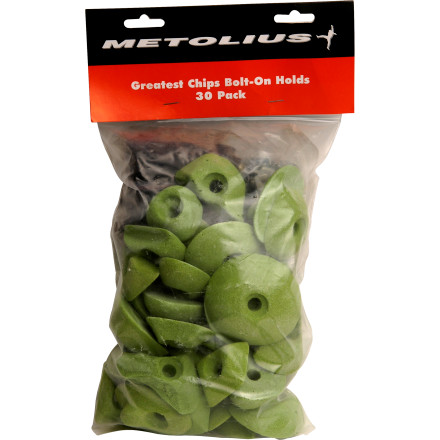 Good footwork is the foundation of hard climbing, and the Metolius Greatest Chips Bolt On 30pk is just what your home climbing wall needs to help you get it. The super-strong Fusion resin provides years of reliable use and the 30 unique foothold shapes allow for limitless creativity.
Fusion resin with EPS technology increases strength and prevents broken holds from falling
Bag of 30 bolt-on footholds add variety to any climbing wall
Hardware not included
What do you think about this product?
Have questions about this product?
climbing holds don't cost as much as new disk brakes, but they sure ain't cheap either. consequently, you don't want to waste your hand holds when you could use a bolt on foot and save hand holds for hands, save more space on your wall, and improve your foot work. i have about 170 square feet of climbing wall, and i have one pack of bolt on feet and one back of screw on feet and have foot holds to spare. it doesn't come with bolts so make sure to order some or stop by the hardware store.
How will these hold up on an outdoor...
How will these hold up on an outdoor climbing wall?
Best Answer
The holds themselves should be fine but the issue you may run into is the hardware rusting unless you are using stainless bolts or otherwise shielding your wall from rain.
also, freezing and thawing can break real rock, so it can cause a lot of issues on a climbing wall depending on lots of variables.