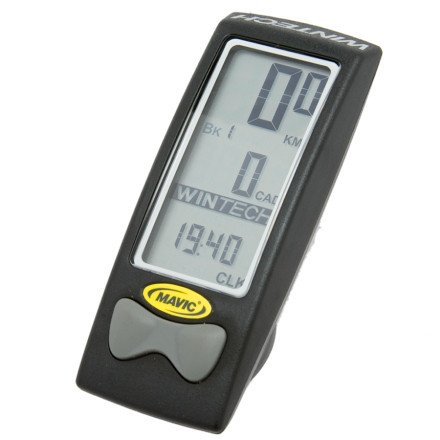 Detail Images
Mavic's Wintech E-Bolt Computer is the choice for those who love the skewer on their bike and don't want to sully their fork with an ugly sensor and zip ties. The special part of this system is the E-Bolt. It's actually a replacement skewer nut (perhaps bolt/nut gets lost in translation) that contains the speed sensor for the wheel. It weighs 28 grams (for reference, the standard Mavic skewer nut is about 10g).
Otherwise, the Wintech E-Bolt Computer is just like the Wintech FS -- the only difference is the sensor. You'll get 12 basic functions including: current, average, and maximum speed. Daily distance and total accumulated distance. "tendency indicator" (others call this a pace arrow), clock, stopwatch (turns on when the wheel turns on), and up to nine lap times. Cadence is optional. It uses WIN wireless digital transmission at 2.4 Gigahertz, a common wireless transmission frequency. You'll get reliable data and your bike will still look ultra sleek without any messy wires dangling from it.
The handlebar mount fits on the right side of 26.0 and 31.8mm diameter handlebars (shims included). The mount can adjust so it sits flat atop your stem, above your bars, or even in front of the bars. If you want cadence to register, you need to purchase a cadence sensor separately. Mavic makes both a bike-mounted cadence sensor and one that slips over your ankle, negating the need for a frame mount.
What do you think about this product?
Have questions about this product?
getting started with Mavic Wintech
Has anyone had an issue even getting your Wintech to turn on?? I installed the whole thing, put in the batteries...and nothing! no screen, nothing at all. Are the batteries really fiddly and need some special installation care? Or maybe send it all back?
I have a Felt B16 carbon fiber aero frame,...
I have a Felt B16 carbon fiber aero frame, will and if so, how will the cadence monitor attach to the frame?
This isn't a forsure thing but I have a pretty large downtube also and used really long zip ties with the factory rubber mounting gasket.

But thinking about this gave me an idea. I wonder if you can mount it on the chainstay instead of the downtube. You would want to mount it forwards enough to avoid hitting it with your heel or shoe but this might work. Let me know how the chainstay idea goes if you try it.
You should be able to mount it to the chain stay, just make sure you clear the rear wheel and your shoe.