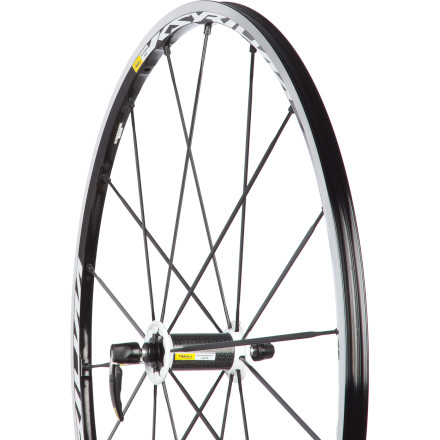 Deep wheels may be all the rage, but despite what many manufacturers will tell you, deep wheels just aren't as versatile as traditional, shallow profile rims. This is where the Mavic Ksyrium SR Tubular Wheelset comes into play. The SR's use a 22mm deep front rim for maintaining stability in crosswinds, while the rear is 25mm deep to improve the overall aerodynamics of the wheelset—but without sacrificing the versatility of the wheel.
The SR rims are made from Maxtal aluminum and get Mavic's Inter Spoke Milling (ISM) for added weight reduction. Mavic also incorporated their UB Control milling technology, a method in which braking surfaces are milled to improve friction (and thus braking performance) and eliminate brake shudder.
Mavic engineers also used the Fore drilling method when constructing the Ksyrium SR rim. In Fore drilling, only one of the two rim walls is drilled, making the rim four times more resistant to fatigue while increasing rim rigidity. This is what gives the wheel that responsive feel on the road, transferring energy straight to the ground. Since only one of the walls is drilled, there are no holes in the rim, which makes gluing tubulars much less time-consuming and tedious.
The front wheel has 18 radially laced Zicral spokes. The 20-spoke rear wheel uses Tracomp tubular carbon spokes on the drive side and Zicral spokes on the non-drive side. The Tracomp spokes are laced in a two-cross pattern for optimal power transfer during acceleration.
Carbon fiber shells and aluminum flanges add aesthetic appeal to the Ksyrium SR's oversized hubs. Aside from good looks, the hub design also sheds a few grams from the overall weight, adding function to the fashion. The SRs also come equipped with Mavic's QRM+ bearings -- they're double-sealed for longevity, and each hub allows for micro-fine preload adjustment without even removing the wheel from the bike.
The Mavic Ksyrium SR Tubular Wheelset includes BR601 quick-releases, a Zicral spoke-specific magnet, and a truing wrench and bearing adjustment tool. This set has a Shimano/Sram-specific freehub body. The front wheel weighs 645 grams, with the rear clocking in at 800 grams. The total wheelset weight is 1445 grams.
This wheelset is part of Mavic's MP3 extended warranty program. The acronym stands for Mavic Product Protection Plan, and it provides you with two years of almost unlimited no-fault protection from Mavic. More details can be found on the MP3 website. Please note that MP3 coverage must be purchased within 5 days of the date that you receive your wheels. Contact one of our customer service representatives for the retailer and product codes that you'll need to register your wheels on the Mavic MP3 site. You'll also need the serial numbers that you'll find on your wheels. The cost for this coverage is approximately 8% of the retail cost of the wheels.
ISM rim milling removes excess material from between spokes for the lightest possible rim without strength compromise

QRM+ double-sealed bearing system with micro-adjustments, 'free' position for friction-free speed, and high-precision setting for all-weather rides

FORE technology for greater durability and 20% greater rim stiffness

Welded and milled SUP rims eliminate shudder when braking and offer superior balance to traditional seams

Traction Compression carbon spokes resist wheel deflection under load

Contact area between the pawls and the hub body is reinforced with stainless steel which allows Mavic to use an all-aluminum hub body for reduced weight

Mavic-exclusive Maxtal alloy is stiffer than standard alloys for stiffer, lighter rims

ISOPULSE lacing for quicker energy transfer and an ideal wheel balance

What do you think about this product?
Have questions about this product?
What kind of tubular tire can be use?...
What kind of tubular tire can be use?

Vittoria Rally Tire - Tubular,28x21mm - VIT0045-BK-S28X21MM

Is it a right choice?


Best Answer
Hi Louis - any road tubular will fit on this rim. The Vittoria Rally is a good choice for training use as it is tougher than your average tubular tire. If you're looking for a race day only option that is lightweight, check out the Vittoria Corsa Evo SC - they are about as sticky as you could hope for and 50g lighter than the Rally tires.