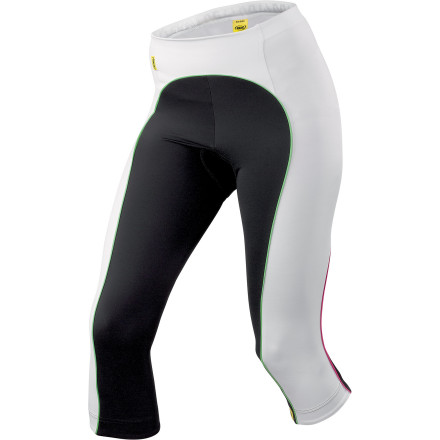 With all of the technical aspects of the Bellissima shorts, Mavic's Bellissima Women's Knickers improve upon the established platform by providing additional coverage. This means that you're able to start with comfort on cool mornings, and still be content once the sun reaches its highest point.
Constructed from Mavic's Sleek Power fabric (a lightly structured, highly elastic blend of polyamide, elastane, and Lycra), the Bellissima effectively pulls perspiration away from the skin in order to keep you dry and comfortable. However, while wicking capabilities are an expected touch, Sleek Power is only starting to show its form. As a certified Power Lycra, this fabric features a higher-than-average fiber weight along with a dense knit. And as a result, the material provides a compressive support that alleviates the fatigue-inducing effects of road vibration and muscle oscillation. So, you'll be able to deliver more power to the pedals for a longer period of time. However, don't think that this benefit comes at the cost of sacrificed flexibility. In fact, Sleek Power has a better-than-normal stretch property that's been engineered into the material. So, you're able to pedal freely, and maneuver around your bike, without any pinching or discomfort.
Of course, though, no pair of knickers are complete without a quality chamois. And in this application, Mavic opted for its Ergo 3D pad. It provides and anatomically correct support that's supplied by three different densities and six different thicknesses. A moisture wicking, low density, and open cell foam pulls perspiration away from the skin. Additionally, it has an antimicrobial treatment that combats bacteria, keeping both the insert and your skin clean and comfortable. This first layer is incredibly soft against the skin in order to prevent irritation, but for long-distance comfort, it uses two more higher density foams. Essentially, the reason for varying these sections is that your body doesn't require the same level of support throughout. Instead, you'll find that the chamois provides more cushion at the sit bones, and less towards the front.
To securely hold the Bellissima securely in place, Mavic incorporated its Ergo Waist. Basically, this is a wide, highly elastic insert with silicon grippers that effectively prevents any pinching throughout the movements of cycling.
The Mavic Bellissima Women's Knickers are available in five sizes from X-Small to X-Large and in the colors Black and Black/white.