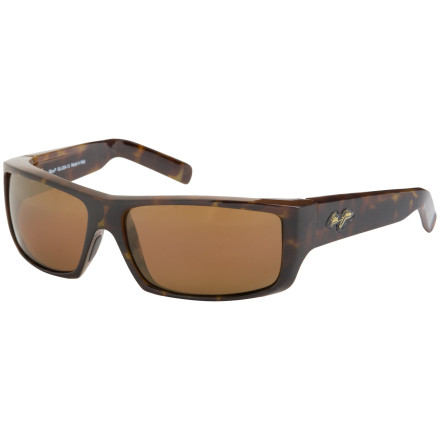 Detail Images

Videos
Maui Jim uses a PolarizedPlus 2 Technology and SuperThin glass to keep the polarized glass lenses in the Kaimana Sunglasses super light, durable, and glare-blocking. The boxy, no-nonsense-style frame is lightweight and hypoallergenic for long days out in the sun, and the lenses manage blue light, block glare and UV from all angles, and boost colors whether you're out whale-watching, motoring around the lake, or driving into town. Maui Jim uses saltwater-safe lens and frame treatments and corrosion-resistant hinges to improve durability.
Maui Jim Kaimana Sunglasses
I certainly did not return these glasses because of workmanship - they simply did not fit the bridge of my nose and they were to big for my face. I had a pair of Shore Lines which I lost in the surf last weekend and had to replace before my wife found out... I returned the Kaimana's and immediately re-ordered the Shore Lines. You just cannot beat Maui Jim's for quality and I love the thin glass lenses!
Backcountry - your customer service was supurb!!!
I just got mine last week, they are awesome; expensive but totally worth it.
I bought these for myself on my birthday after wanting them for a few months. Yes they are spendy, but just like the old addage goes, you get what you pay for. The glasses are great, my dad loves to give me crap because I have nicer glasses then him, but he loves them too and is constantly stealing them from me when I set them down. Sooo I decided I would be a nice son and ordered him a pair for fathers day. Now I have over 400 into sunglasses haha I cant believe it but they really are worth it. Thumbs up :)
Maui Jim Kaimana Sunglasses
I had heard about Maui Jim's and their excellence (optical clarity, comfort, ruggedness) in the sun. Maui Jim's are the best sunglasses I've ever had. They are the first non-prescription sunglasses I've worn. I wear glasses and just recently started wearing contacts. The clarity is amazing. Colors pop out at you. The wrap around design gives great outward visibility. The only reason I didn't give 5 stars is because of my face. My face was a little too wide (mainly the bridge of my nose) for the frames. I ended up exchanging for the Maui Jim Stingray (http://www.backcountry.com/store/MAU0046/Maui-Jim-Stingray-Sunglasses-Polarized.html) which worked out perfectly! Backcountry.com is great, too!
I have always spent a lot on sunglasses believing that you get what you pay for...NOT always the case. However, these are my first Maui Jim sunglasses and they are excellent. They fit very well, don't slip on the bridge of my nose, and cut glare like you wouldn't believe. I also like the style which is very up-to-date, and I love the hinged temples. Yes, these ARE pricey, but for the optical-quality glass lenses and the aforementioned attributes, these are worth it.
what are the best models and lenses for...
what are the best models and lenses for offshore saltwater fishing
I have a lot of experience with offshore fishing. Obviously you want a polarized lens, and in general, maximum filtering/blocking. The classic offshore look is mirrored glass, and it is hard to beat costa del mar. the alternative is Kaenon, who makes fabulous glasses, and can be hard to find. I would suggest the G12 lens.
Anything Maui Jim makes is awesome for salt water fishing since all of their lenses are polarized and have a water proof coating on them (H2O just beads up and rolls off!). Maui Jim is the Title sponsor of many Marlin fishing tournaments in Hawaii. One of which I was lucky enough to attend (amazing fun!). I obviously wouldn't choose anything other than Maui Jim.
The HCL bronze lens on any of the full coverage frames is best for offshore. I have multiple pairs of both Maui Jims and Costa del Mar 580s. Yes, the Costa 580 lens is awesome, but so is the MJ HCL bronze lens. Kaenon lenses are polycarbon lenses that give me a headache.
The glasses are perfect for water sports in both low and high light conditions. Great fit and blockage of light from the sides. Highly recommended!